Most of us Google every day for all sorts of reasons. Over the years Google has added many little goodies to make it even better. Through Google's rich snippets (the small sample of content shown to users on the search results page) you can check up on your travel arrangements seamlessly; all from the convenience of typing into the search engine's famously minimalistic query box.
Here are 12 of those Google tips and tricks that work well for travellers.
Check your flight status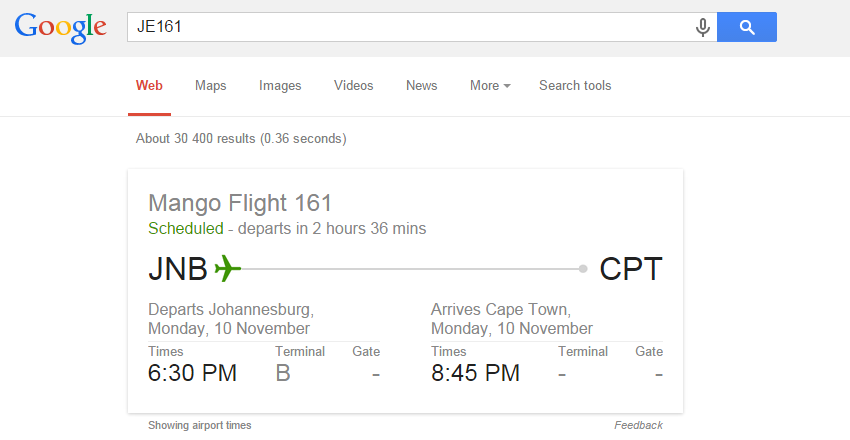 Just by typing your flight number into Google you can get a nice snapshot of your flight particulars. For example, typing in JE161 which is the number for a Mango Airlines flight that travels between Johannesburg and Cape Town, you can see the schedule (is your flight on time, delayed or cancelled), as well as the departure terminal, and in some cases, the gate number.
This trick is also useful if you have a friend or relative flying and you are the person tasked with fetching them from the airport. Instead of wasting precious hours at the airport, plan your day with the help of this Google hack as even after the flight has taken off, Google will continue to track the flight showing you its location on a progression bar so you can check in on your mates whereabouts at any time.
See available flights and get directions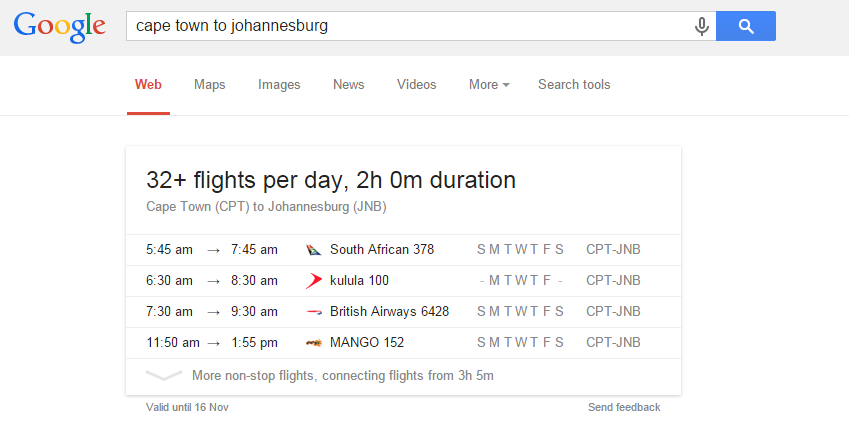 Google is no slouch when it comes to seeing what flights are available for your chosen route. Typing cape town to johannesburg will prompt the smart search engine to display a list of flight options and airlines available for your route. In the same list you'll be able to see the time and length of the flight, and the days of the week the flight is available. To see flight schedules to or from a particular destination, type flights from or flights to followed by the city or airport of interest. You can also add another location with to or from and view the schedule for a specific route.
In addition to this, the same query will show a map perfectly suited to those who are planning a driving route. The map includes the optimal route, length of drive and exact road distance!
Do currency conversions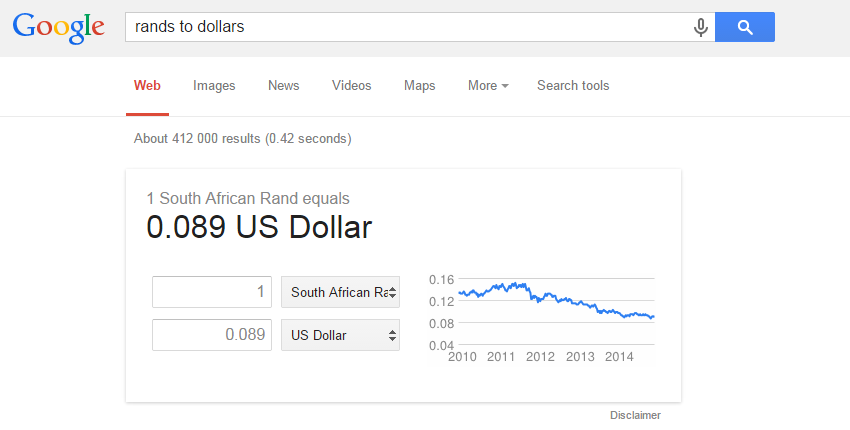 This is a great one for quick and easy online currency conversions. While it might not be as accurate as XE.com, Google's built-in currency converter is pure convenience when it comes to finding out a ballpark estimate of how much your Rands are worth at your destination.
For example, type rands to dollars  into the search box and Google will return the latest exchange rate directly in the search results. They also provide a handy graph to show you how much your money has appreciated or depreciated over time.
Similarly you can convert units just by typing, for example, pounds to kgs into the search bar.
Calculate the tip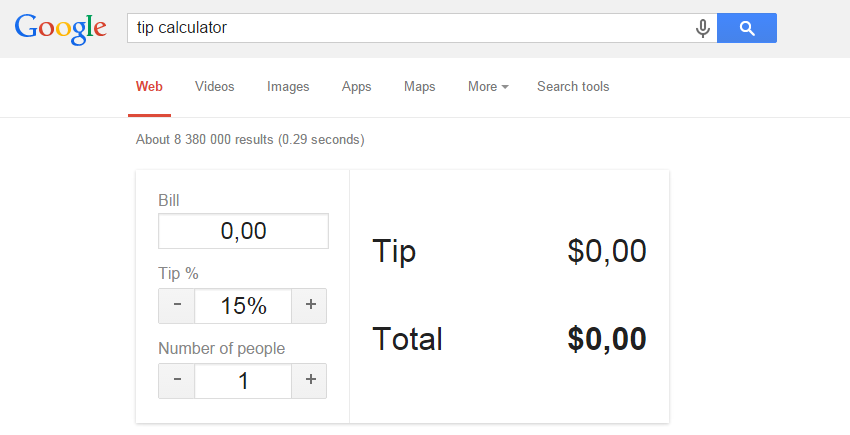 Google has a built in calculator for tipping, just search "tip calculator". US Dollars only.
Check the weather in real time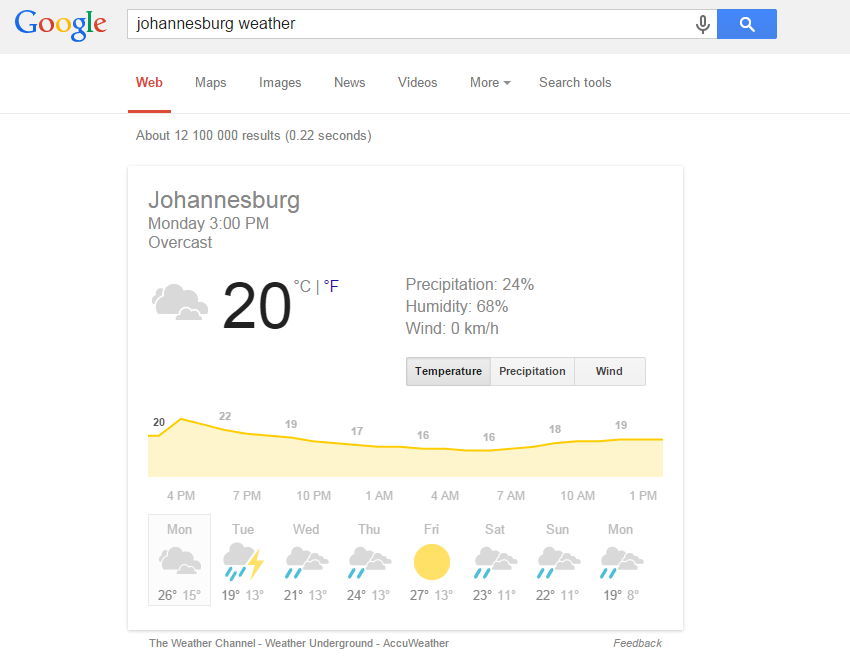 Just by typing in [city name] weather you can get a pretty accurate weather report and 7-day forecast. The details include temperature (available in degrees Celsius or Fahrenheit), precipitation forecast, wind report and humidity indication.
Get local time

A quick and easy way to find out the local time at your destination. Simply Google [city name] local time and the accurate local time is displayed in Google's rich snippets.
Experience the gargantuan grace of Emirates' A380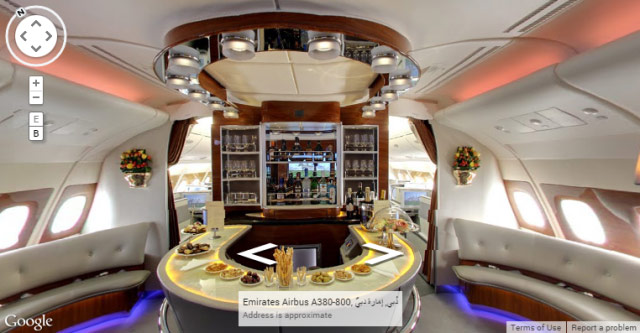 The world's first Google Street View for a plane takes you onboard an Emirates Airbus A380. The Dubai based carrier partnered with the search giant to create a Street View style look at the world's largest commercial passenger jet. It's a clever way to show off the extreme luxury reserved for high-paying passengers, including onboard showers, a spa, and private suites. Users can also check out the plane's cockpit, lounges, business class, and cockpit. Play around with this awesome view yourself on Google.com.
Get local sunrise/sunset times
To see the exact times of sunrises and sunsets in cities around the world, search sunrise or sunset followed by the city name.
Map your way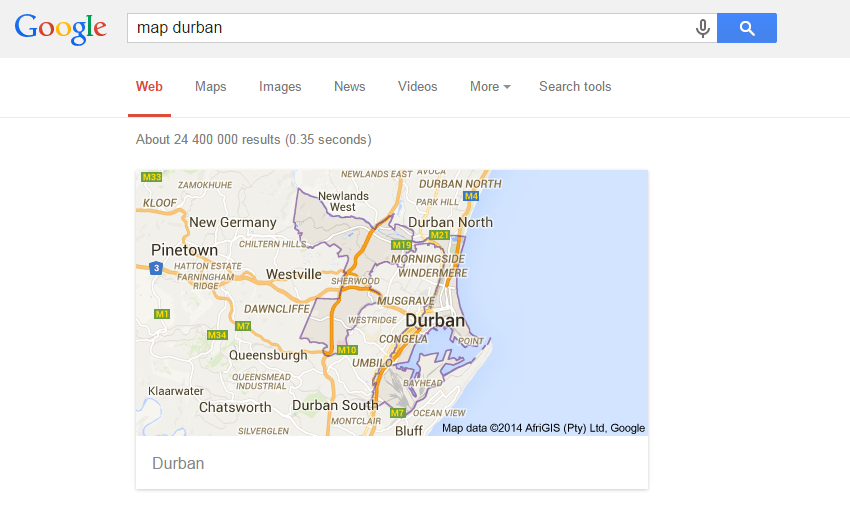 Google Maps is such a powerful application and there really is so many ways you can use it. To map any location, type in the city name or zip code followed by the word map, and you'll see a map of that location. Click on the map to see it on Google Maps.
Use Google Maps offline by typing "OK Maps" and the visible area will save for future access.
Check holiday dates

Searching the name of a holiday will tell you what date that holiday is on.
Check whether or not you need a visa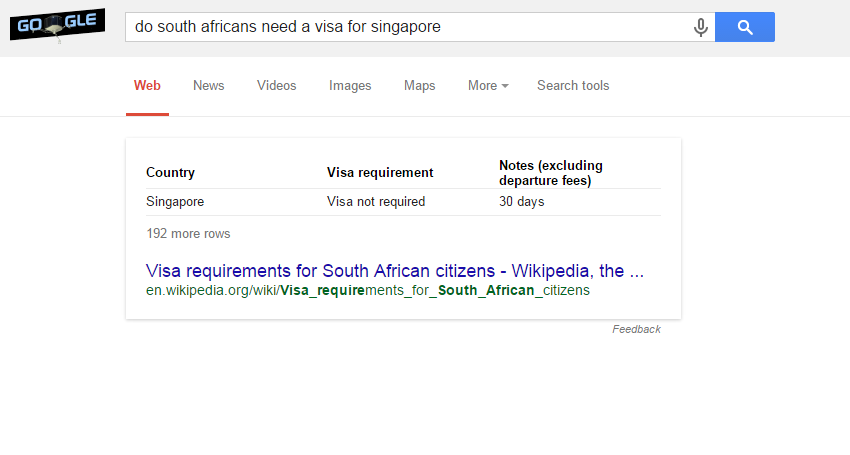 Here's one we've just discovered and it's very awesome! Just by typing in do south africans need a visa for [country name], Google will rapidly return a rich snippet full of useful information. In the example above, one can see at a glance that a South African passport holder can stay in Singapore for 30 days without a visa.
Here's a surefire way to find the time difference between 2 places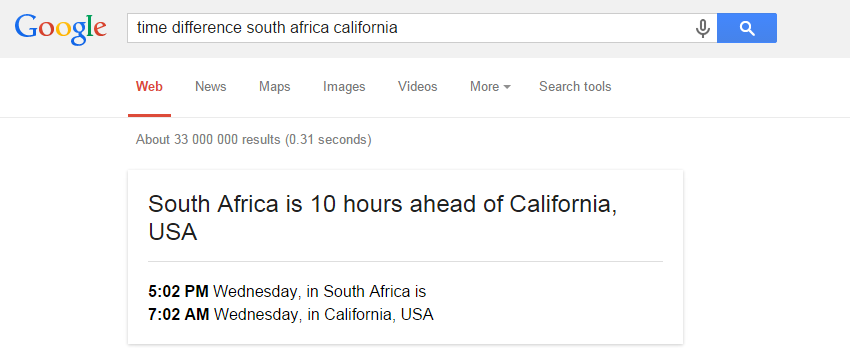 Just by typing (for example) time difference south africa california into Google, those of us who are totally confused by east, west, longitude and everything else time zone related get a pretty straightforward answer from the search giant.