Big city life in a not-so-big city can still be tough. Capetonians may live the holiday but everyone can do with some life hacks to ease their way in the Mother city.
1. Free Parking on Kloof Street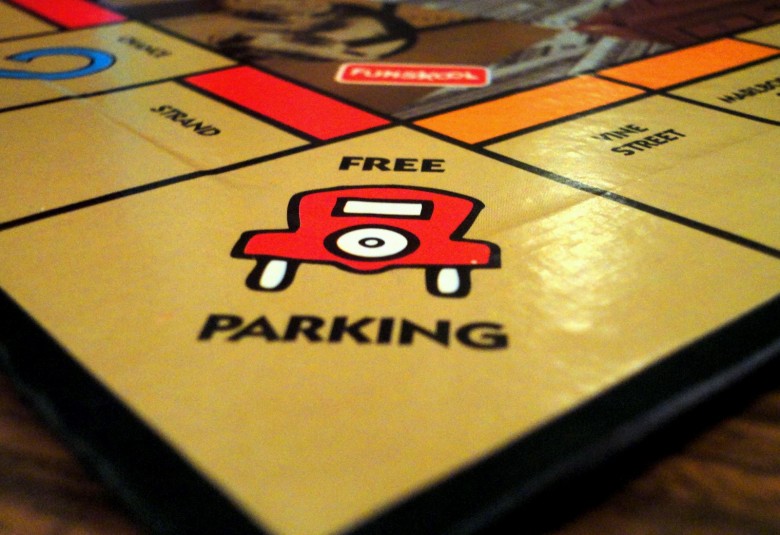 Finding parking anywhere around Kloof street is a nightmare around rush hour with MyCiti buses, pedestrians, delivery trucks and hipster vespas all bottle necking around Park and Kloof street. If you make any purchase (however small) from the Woolworths in the Lifestyle Centre on Kloof Street you get 1 hour free parking in the Lifestyle Centre Parking. For those further afield there's also an hour free parking if you buy something (there's no minimum amount) from the Pick n Pay at Canal Walk.
2. The Two-for-One Entertainer App Will Change Your Life
If you and your best friend or partner eat out a lot (and this seems to be inevitable in Cape Town) you NEED this app. Buy a years' subscription for R345 and get over 900 buy-one-get-one-free offers from the participating restaurants (there are also leisure activities such as Ratanga Junction). Participating restaurants include Barristers, Blues Beach House in Camps Bay, Basilico and many others. You can also get a 15 day trial for free if you aren't convinced. There are also versions for Johannesburg and Durban. Download it here.
3. The Biscuit Mill is for Celebrity Spotters, the Brave and the Not-Hungover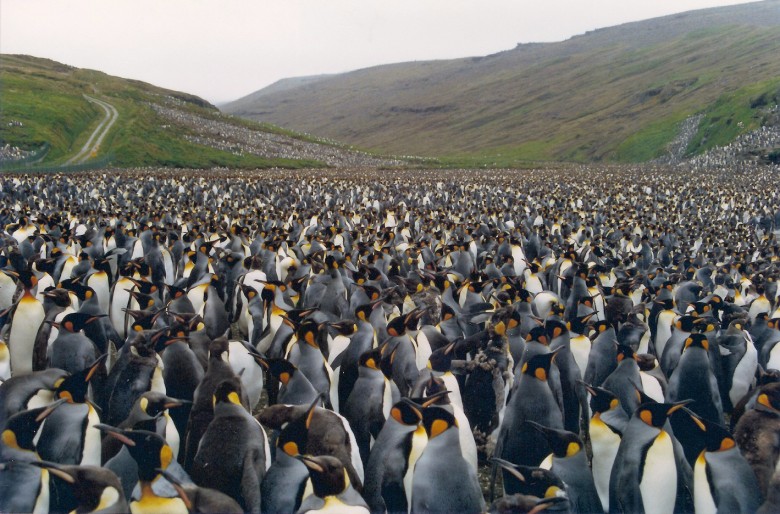 Crowded Beach on Possession Island courtesy of PierrotNC on Trek Earth
The Biscuit Mill on a Saturday late morning is for the very brave, the young and the not-hungover – seating is tricky, elbow-room a serious commodity and parking extortionate. Ask yourself, "am I currently wearing a fedora?" If the answer is no then maybe this isn't for you. There are a lot of grumpy fathers and awkward balancing of disposable plates on knees while you rear back from umbrellas in the eye. Get your eggs benedict fix in peace just a few km up the road at Hello Sailor in Obs and for equally delicious market food try the Earth Fair Market at St Georges Mall in Cape Town CBD. It's open on a Thursday from 11am to 3pm or in Tokai every Wednesday from 3pm to 8:30pm and Saturdays from 9am to 2pm (though it can also get quite crowded on Saturdays). And for truly unusual market purchases- a root around the Milnerton market on Saturdays and Sundays can yield some astounding finds amid the junk. It's open on Saturdays and most public holidays from 8am to 2 pm and Sundays from 8am to 3pm. Milnerton Market GPS Coordinates: 33º 53′ 59.10″ S – 18º 28′ 42.20″ E, it's situated on Marine Drive (R27) opposite Metro Industrial Park, Paarden Eiland near lagoon beach, Milnerton.
4. Free Pass on Your Birthday
Courtesy of South Africa.net
It's your birthday so you get to be lazy! South African citizens get a free pass up the Cable Car on our birthday. Float to the top of our famous World Heritage Site take in the view with the dassies chilling on the top then glide back down, fee free. Just take your ID or passport along for proof.
5. Two Pastas and Two Movie Tickets for R90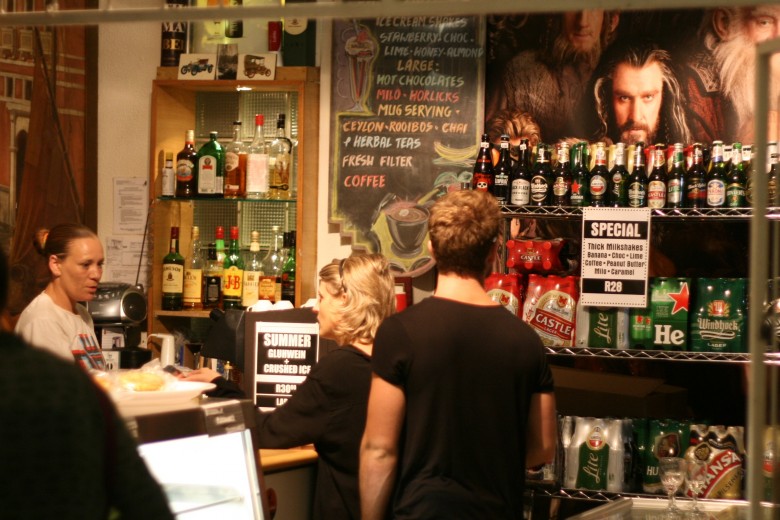 Courtesy of Mark T Barr at Cape Town Faves
The Labia cinema is the grand dame of movie theatres in Cape Town. You can drink whatever you like from red wine to vodka slushies from the old school bar and a movie ticket only costs R45 (R40 for pensioners and children and if you are the holder of an Exclusive Books Fanatics Card or student card). They have blockbusters as well as cinema nouveau art releases. It's convivial, it's Cape Town at it's finest. The Societi pasta special on Mondays and Tuesdays allows you to buy two pastas and two movie tickets for just R90. You need to book at Societi beforehand as they are a neighbourhood favourite, then you order the Labia Cinema pasta special and take your slip along to the movie house to be issued 2 free tickets afterwards. Tip: the pasta comes seasoned with Parmesan only so you should add some chili for next to nothing to spice up your pasta dish. Also use the promotional code on the Societi Bistro Online Menu to get R200 off your first UBER ride. The Labia Cinema is located at 68 Orange Street, Gardens. Call: 021 424 5927. Societi Bistro is a 2 minute walk down the road at 50 Orange Street. Call 021 424 2100.
6. Gorgeous Gâteau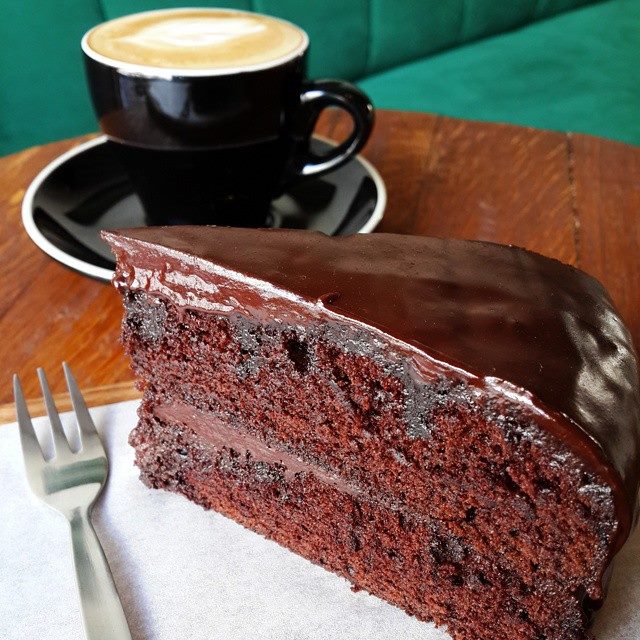 Courtesy of Honest Chocolate Facebook
Visit Queen of Tarts in Observatory for the best birthday cake around and Honest Chocolate Café in Wale Street for a truly incredible slice of rich dark chocolate gâteau. Don't miss out on the exquisite hot chocolate with orange spice to conquer the cape winter at Honest Chocolate. Queen of Tarts is located at 213 Lower Main Rd, Cape Town. Call: 021 448 2420. Honest Chocolate can be found at 64A Wale St, call 021 447 1438.
7. The Secret Gin Bar in Cape Town hidden behind Honest Chocolate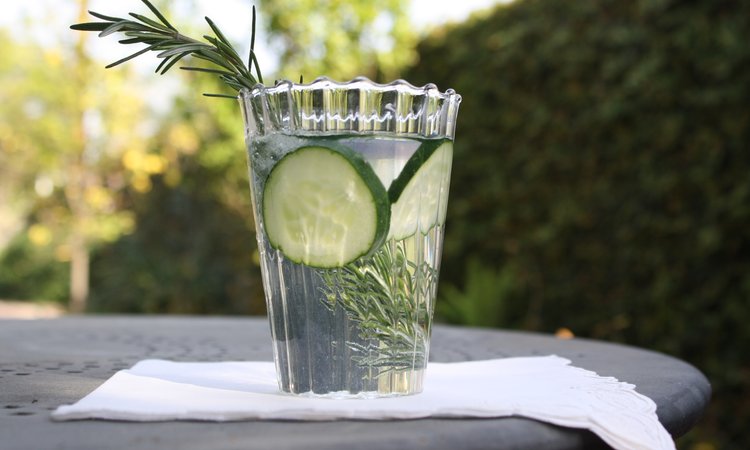 Courtesy of Mom.me
You may have read our 20 Hip-hole-in-the-wall spots where we mentioned Mother's Ruin, gin saloon on Bree Street. Lovers of juniper berries and all that is hip have also conspired in the courtyard behind Honest Chocolate. The Gin Bar does not have an official name though at one point it was potentially going to be called "bathtub". They only have four cocktails on offer, each subtle and delicious and meant to cure ailments of the head, heart, ambition and the soul. Open from 5pm onwards, enter through the entrance of Honest Chocolate and find it through the courtyard at the back. 64A Wale Street.
8. The Village Idiot is the new place to hang out after work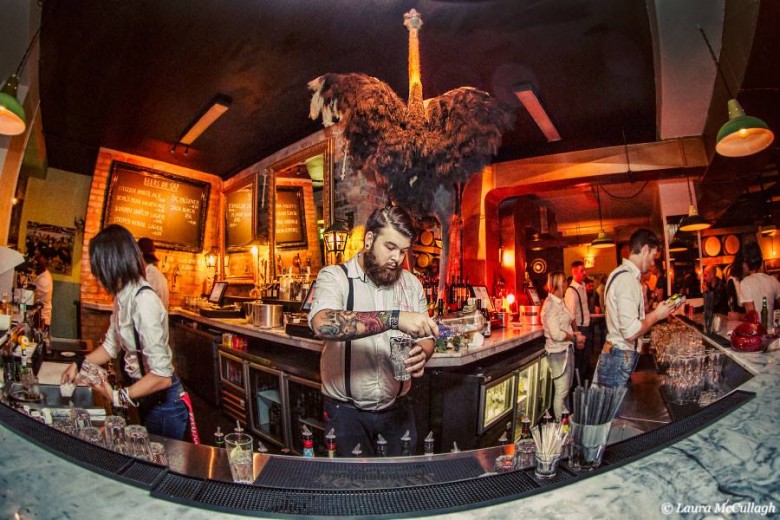 Courtesy of Laura Mccullagh onThe Village Idiot Facebook
Capetonians love a new hang-out spot and this one has a giant ostrich named Oskar surveying the bar, old school Melk tert, peri-peri chicken and boerewors burgers. The Village Idiot is enjoying a rage of popularity with queues out the door so come early for a spot by the fire. 32 Loop Street, 021 418 1548.
9. Free Wine-tasting
Courtesy of Tjing Tjing Facebook
Every Wednesday evening from 5-7pm, stylish rooftop bar Tjing Tjing hosts a free wine tasting. Meet a new wine maker each week and taste some quality wine. The wine featured will be discounted at Tjing Tjing for the rest of the week. No need to make a reservation just show up and take a seat in one of their comfy leather armchairs. 165 Longmarket Street.Call 021 422 4920.
10. Free Museum Days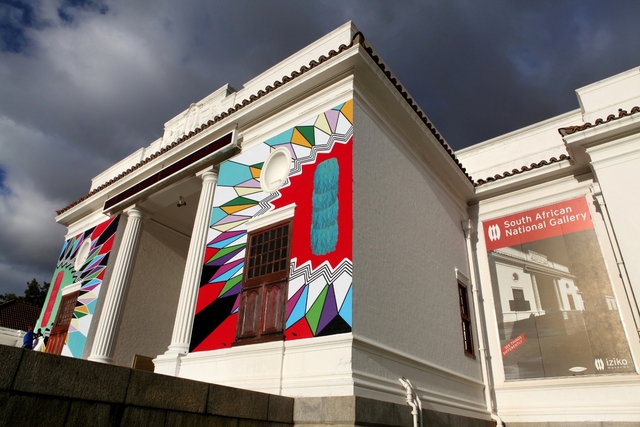 Courtesy of NichLuxe
You know how you keep saying you wish you did more cultural activities- now there's no excuse- visit the National Gallery, Iziko Slave Lodge, planetarium and many others for free on Iziko's commemorative days (see dates below). There's one coming up soon in August for Women's day, and Heritage Week at the end of September gives you 7 whole days to get your culture fix.
Free access to children aged 5 and under.
Human Rights Day: 21 March
Freedom Day: 27 April
International Museum Day: 18 May
Africa Day: 25 May
Youth Day: 16 June
National Women's Day: 9 August
Heritage Week: 21-27 September
National Aids Awareness Day: 1 December
Emancipation Day: 1 December
Day of Reconciliation: 16 December
This is part 1 of our City Life Hacks Series- Johannesburg, Durbs and other cities to follow.
What's your one Cape Town life hack you can't live without?