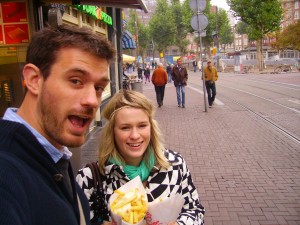 mu
When visiting any new city, it's probably most important to dig into the local cuisine. Where better to learn from than the people on the street. Street food is where it's at right now, so here's a round-up of ten great street foods to try in ten fantastic foodie cities: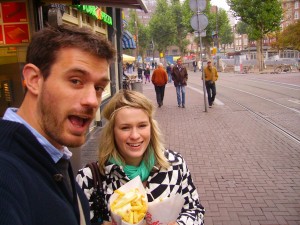 1. Amsterdam: Frites with mayo
No Dutch meal is complete without a dash of mayo. Now, one deep-fried treat you shouldn't miss, whilst strolling along the canals, is frites. Especially those sold at Rembrandt square. They are to die for!
2. Istanbul: Kumpir
Pay a visit to the neighbourhood of Karaköy, where you'll find streets laden with food stalls selling these huge baked potatoes, topped with an array of dips, olives and more.
3. Paris: Nutella Crêpes
A visit to the city of love is not complete without a taste of their delicious choc-nut crêpes. Pop over to Montparnasse, where you can find them from a vendor for under 6 euros.
4. Tel Aviv: Falafel
You'll know this one, but where better to try it than in Tel Aviv? Find this yummy, savoury pita stuffed with veggy falafel balls (made from chickpeas) around any street corner, for next to nothing, in this bustling city.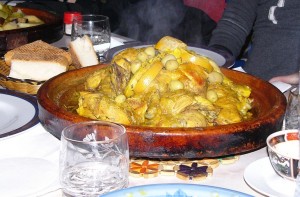 5. Marrakesh: Tagine
Visit the busy night market of Jemaa El Fna for some fantastic veggy tagine. This will set you back just over R20 – depending on your bartering skills of course.
6. Mexico City: Re-fried Bean Burritos
We all know this one, but nowhere in the world will you find a better re-fried bean burrito than downtown Mexico city. They go for around R20.
7. Hong Kong: Shumai dumplings
If you're in the mood for a greasy and cheap meal, you can find these pork-filled dumplings at almost any of Hong Kong's best known night markets.
8. Kuala Lumpur: Kway Teow noodles
This fried ricecake-strip dish is a seafood lover's favourite. Noodles are fried with prawns, soy sauce and cockles.
9. Mumbai: Chaat snacks
The streets of Mumbai offer and amazing variety of chaat snacks. The best snack to try is definitely the papri-chaat. This dish is usually served with sweet and sour tamarind chutney and chilled yogurt. The real taste of India.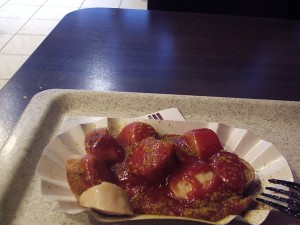 10. Frankfurt: Currywurst

Find some delicious German sausage covered in curry sauce anywhere in the Innenstadt. Try Pommes Freude for a super cheap (and scrumptious) wurst.
Photos by Marisa Crous