[Updated June 2020]
For those in the know, North West province has so much more to offer than a weekend in Sun City. From South Africa's most popular national park to some of its oldest archaeological sites and plenty of lesser-known gems in-between, there are many interesting places to visit in North West.
So, start planning your trip today to secure some serious discounts on game parks and accommodation as we head into winter. Here are ten things to do in North West you don't want to miss:
1. Family fun at Pilanesberg National Park
Pilanesberg is South Africa's most popular and accessible Big Five game park. Just an easy hour and a half's drive from Jo'burg or a two-hour flight from Cape Town, Pilanesberg is unpretentious, family-friendly, wallet-friendly and completely malaria-free. Situated inside an ancient volcanic crater, the park is teeming with wildlife and it's also the only national park in South Africa that offers hot air balloon safaris. It can feel a little like a big zoo here during the holidays, but it will always be a local family favourite or a cosy romantic getaway.
2. Shoot to thrill at Madikwe Game Reserve
Just a couple of hours down the road from Pilanesberg on the edge of the Kalahari you'll find Madikwe Game Reserve, one of South Africa's biggest private reserves and an astonishing conservation success story. Feted for its population of critically-endangered wild dogs and leopards, Madikwe is also developing a reputation as a top location for specialized photographic safaris. Pangolin Photo Safaris and Jaci's Lodges have recently unveiled a unique submerged photographic "terrapin hide" that pops up in the middle of a waterhole just above water level.
3. Glitz and glamour at Sun City
Just beyond the boundaries of Pilanesberg, Sun City is a hell of a lot of fun for both young and old. For the adults, there's a world-famous golf course and one of Africa's biggest casinos, as well as a number of watering holes, live music venues and restaurants. For the kids, there's a variety of rides and outdoor activities and the famous Valley of the Waves. Accommodation ranges from the ridiculously over the top luxury of The Lost City to the more simple homely comforts of the Sun City Cabanas.
4. Track rhinos at Letsatsing Game Reserve
Running along the edge of Sun City is the small and pretty Letsatsing Game Reserve is one of the most exciting places to visit in North West. The most thrilling of these activities is rhino tracking. On this educational activity, you will shadow a field guide as he tracks wild white rhinos with the help of a telemetry device that picks up a signal from a chip planted in the rhinos' horns. When the telemetry signal is strong enough to suggest the rhinos are close by, you and the guide get out of the vehicle and you'll have the unique opportunity to track, approach and then observe the rhinos on foot from just a few metres away.
5. Weekends at Hartbeespoort Dam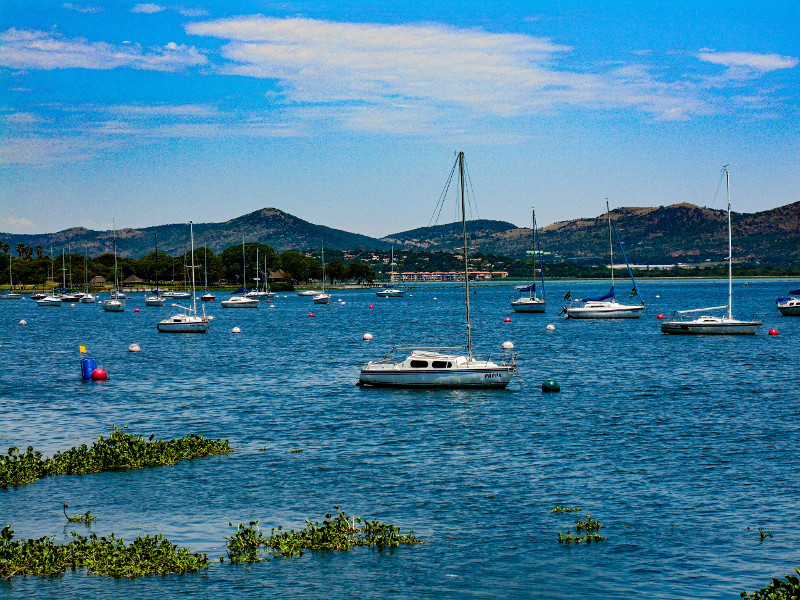 This dam and the surrounding area are a particularly popular weekend playground for 'Gautengers'. The dam itself is a favourite for watersports such as windsurfing and jet skiing, while the Crocodile River that feeds the dam offers white water rafting, canoeing and tubing among other things. Beneath the dam's surface, you'll find one of South Africa's few inland dive sites and, rather bizarrely, a sunken bus and aeroplane. Heading away from the water and into the surrounding hills and mountains, there are beautiful hikes and walking trails as well as good rock climbing. Quad biking, paragliding and hot air ballooning are also popular ways to explore the area.
6. Magical nature at Magaliesberg
This is one of the most magical and peaceful places to visit in North West. When the traffic decides to behave, it's less than an hour from Jozi to the dramatic Magaliesberg mountain range, but it feels a thousand miles away. The stories these mountains could tell – they are nearly a hundred times older than Mount Everest! As well as having a fascinating historical and geological heritage, the mountain range also has more indigenous trees and plants than you could shake a stick at. For the true nature lovers, a particularly special way to experience this part of the province is to set off on the Magalies Meander.
7. Visit literary ghosts in Groot Marico
Taking its name from the Groot Marico River, this quaint and quirky provincial town was the backdrop for many of the tales written by Herman Charles Bosman, still one of South Africa's best-loved writers. The town has embraced this literary association to such an extent that (as well as a museum which is an exact replica of the local school where Bosman once taught) it also hosts the Herman Charles Bosman Festival every October. The annual Marico Mountain Bike Classic is another event to mark in the calendar, and the accommodation in and around the town is generally as enchanting as Bosman's stories.
8. Mahikeng's human rights campaigners
Mahikeng is North West's provincial capital but much of this vibrant city retains its small-town charm inherent across many of the province's populated areas. Mahikeng played a pivotal role in the Anglo-Boer War of 1899, with a small garrison of British troops famously holding out here for 217 days against the much larger Boer army. Aside from a number of museums, historical buildings and monuments, the city is known for its affiliation to famous journalist and human rights campaigner Sol Plaatjie, whose life is as woven into the narrative of the city as is Herman Charles Bosman's.
9. Trace origins along Taung Heritage Route
This fascinating heritage route takes in a number of archaeological sites that fill in significant gaps in the chain of our evolution, as well as the lives of some of South Africa's earliest humans. It was along this route in 1924 that a 2.5-million-year-old fossilized skull of a hominid child was discovered. This site is officially part of the UNESCO Cradle of Humankind World Heritage Site. The entire Heritage Route spans 45 kilometres and encompasses several natural wonders, including a limestone waterfall and a number of natural rock basins, streams and caves that are collectively known as the Blue Pools.
10. Experience the rich culture of the Bakgatla-ba-Kgafela
The Bakgatla-ba-Kgafela are a subgroup of the Tswana people and their history in North West is as long and tumultuous as spending an entire day on Metrorail. But despite it all, a strong culture and sense of identity and hospitality have emerged intact and can be experienced at various cultural villages and the cultural museum in Saulspoort, about 35 kilometres from Sun City. Vast mineral wealth is also found inside Bakgatla tribal lands and the tribal elders now work on a number of joint ventures with mining groups in the area, as well as in conjunction with some of the game parks.
These are our top ten places to visit in North West. Have we missed any? Feel free to drop us a comment below. Let the holiday planning begin!
Don't forget to sign up to our newsletter to stay on top of upcoming flight deals, travel tips and much more.
---
All information on this blog page was correct at the time of publishing and may change at any time without prior notice. Travelstart will not be held liable for loss or inconvenience resulting from the use of out-dated or incorrectly noted information.