I should preface this article by saying that neither I, nor Travelstart, have any connection to the travel apps listed below. I just think they're really helpful apps for travellers.
Flightradar24 – Live Flight Tracking

Flightradar24 is a flight tracking app and website that provides you with real-time info about thousands of aircraft around the world … the aviation geek in me just loves this app!
The app started as a hobby project in 2006 when two Swedes decided to build a network of ADS-B receivers in Northern and Central Europe. In 2009 they opened up the network, and made it possible for anyone with an ADS-B receiver to upload data to the network.
And even if you're not travelling, there's nothing like tapping into Flightradar24, finding your mate somewhere over the Atlantic, taking a screenshot of his location, and then tagging him on Facebook.
Android | iOS | Windows
Uber – Cashless Cab Service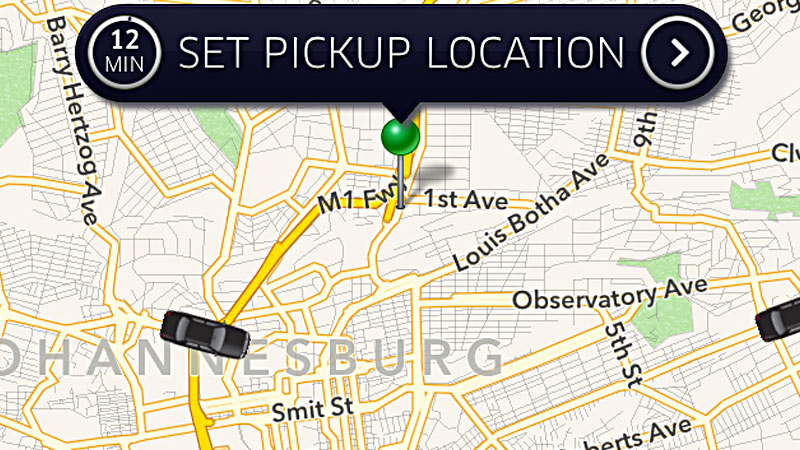 In such a short space of time Uber has changed the way we move around cities. I know their app has changed my life, and while I'm paying a slight premium for the service, I believe it's worth it as I don't have to leave a tip, I no longer spend frustrating minutes on the phone to chaotic cab call centres, and the ride I get is of a much higher standard than I'd get through your average taxi company roaming the streets of Cape Town. Uber is now available in all of South Africa's major centres – Cape Town, Johannesburg, and Durban – and if you're travelling internationally, you simply use the same app you'd use at home with no modifications needed. Uber is now available in at least 43 countries, and their global expansion is gathering momentum. Check whether or not Uber is available in your city, or a city you're travelling to overseas. Uber's features cover everything you'd want in a taxi cab app. If you haven't already, do check it out … you'll be impressed.
TripAdvisor – Find Things To Do And Reviews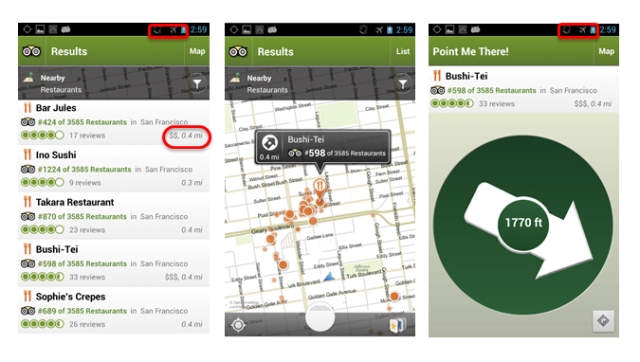 By now you're probably very familiar with one of the world's largest travel websites, and their app really is a handy handheld travel tool at home and abroad. Popular as it is on the big screen, the mobile developers at TripAdvisor have done a damn fine job of distilling the functionality and features of the website into small screens, making the TripAdvisor app a convenient tool for exploring foreign cities as well as your own. Besides the reviews, what I really like about the mobile app is that it syncs with your smartphones GPS to locate restaurants, hotels and attractions close to you.
HerdTracker – Track the East Africa Migration in real time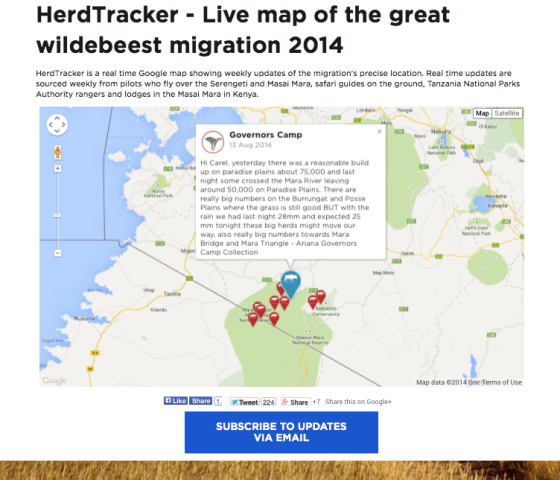 Want to know where the Wildebeest are? Now you can track one of nature's most spectacular events via a web application called HerdTracker. It's not yet available as a downloadable mobile app (it is optimized for mobile screens though), but HerdTracker is set to change the face of how you plan your next East African safari. Using weekly updates sent in by pilots flying over Kenya's Masai Mara and Tanzania's Serengeti, safari guides and lodges in the area, HerdTracker plots the exact position of the wildebeest herds on a real-time Google map. This makes it a lot easier to plan your travel to the Serengeti or Masai Mara in advance; heightening your chances of witnessing this phenomenon of nature firsthand!
www.discoverafrica.com/herdtracker
Entrain – Hack Your Jet Lag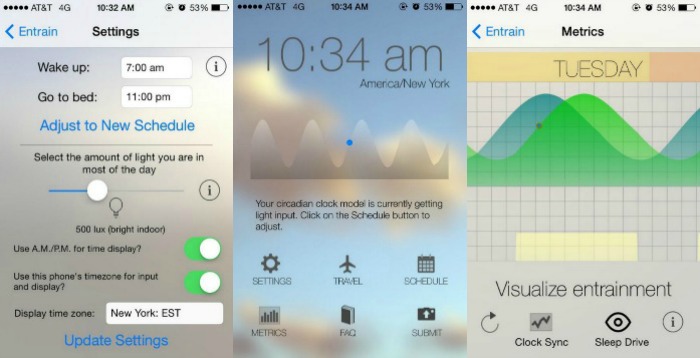 Finally, an app designed to 'hack' your jet lag woes … wait. What?!? Yep, researchers at the University of Michigan have devised a mobile travel app to overcome one of the few things that make your nomadic lifestyle unpleasant business. Before the idea of probes being permanently soldered to your glands connected to your cellphone become a worrisome prospect, the app, called Entrain, operates on the premise that natural light is the body's strongest signal controlling "circadian rhythms". The app provides users with schedules of light and darkness, including a block of time to be spent in the brightest possible light, and another to be spent in the dark. It makes use of "optimal control theory," a technique that calculates the best such schedules to help users adjust their body clocks for more than a thousand possible trips. The app is said to be the first to use a mathematical approach to the problem of adjusting to new time zones and overcoming jet lag.
Over – Add beautiful text & artwork to photos
For Android and Apple users, Over makes it easy to add beautiful typography and artwork to your photos. The locally developed app is popular and fast approaching the 10 million downloads mark. With Over you can choose from more than 25 fonts, overlay your photos with captions and quotes, then resize, align and position your text. When you're finished editing your photos you can publish your enhanced photos directly to your favourite social networks. There's never been a better way to add an envy-stirring "Wish You Were Here!" to your mobile travel snaps!
Word Lens – Translate foreign words into a language you understand
Word Lens finds words and translates them for you. You don't even need a data connection for this magical app to do its thing. Foreign signs, menus and short strips of text are no longer safe from being translated into a language you understand. Word Lens can translate Spanish, French, Italian, German, Portuguese, Russian and even more words into English. Simply point your phones camera at the text, and let it decipher it into a dialect you understand!
iOS | Google Glass
Free Wi-Fi Finder – Stalk the Wi-Fi hotspots wherever you are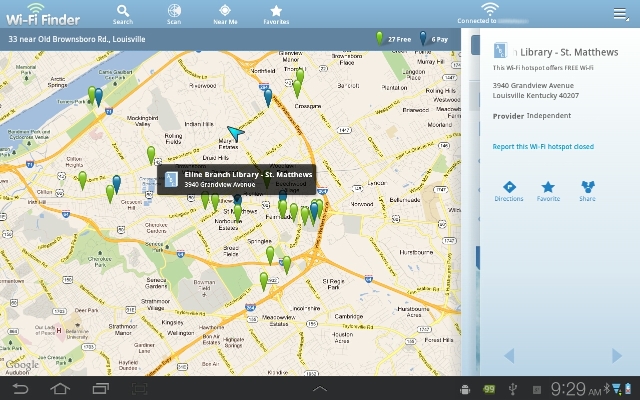 There's no better way to spoil awesome holiday memories than arriving home and walking bang into the middle of an aneurysm inducing bill from your service provider. Bill shock is so real it even has its own, cutesy nickname, but it's easily avoidable if you know where to find the free Wi-Fi. And that's exactly what this nifty app does – find all the broadband you could ever exploit and give yourself the peace of mind to tweet, instant message and map your way at the expense of someone else's broadband.
Crescent Trips – Prayer time alerts and Qibla direction
The perfect companion for Muslim travellers, Crescent Trip alerts users on the in-flight prayer time and Qiblah direction even when your mobile device is offline and 35 000 feet in the air. Some of the key features include: Arabic language support, a next prayer countdown timer, and the ability to find proper location of Mecca based on your current coordinates. Crescent Trips provides travel duas, or prayers, that include the Arabic text, audio and English translations. Users can also set reminders for prayer times and look for Halal food options at an airport.
Goodbudget – Personal budgeting app for the web, Android and iPhone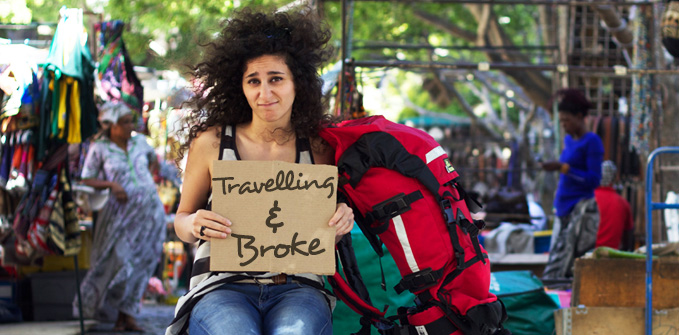 While it's not marketing itself as a travel app, with Goodbudget, economically savvy travellers can consolidate all aspects of their trip expenses into their device without having to deal with finicky formulas and spreadsheets. The app is based on the envelope budgeting method to help you spend, save, and give toward what's important in your travel life. Goodbudget allows you to save for big expenses, share budgets with the people who matter most, and create a budget that actually works … everything in one place and in the palm of your hand.
---
[polldaddy poll=8260536]
What's your favourite travel app? Let us know in the comments below.