Escape Cape Town swells to cosy fireplaces, the pleasing nothingness of desert skies, mountain passes and river beds.
4-5 hour drives out of Cape Town
Tankwa Karoo National Park
The Tankwa Karoo National Park is only a 5 hour drive from Cape Town. Get up early next Saturday morning and get out into that empty desert space. There's nothing like strong moerkoffie brewed on a gas stove, skies clear enough to star gaze in, down duvets, dusty roads and Karoo sunsets.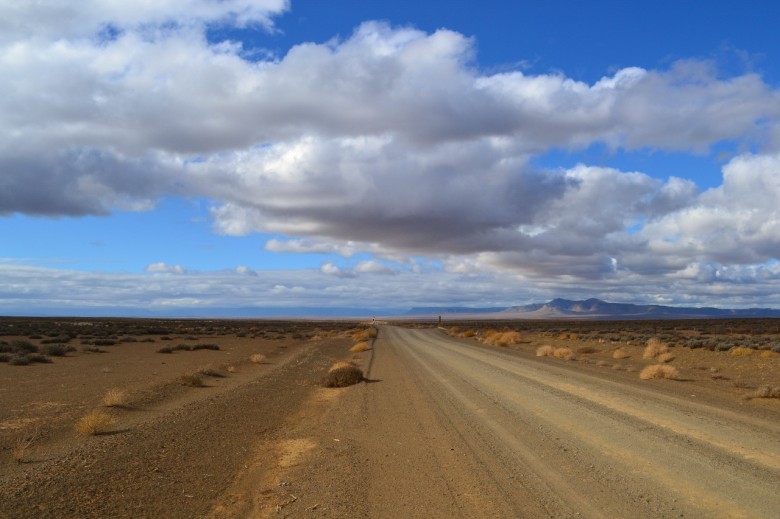 San Parks is incredibly well-run and affordable. Book one of several accommodation options depending on the number of people traveling with you and how much you're willing to test your vehicle. Have a look at this aerial video of the park to get an idea of the emptiness.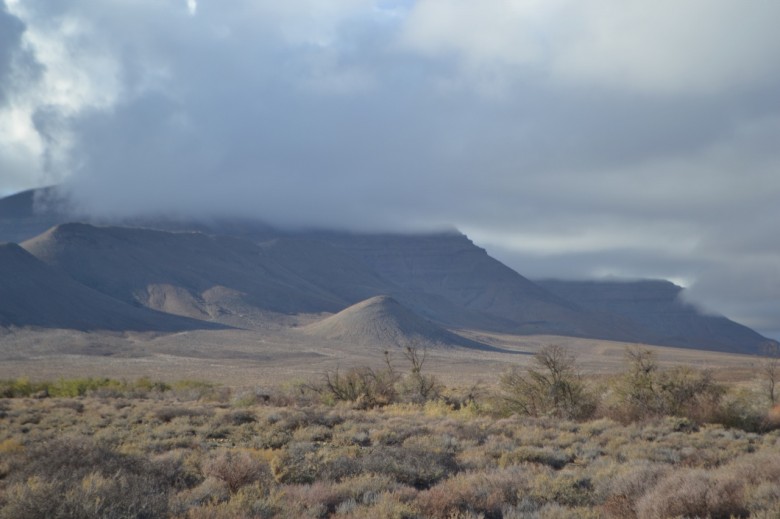 Paulshoek, De Zyfer and the Tankwa Guesthouse Complex are closer to the edge of the camp and the reception and therefore are easier to access. Varschfontein is further away and a 4×4 is recommended, though you probably will be fine in a 2×4. There are also wonderfully isolated camp sites. Rates are extremely reasonable (to give an idea- R100 for 2 people to camp per night – the same rate applies for all the campsites, or R585 for four people to stay in the charming Karoo cottage at De Zyfer). Have a look at all accommodation options and availabilty here. Remember to bring a spare tyre and drive slowly as the R355 is a dirt road which tends to shred tyres (and a second spare if you want to be cautious). I drove there and back in a sedan with no problems but we assisted a bakkie that had two flat tyres.
It's forbidden to drive in the park between the hours of 18:00 and 6:30 in winter (1 April to 30 September) and 19:00 and 5:30 in Summer (1 October – 31 March). Though an exception is made for visitors arriving on a Friday night no later than 21:00 at reception. There is only diesel available in the Park and the last stops for petrol (measured from Park offices) are Ceres (180km), Sutherland (120km – closed from 13:00 on Saturday until Monday), Calvinia (110km) and Middelpos (52km).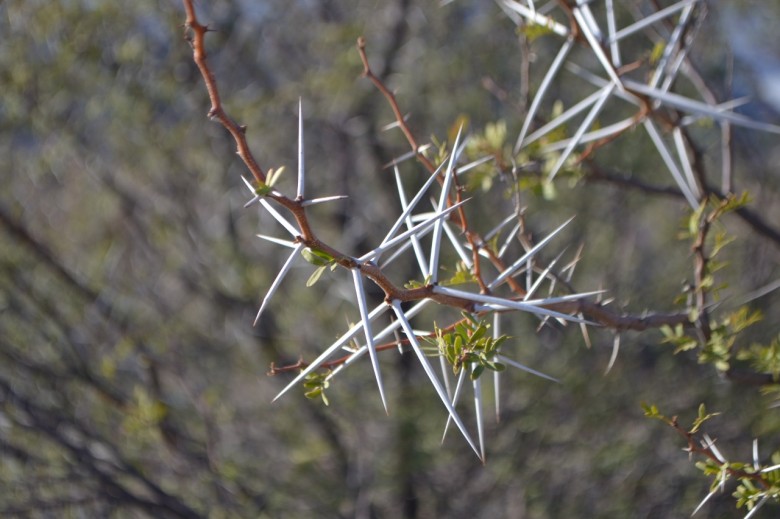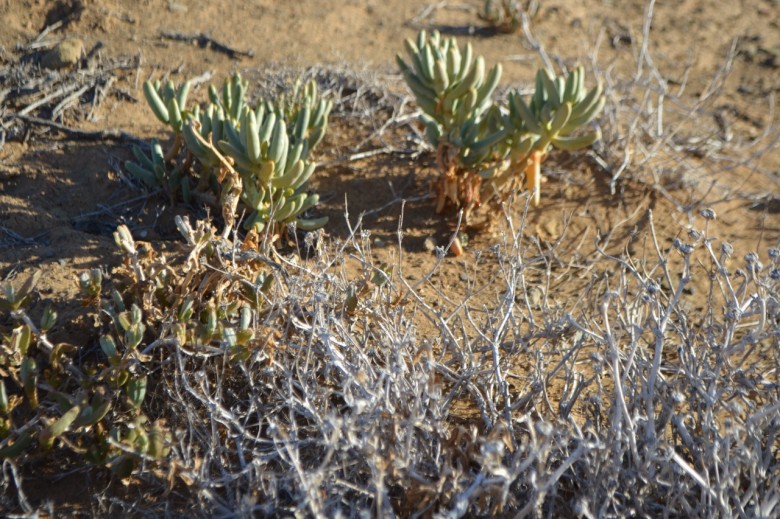 Strange Stars in Sutherland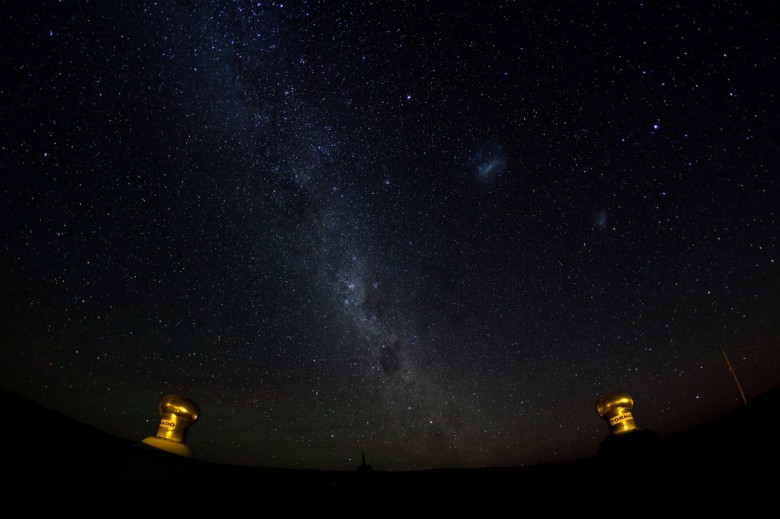 The Milky Way and the Magellanic Clouds visible with the naked eye in the Karoo by Matt Biddulph on Wikipedia Commons
People come from all over the world to take in the night sky in Sutherland. Thomas Hardy even remarked on the "strange stars amid the gloam" in the Karoo. Sutherland is the coldest town in South Africa with snow fairly common in August (the coldest temperature recorded in Sutherland was −16.4 °C on 12 July 2003) so wrap up warmly! Book a tour of SALT (the largest telescope in the Southern hemisphere) here. Day tours are R60 per person. There are no Sunday Tours and it's not possible to visit any of the research telescopes at night, not even SALT. Night tours cost R80 per person. and include the viewing of interesting objects in the sky through two dedicated visitor telescopes,16″ Meade and 14″ Celestron. Tours for children under 5 are free, children 11 and under pay half-price.
Stay at 4-star B & B Kambro Kind in town with hosts Rita and Jurg Wagener or their daughter and son-in-law Juanita and Gary Hutchings on the Hutchings' farm Middelfontein (only 1.3 km outside of town). Enjoy Karoo hospitality, a fire in winter and stargazing with Jurg. Kambro Kind has 6 en-suite rooms with secure parking in the back. Middelfontein Farm has 3 houses: Fontein, Fonteintjie & Saffraan. Breakfast for all is served at Kambro Kind in town. Rates are very reasonable at R395 per person sharing (and R379 in winter). Call 023 571 1405 to book.
Visit Endangered Species in the Karoo National Park
The Lower Karoo by Tjeerd Wiersma on Wikipedia Commons
From Cape Town hit the N1 and don't look back until you arrive at the turn off for the Karoo National Park. This is big sky country with old Cape Dutch cottages to stay in and black rhinos, lions and over 20 breeding pairs of Verreaux's eagle to encounter. You can spot the riverine rabbit and the black rhino, two of South Africa's most endangered species as well as the quagga roaming free in the park. The quagga became extinct in 1883 but was recreated from portions of its genetic code present in tissue samples taken from a mounted museum exhibit. Have a look at the accomodation and book here.
If you're planning a last-minute trip I find the "still available this weekend" option on the San Parks Website very useful. There is an entrance fee of R38 per day for adults and R19 per child under the age of 12. But if you go to National Parks often you might consider buying an annual wild card which grants you unlimited access to 80 plus parks for a year at R710 for 2 people or R870 for a family of 7 with a maximum of two adults. Reception is open from 07:00 to 19:00 (the Gate is open till 22:00). The Family Cottage has a base rate of R1500 for 4 people but it can sleep an additional 2 people. Camping costs R205 for 2 people and a chalet that sleep 2 costs R1100. Book here.

Accommodation in the Karoo National Park on Rooms For Africa
Karoo Views in Prince Albert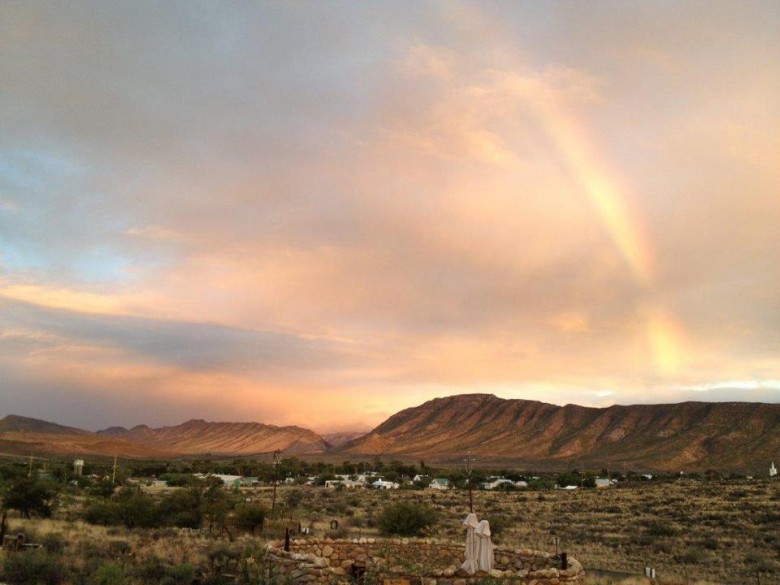 Stay at 4-star Karoo View cottages. These luxury self-catering cottages charge adult rates from R395 per person per night to R475. Rates for children under 12 years sharing the same cottage as their parents are R210 to R250 per person per night.and rates for children over 12 years sharing the same cottage as their parents range from R295 to R315 per person per night. This includes complimentary Health breakfast supplies (3 cereals, rusks, fresh farm milk and juice from Gay's dairy), tea, coffee, sugar, filtered water, marmalade and honey as well as a basket of firewood, blitz and kindling for the fireplaces in the cottages, free wifi (switch off your phone to escape the city), daily servicing and a fully equipped boma and braai areas. Take a virtual tour of the cottages here. Call 023 541 1929 to make a booking or visit their website.
Julie from Karoo View has the following advice for visitors to Prince Albert: fresh bread and vegetables are available at the OK on Tuesday and Friday as well as from the Lazy Lizard every day. The Butcher is closed on Wednesday and Saturday afternoons and all of Sunday, they have delicious Karoo Wors. Fresh vegetables are available at the Saturday Market in the early morning.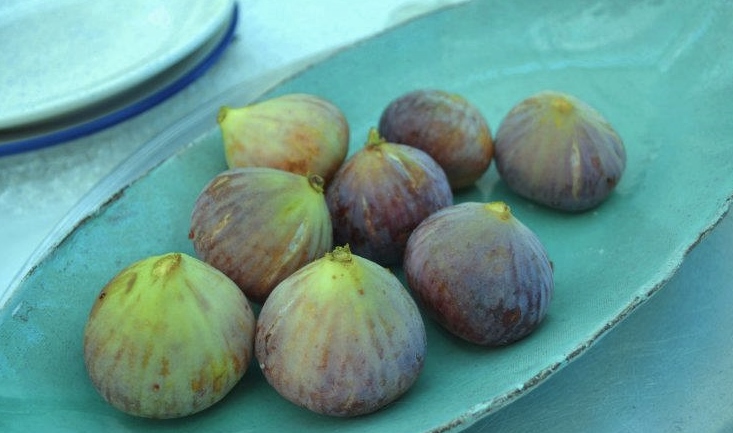 Julie says guests may pre-order a Karoo braai basket prior to arrival at an additional cost and they are welcome to pick fresh herbs and veggies from Karoo View's organic tunnel.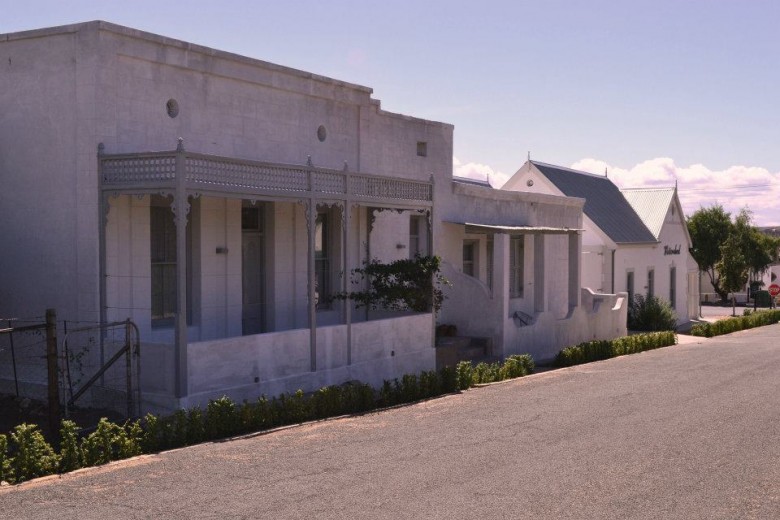 2- 3 Hours out of Cape town
Stay on a Working Fruit and Wine Farm at Koelfontein

Cropped view of photograph of Koelfontein Farm by Corlien Morris
Closer to Cape Town but pleasantly remote, from Ceres take the R303 for 20 minutes to Koelfontein Farm. Owned by 7 generations of the Conradie family Koelfontein is a working farm which produces fresh and dried fruit and wine. The self-catering cottage die Kloofhuis has walls a foot-thick, thatch roofs and traditional stable-doors. Weekend and public holiday rates for 1-6 people are R950 per night. There is a minimum stay of 2 nights. Call 023 313 3304 or book online here. Relax with a glass of the farm's wine and take-in the view of Ceres and the Hex river mountains in the distance.
Winter Drive near Ceres by Amy Uzzell
Matroosberg Ski Huts
Matroosberg by Riki Lawson
The first snow has been spotted this season and this is just the beginning. Pack up your warmest clothes and head to Matroosberg Private Nature Reserve. The Matroosberg Ski huts sleep up to 20 people, there are no beds only mattresses on the upper sleeping deck and two bathrooms with hot water showers. This is perfect for a weekend-away with friends. You'll need to bring your own bedding and towels. There's a fully-equipped kitchen, inside fireplace for roaring winter fires and no electricity so you'll be forced to take time out from your electronics. The cost is a minimum base rate of R500 per night (and R100 per person per night). Children from the age of 3 to 13 are charged R50 per night. Send them an email as they often have difficulty with their phone line. Check the Snow Report before you go. Office hours are 8:00 to 17:00 from Monday to Thursday, 8:00 to 21:00 Friday and 8:00 to 16:00 on Saturday and Sundays.
Sleep by the Monument River in Matjiesfontein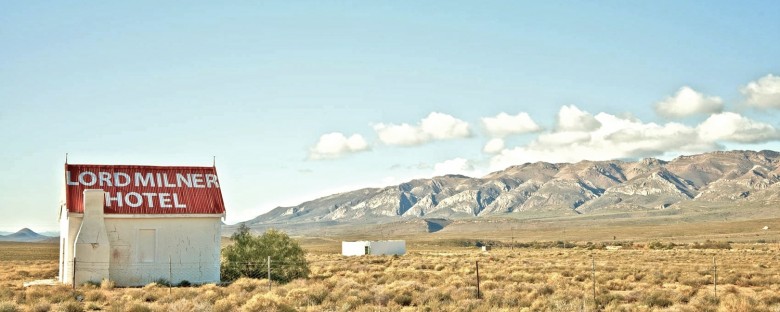 Matjiesfontein by Natasha Clark on The Rabbit Haus
This tiny village of 422 inhabitants on the fringe of the Great Karoo owes its existence to the need for a railway between the port in Cape Town and the diamond mines in Kimberley. A Scotsman named James Logan came to the Karoo to recover from illness and founded a refreshment station here. Over the years his endeavours attracted numerous prominent visitors including Olive Schreiner, Kipling and Churchill's father, Lord Randolph. Schreiner said of Matjiesfontein:
"It is curious, and to me very attractive this mixture of civilization & the most wild untamed freedom; the barren mountains & wild Karoo & the railway train."
The Lord Milner Hotel was used as a hospital for British soldiers during the Boer war which has given rise to several ghost stories. Kate, a 19-year-old Boer War nurse is said sometimes to be seen staring from the hotel's top turrets or playing cards. Pub lunches are served daily between 12:00 and 14:30 in the wonderful old fashioned Laird's Arms. The rooms in the historical Lord Milner and Olive Schreiner's Cottage are pricier so for a more affordable stay try the "Matjies Motel" options which includes the Riverbank Rooms in the gardens of the Hotel, overlooking the Monument River. Kipling immortalised this river when he visited with the words
"To the home of the floods and the thunder, To her pale dry healing blue – To the lift of the great Cape combers, And the smell of the baked Karoo".
Rates for the Riverbank Rooms are R900 per room per night (sleeps two people). Call 023 561 3011 or email to book.
There's also self-catering accommodation at Rietfontein Private Nature Reserve about 8km from the Lord Milner. You can stay in one of 5 fully equipped 2-bedroom cottages: Steenbok, Springbok, Rhebok & Duiker Cottages at R950 per night for 3 – 4 persons, R720 per night for 1 – 2 persons and Gemsbok Cottage R1060 per night for 3 to 4 persons, R 835 per night for 1 to 2 persons. For bookings call 082 489 1591.
Milk and Honey at Beloftebos near Stanford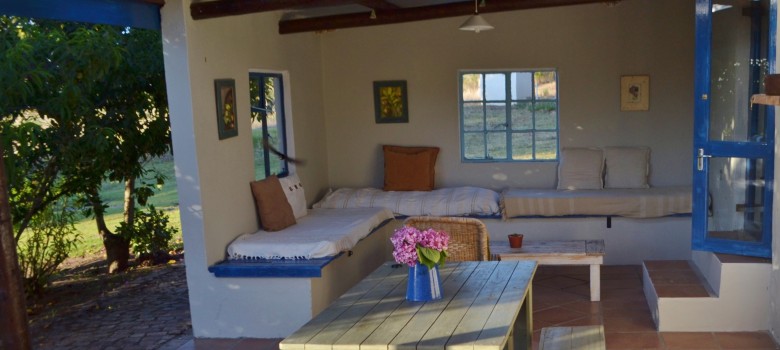 Take a roadtrip through the Overberg to the beautiful little cottages on Paardenberg Farm. My favourite is Melk en Heuning from R1100 per night for 4 people (it's R200 p/p extra per night thereafter – maximum of 6 people). Light Cottage and Groenvy sleep up to 10 people and Graanat sleeps up to 8 people . All have electricity except Light Cottage which is powered by gas, solar and firewood. There is a large, semi-enclosed farm stoep where you can sit with hot tea and rusks in the mornings. Important to note that if Beloftebos Cottages are booked for only one night, a 1.5 per night rate will be charged. For accommodation enquiries contact Coia on 082 391 5331.
Montagu along Route 62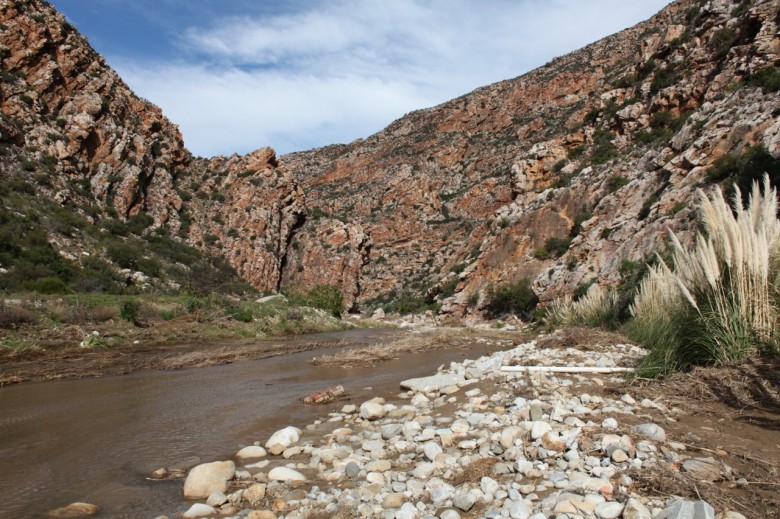 Montague courtesy of South Africa.to
Take Route 62 to Montagu and discover De Bos campsite set by a river with horse paddocks stretching out past the farm house. It's only a 20 minute walk along a riverbed, with a little bundu-bashing to some great rock climbing routes with a range of difficulties for the beginner and more-advanced climber. De Bos Guest farm has a great camping area (R60 per person per night) with lots of space to pitch your tent under pecan and oak trees. The communal kitchen area and bathrooms are clean. There is also a simple Garden Cottage with ensuite kitchen and bathroom if you are not in the mood to camp. It's R400 for one or two people with a minimum 2 day stay. The rock formations in this region are some of the best in the world. There are 300 bolted routes of all ranges of difficulty with +/-400 Single Pitch & a good few Multi-Pitch Sport Routes. Find out more  about climbing routes here. Find De Bos farm at 8 Brown St, Montagu. Call 023 614 2532 or book here. I would also recommend visiting the Montagu dried fruit factory shop and the Old English Fort.
1 Hour out of Cape Town
Pulled-Lamb Vetkoek Burger in Riebeek-Kasteel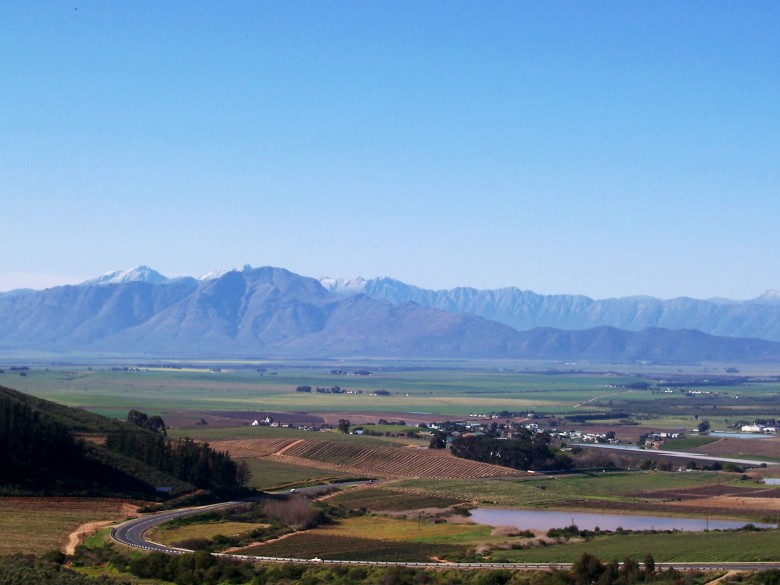 R46 Riebeek Kasteel by Andres de Wet on Wikimedia Commons
Just 80 km out of Cape Town you can escape to little Riebeek-Kasteel, one of the oldest towns in the country. Set among vineyards and olive groves in the Riebeek Valley there are many little country pubs, bistros and B&B's to choose from for your weekend trip. For ultimate luxury you can't go wrong with the Royal Hotel but for something a little cosier but still outstanding choose the Red Tin Roof. Bed & Breakfast comes to R900 per room (sleeps two people). Be sure not to miss their pulled lamb burger in a vetkoek roll. Book here.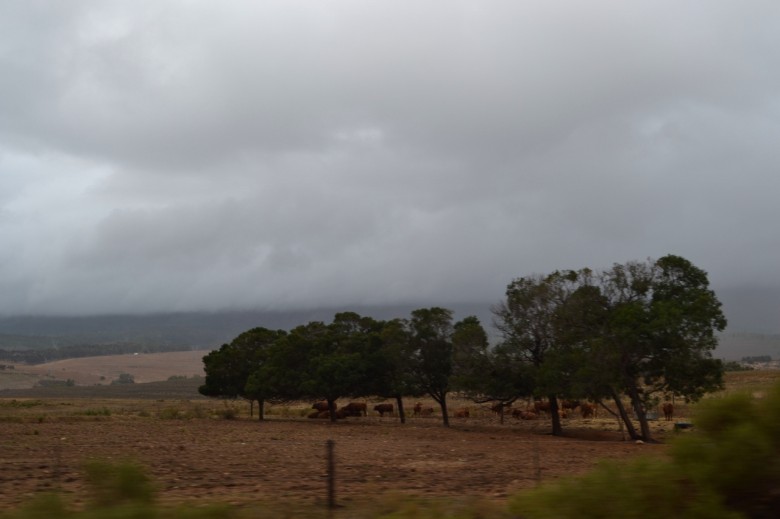 Have you taken any of these weekend trips to the desert landscape, big skies and "almost oppressive beauty" of Olive Schreiner's Karoo or cosy small-town Prince Albert? If not, why not leave the city behind this weekend. Let us know about your favourite affordable weekend escapes in the comments below.