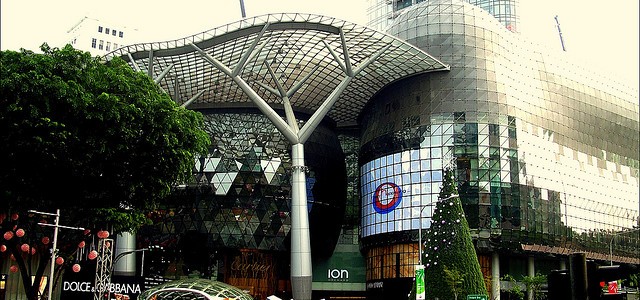 As a major entry point for South Africans travelling to the Far East, Singapore makes for a first-rate stopover destination if you're on your way to/from Hong Kong, Thailand, Australia, New Zealand or Indonesia.
Firstly, Singapore is one of the few countries that South Africans don't need a Visa for. Secondly, upon landing at Changi Airport and clearing passport control, there's an excellent MRT train that can have you in the city centre within half an hour.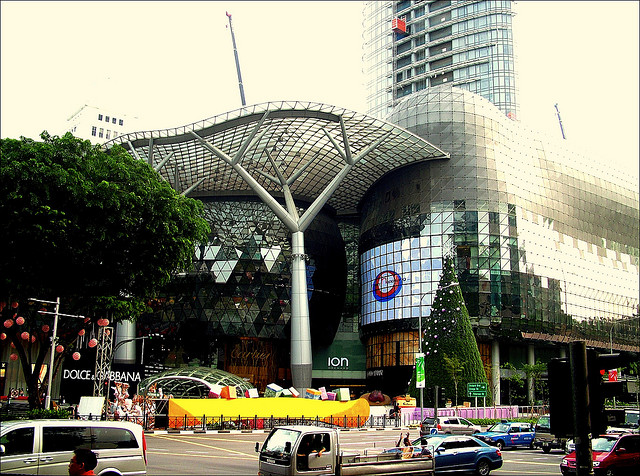 I had an 11 hour stopover in Singapore on a flight from Bali to South Africa. The guys I was travelling with wanted to buy some tech stuff and with 11 hours to spare, this was the perfect opportunity to go explore the city and buy some cheap gadgets.
Want to stay in Singapore longer? Check out this Singapore holiday package – Flights & 5 nights for R10 780
Shopping in Singapore
Singapore is a shopping mecca and if you're looking for the latest gadgets and high fashion, I can guarantee that you'll find it in this modern city for a better price than you would in South Africa. At the time of publishing this article (29 November 2011), the exchange rate is 1 SGD = 6.42818 ZAR.
Sim Lim Square
If there's one reason to stopover in Singapore it's for the well-priced gadgets and Sim Lim Square delights with six floors of electronic heaven.
Most shop owners at Sim Lim Square are open to negotiation – just don't be rude to them or they'll be equally rude to you. They're professionals so use sound bargaining techniques; a polite way to open your negotiations is by asking "Is this your best price?" That said; make sure you know the market price of the item you want before you blindly start trying to get the best deal.
Get on the MRT at Changi Airport and travel into the city getting off at Rochor Canal Road. The journey takes just over 10 minutes one way.
Budget Singapore
While Singapore can be a costly place to visit, it can still be done on a budget. Here are a few things you can do without burning too much money.
Observation Deck at Marina Bay Sands
The Marina Bay Sands hotel is one of the latest additions to the Singapore skyline and offers unmatched, 360 degree views of the city. Purchase a ticket at the lobby under Tower 3 then take the fast elevator to the top. On clear days you can see Malaysia and Indonesia, not to mention stunning views of Singapore and Marina Bay.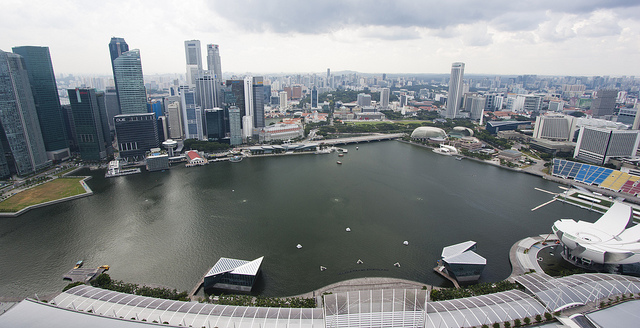 Experience Singapore in March-April 2012 for R10 780 all in
Clarke Quay
Enjoy a Tiger Beer at Clarke Quay – the best place to hang out and do some people watching in Singapore. Buy your beers takeaway style at the 7 Eleven and take them along to Read Bridge where you can sit alongside the locals and experience Singaporean culture.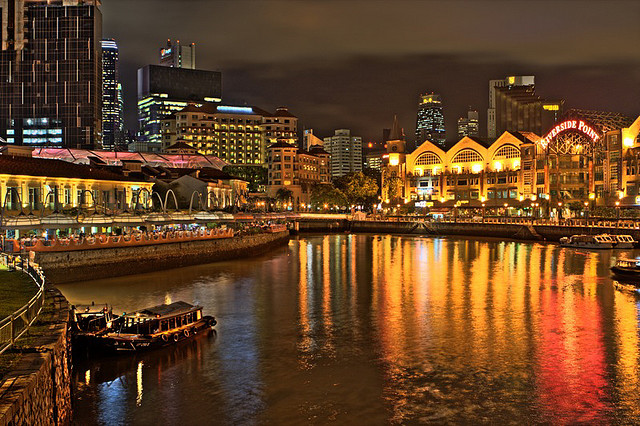 Take a Walk around Marina Bay
Use the walkway that circumnavigates Marina Bay for a unique outlook on Singapore if you visit during the day or night. Seize photo opportunities along the way by snapping a few pics at the Merlion before continuing to the Helix Bridge. At night enjoy a Singapore Sling at one of the bars while admiring the light show afforded by the Marina Bay Sands Hotel.
In Transit at Changi Airport
Whether you're on a budget or a short layover, there's a lot at Changi Airport to make transits hassle-free and enjoyable. This multi award winning airport is arguably the best in the world and includes a Science Centre, orchard garden, extensive shopping and restaurant facilities. If you're travelling with children then they're in for a treat. Changi Airport has an abundance of entertainment for kids – topping the list is the Xperience Zone and the Butterfly Garden.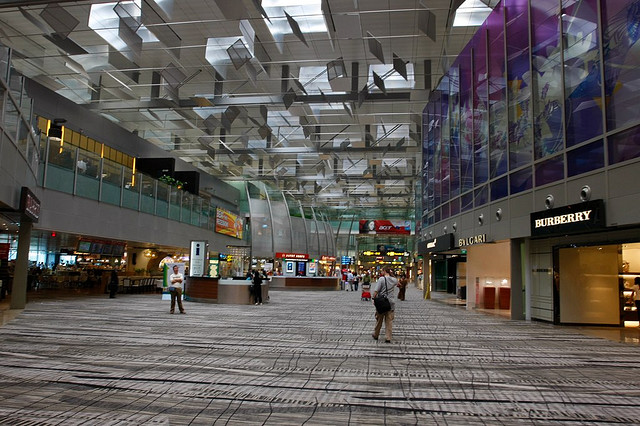 Changi Airport's offering complements the Singapore Airlines experience perfectly by offering a superior facility where the feeling is first class.
Shop till you drop in Singapore 2012 – Travelstart special for R10 780 – Book now
Singapore Images anshu si |Sherwin Huang | Lawrence OP | Shaojin | widakso