As much as the Mother City is the place to be during the summer months, believe it or not, it has more to offer than the turquoise waters of the Atlantic Ocean, some of the world's best Winelands, and the beast that is Table Mountain. Cape Town's a city with a buzzing restaurant atmosphere which seems to be growing at a rapid rate. Be it Bree, Loop, De Waterkant, the V&A Waterfront or Constantia, the wide array of restaurant choice is there. So, what about the top quality restaurants which are offering the best deals this winter? We give you the top 15 Unmissable Cape Town winter specials in 2015.
Featured Image above "Balsamic and rosemary flat-iron steak" by Des at Life's Ambrosia
1. Bistro Sixteen82 at Steenberg Wine Estate
 Bistro Sixteen82
There's just something about enjoying some of the world's finest wine and top quality food at a vineyard in the Constantia Wine Valley. Bistro Sixteen82 at Steenberg Wine Estate is providing all you Tapas fans out there a chance to tuck in this winter with their winter tapas special valued at R300. The special includes 5 tapas dishes and 2 glasses of wine so it's perfect for winter lovebirds or close friends. The Winter Tapas Special at Bistro Sixteen82 will run until the end of August and is served from 16:30 to 19:30 from Monday to Sunday.
Visit Bistro Sixteen82's website
Contact: 021 713 2211
2. Gibson's Gourmet Burgers
Gibson's Gourmet Burgers on The Inside Guide
What better way to shake off the winter chills than by feasting on some delectable burgers or ribs. At Gibson's this winter there're a host of different winter specials on offer throughout the week. On Mondays it's two-for-one burgers, on Wednesdays guests who order a portion of ribs receive a free burger and Thursday is "free milkshake day" for anyone who orders a fine gourmet burger off their mouth-watering menu. The food at Gibson's isn't just about burgers and ribs, they pride themselves on offering some of the best quality gourmet burgers and ribs in Cape Town. Located at the V&A Waterfront, a lunchtime pitstop at Gibson's is a must if burgers or ribs are your thing.
Contact Gibson's: 021 418 3660/2
3. Fine Dining at Aubergine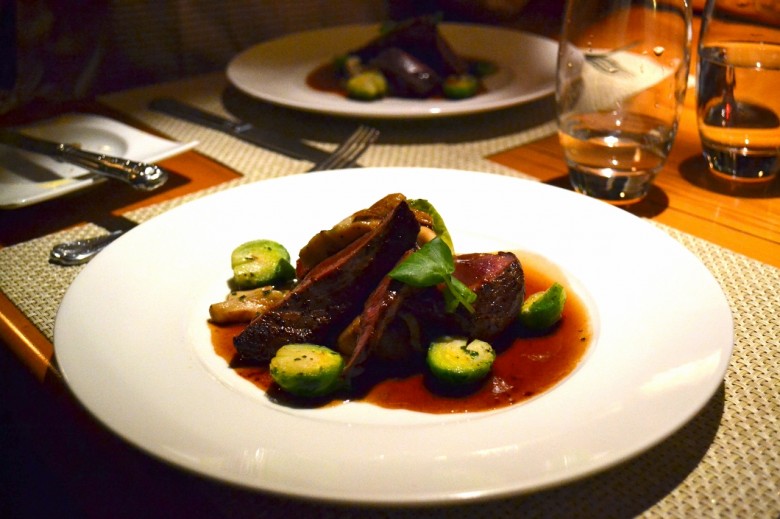 South African Springbok at Aubergine Restaurant courtesy of Elizabeth Palmer Kitchen
This is fine dining at its best. Located in Gardens, Aubergine is no newbie to Cape Town's restaurant scene and is well regarded for its modern take on bistro with a Mediterranean-South African twist. The architectural design carries a great deal of history dating back to 1830. We get it – fine dining doesn't come cheap. But at Aubergine this winter one can save big time with a set 3-course menu at only R340, the 2-course menu at R250, and various other specials on offer for the winter months such as the tantalizing Lamb Shank with sides for only R139. So, if you are looking to impress on the first date, a fine dining experience for a fraction of the standard price at Aubergine this winter is sure to deliver the goods.
Contact Aubergine's: 021 465 0000
4. Catharina's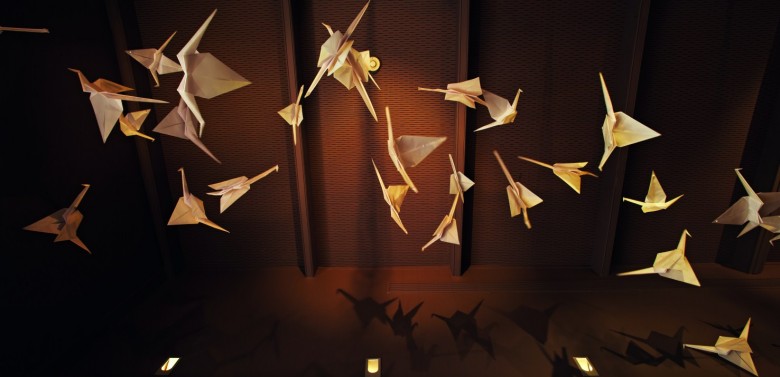 Catharina's Restaurant at Steenberg by Michael Oliviier at Michael Olivier Communications
Catharina's boasts one of the most elegant settings you could ask for in the Mother City. Situated at the Steenberg Hotel in the suburb of Tokai, the restaurant is named after Catharina Ras, the lady who founded Steenberg all the way back in the 17th century. The swans hanging from the ceiling don't go by unnoticed and they symbolize the history of Steenberg as the wine estate was originally named "Swaaneweide" which translates to "the feeding place of swans". As it suggests, not much at Catharina's goes by without careful planning, and this too is the case with the top end food that comes out of executive chef Garth Almazan's kitchen. During winter, guests can enjoy the Winter Warmer Special at Catharina's with a 2-course set menu for only R165 and the 3-course menu for R195. This special is running every day until the end of August.
Contact Catharina's: 021 713 7178
5. The Foreign Exchange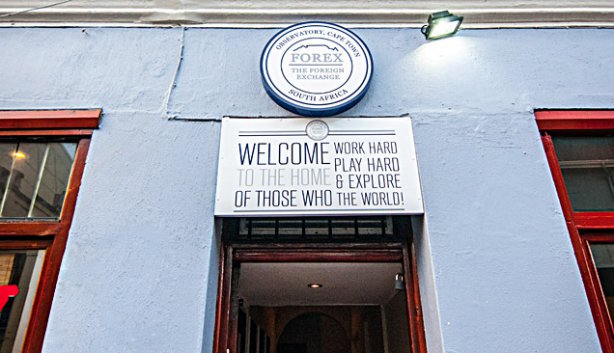 The Foreign Exchange at Cape Town Magazine
The Foreign Exchange is a new, hip and happening restaurant located in the buzzing arty suburb of Observatory. This is very much the new kid on the block and attracts a crowd from international shores, be it exchange students at UCT or tourists to our city, as well as locals who enjoy reasonably-priced food, a vibrant and youthful atmosphere paired with quality wine and craft beer. Until August this year, the Foreign Exchange is hosting one epic pizza and drinks special. Guests can choose between the R100 pizza and wine combo which includes any pizza and 2 glasses of wine or, for the larger crowds, the R190 deal which includes 2 pizzas and a pitcher of beer (3 or 4 pints of beer). And with pizzas costing around R60, a glass of wine R45, and a pitcher of beer R100, it's really a no-brainer!
 Image courtesy of The Foreign Exchange
Visit The Foreign Exchange's website
Contact The Foreign Exchange: 021 448 0083
6. Ferryman's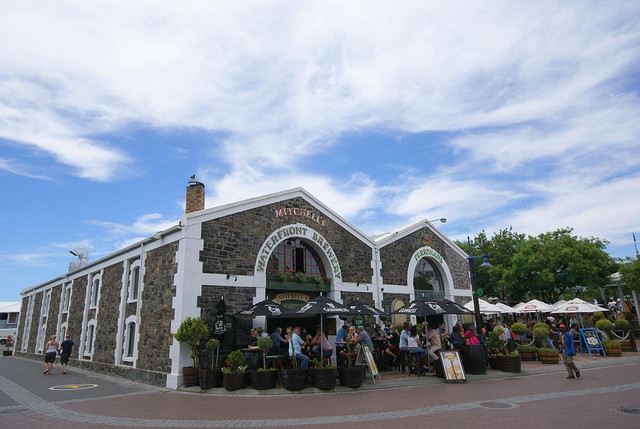 Ferryman's Tavern by Danle van der Merwe on Flickr
A popular spot at the Waterfront in Cape Town is Ferryman's Tavern. Although not located on the water's edge, Ferryman's boasts a traditional pub atmosphere and a great setting to enjoy a pub lunch over the weekend with family or friends. And with the Super Rugby fixtures remaining and the Currie Cup and Rugby World Cup to come, as well as all the football matches lined up for the coming months, Ferryman's is undoubtedly the best spot to watch sport at the Waterfront and arguably in Cape Town. To ease the tension of those nail-biting matches this winter, Ferryman's has dedicated an in-house winter special menu with ridiculously discounted combo meals such as a 200g rump steak, 4 chicken wings, and chips for only R85, a 300g rib eye steak, calamari and chips for R105, and more. Adding to this, the establishment has dedicated each day of the week (Monday to Friday) to a particular daily special.
Contact Ferryman's: 021 419 7748
7. Café Dijon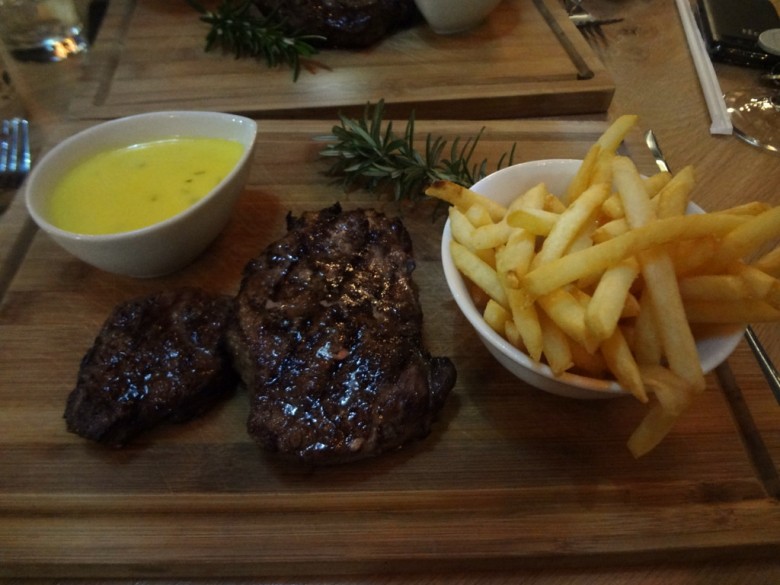 Steak and Frites at Café Dijon courtesy of Karisa at My Love Affair with Cape Town
Every steak addict gets that unstoppable craving on certain days. Well if this is you then you're in luck. The French Bistro, Café Dijon, is hosting a winter warmer special this winter that is hard to beat. From Sunday through to Thursday steak lovers can indulge in the 300g steak and chips special accompanied by a complimentary glass of wine, all for R100. This trendy bistro is found in the De Waterkant area of Greenpoint and should without a doubt be on your list of eateries to pay a visit to this winter in the Mother City.
Contact Cafe Dijon: 021 418 3910
8. The Conservatory
The Conservatory courtesy of South African Travel
Enjoy the pared-down elegance of the Conservatory Restaurant at the Cellars-Hohenhort hotel in Constantia. The Cellars-Hohenhort is a boutique hotel which boasts a variety of facilities including an award-winning garden, health spa, hairdressing salon, small golfing green designed by Gary Player, and of course two excellent restaurants; the Greenhouse and the Conservatory. To celebrate the cosy winter atmosphere this year, the Conservatory is offering a winter warmer special which includes a 2-course meal for R180 and a 3-course meal for R210. This is not a set menu so you"ll have the option of choosing between main courses of springbok rump, green Thai rubbed linefish, honey-roasted butternut gnocchi and some delicious starters and desserts. Be sure to pay the Conservatory a visit before the end of August when this special ends. It's important to note that this special only applies during dinner.
Visit The Conservatory's website
Contact The Conservatory: 021 794 2137
9. Rick's Café
Image courtesy of Rick's Cafe Américain
Rick's Café might not have any winter warmer deals on their menu this year per se, but with a wide variety of drink specials on offer from 4 to 7 pm Monday to Friday in quite possibly one of Cape Town's cosiest restaurants, Rick's should not go unnoticed. During Happy Hour guests can also indulge in the tapas and wine combo special where it costs only R150 for the tapas platter and a litre of house wine to warm those bellies after a stressful work day. With its Happy Hour specials, deliciously affordable meals on offer, Moroccan theme and cosy atmosphere, if you're looking for some well-deserved cheap drinks and appetisers after work, or a value for money dinner in a cosy environment next to the fire, Rick's Café has it all. Oh and did I forget to mention- there are 3 different lunch specials on offer during the week all valued at R60 per meal. Rick's Café also caters for the growing banting craze.
Contact Rick's Cafe: 021 424 1100
10. Kyoto Garden Sushi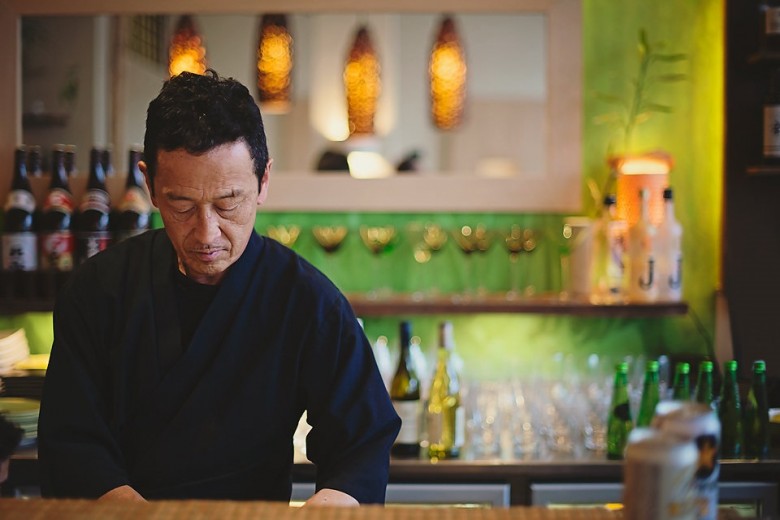 Image by Claire Gunn at Kyoto Garden Sushi
This post would be incomplete without including a winter warmer deal in the Asian food category. Voted the "best Asian restaurant" at the Eat Out Mercedes-Benz Restaurant Awards in November last year, this is where sushi and Japanese food fans can strike gold this winter. For the price of R170 guests can tailor their own 3-course authentic Japanese meal with a complimentary glass of wine at Kyoto Garden Sushi, a hidden gem located on Lower Kloof Nek Road just a couple of doors down from the local drinking hole, Rafiki's. This special is only running until the end of July from 17:30 to 23:00 Monday to Saturday so be sure not to miss out.
Visit Kyoto Garden Sushi's website
Contact Kyoto Garden Sushi: 021 422 2001
11. HQ
Steak, Chips and Wine by HQ Website at HQ
Steak lovers you are in luck. This winter HQ is running winter specials on different days of the week. On Monday it's 2-for-1 night where 2 steaks with chips and salad will cost you only R175. Tuesday is date night so ladies go treat your man to this awesome special of 2 steaks with chips and salad and 2 glasses of The Wolftrap Red for R250. Then if you're a tapas fan, Thursday is your night at HQ where all tapas platters are half price. Located on Buitengracht Street, HQ's kitchen has brought about a great deal of interest over the years so we highly advise that you book in advance.
Contact HQ: 021 424 6373
12. Harbour House in Kalk Bay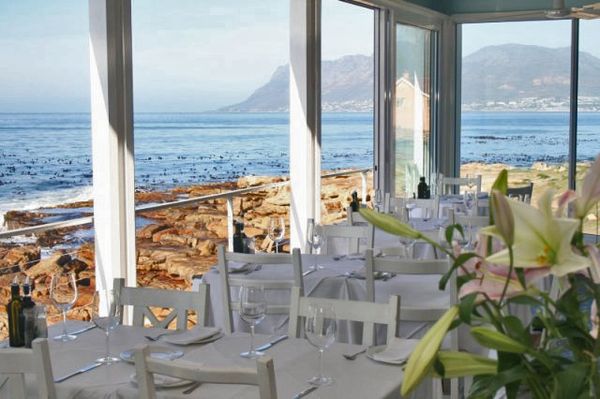 Harbour House Restaurant by Harbour House Website at Cook Sister
For years Harbour House has produced some of the best seafood meals in Cape Town and there's no surprise that the menu is steep, although not unreasonably priced. For those seafood fans on a tight budget, Harbour House in Kalk Bay is running one epic special this winter with any 2-course meal at R160 and a 3-course meal costing you only R180. The setting at Harbour House is quite unreal sitting right on the water at Kalk Bay Harbour in one of Cape Town's oldest and unspoilt fishing villages in False Bay.
Visit Harbour House Kalk Bay's website
Contact Harbour House Kalk Bay: 021 788 4133
13. Addis in Cape Town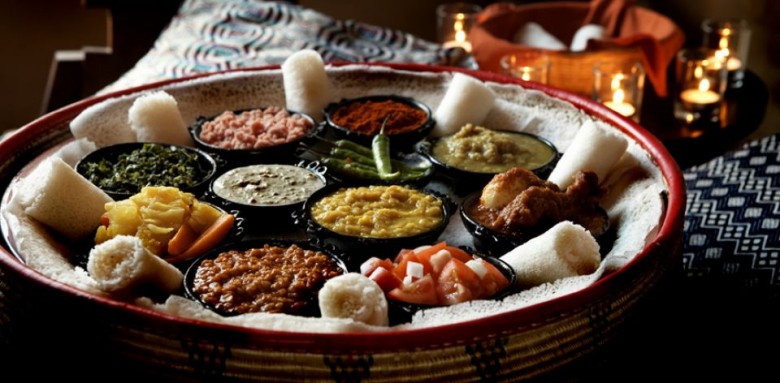 Ethiopian Food courtesy of Addis in Cape
This winter restaurant list would be incomplete if it did not include an eat-out spot specialising in African cuisine – to be more specific, authentic Ethiopian food to ignite those taste buds! Addis in Cape Town offers undoubtedly the best Ethiopian meals in Cape Town and, as luck would have it, there is one epic lunch special running with a large platter for only R99 or their lunch combo for R90 which includes any 2 lunch meals of your choice from the menu. Addis in Cape is located in the heart of the city on the corner of vibrant Long and Church Streets. Boasting an authentic Ethiopian atmosphere with a kitchen dishing out arguably the most pallet-pleasing Ethiopian dishes, this spot gets quite busy so be sure to phone and book in advance.
Contact Addis In Cape: 021 424 5722
14. Chapman's Peak Hotel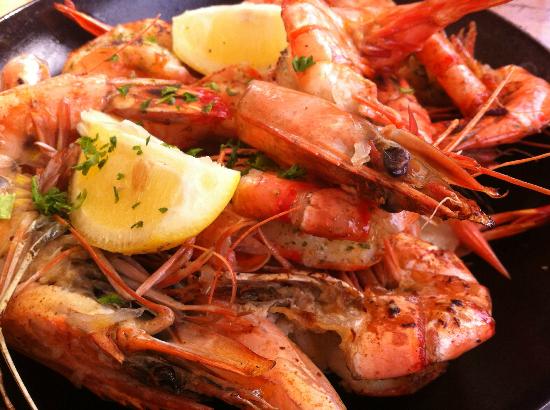 Image by Suzie Mackley at Blogs and Beyond
It's prawn ecstasy at the Chapman's Peak Hotel this winter. Situated in one of the most picturesque settings at the base of one of the world's most mesmerising marine drives, this is a popular spot for both tourists and locals alike. And with winter quickly making its way to our shores, Chapman's Peak Hotel is running a preposterous prawn special valued at only R115 side-lined by rice and lemon butter, piri-piri, or garlic butter. Not a fan of prawns? Don't worry – Chapman's Peak Hotel has a wide range of alternative winter specials on offer including rib eye and rump steak, sole, tuna steak, creamy mussels, chicken prego, lamb curry, and more. All of these winter specials come with a complimentary glass of red or white wine to wash down your meal and will only cost you R95. The special is running until September.
Visit Chapman's Peak Hotel's website
Contact Chapman's Peak Hotel Restaurant: 021 790 4403
15. 96 Winery Road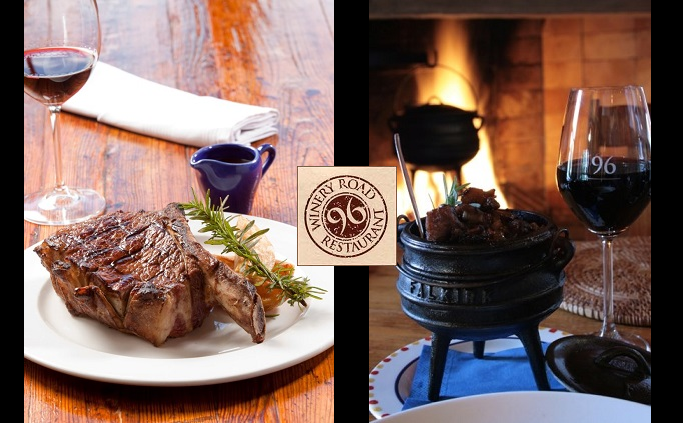 96 Winery Road courtesy of Grand Dining Club
This spot requires about a 30-minute drive out of Cape Town but is well worth it. Nestled in the Helderberg countryside on the R44, 96 Winery Road has been producing sensational food blends between local South African cuisine and flavours from around the world since 1996. And on special this winter are the signature dishes; Duck and Cherry Pie and the 250g Hollandaise fillet steak for only R96. This winter warmer deal runs only until the end of July (Tuesday and Thursday nights only) while the half-price burger special runs during lunch, Monday to Friday.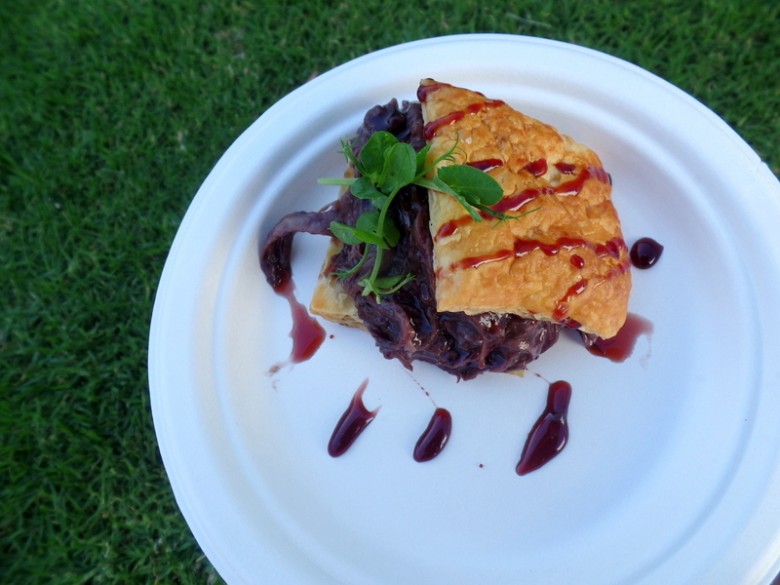 The Duck and Cherry Pie at 96 Winery Road courtesy of Tahlia from Toomuchloveliness
Visit 96 Winery Road's website
Contact 96 Winery Road: 021 842 2020