[Updated October 2020]
Local knowledge involves a hard-won, intricate understanding of a place; it's not easily dug up in guide books, nor is it straightforwardly fessed up by its guardians. When it comes to Cape Town, we'd like to think we're in a good position to pass on our local knowledge, so we set about uncovering the gems and quirks that stitch the fabric of Cape Town's scene together. By creating awareness awehness, we hope that next time you visit the Mother City you'll also be able to experience Cape Town and the spots where you can eat, shop, party and be entertained like a local.
1. Yogi's Barber Shop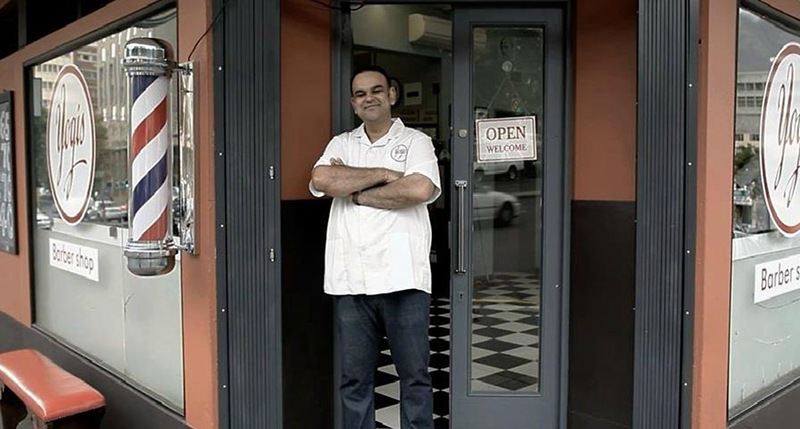 If you're looking to get your hair cut like a local then step into Yogi's on Buitengracht Street. Proudly owned and run by a 4th generation barber, Yogi's has been around for more than a decade. The barbershop is reasonably priced, clean and relaxed, and the interior is kitted with the most amazing antique barber's chairs, black and white chessboard floor, as well as the obligatory red and white baton outside. Yogi's stylists are exceptionally talented and cut hair with the same level of expertise and passion as the owner.
Tip: Yogi's Barbershop offers a multicultural way to experience Cape Town. He and his fellow barbers cater for all and have the skills to satisfy any customer's needs.
2. Fish on the Rocks in Hout Bay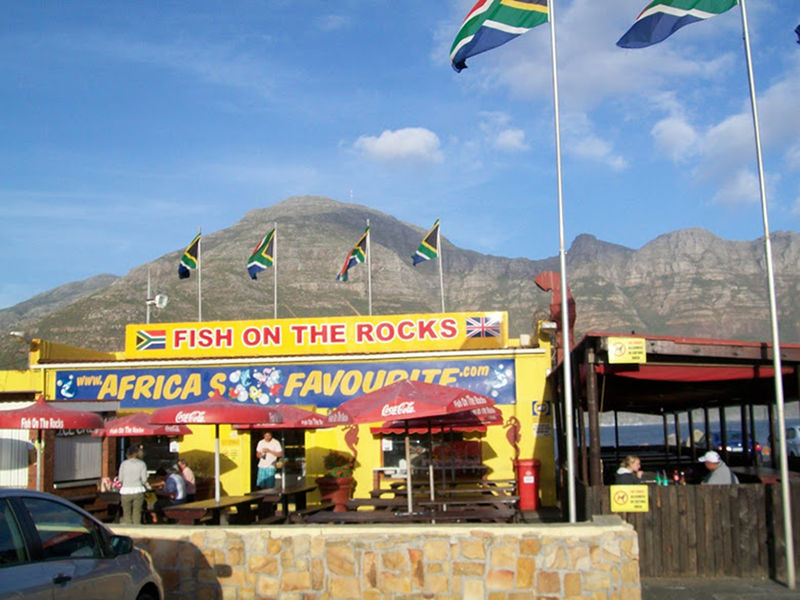 Capetonians know they're never too far away from a slap-up seafood chow. But for what is arguably some of the freshest seafood in the city, locals know they can rely on Fish on the Rocks in Hout Bay. Known for their delicious fish and chips combo, it's an authentic way to experience Cape Town, and no tour of the Cape Peninsula is complete without stopping here. Think crispy fish and chips with a sea breeze.
Tip: Combine a visit to Fish on the Rocks with a browse around Bay Harbour Market which is just across the parking lot.
3. Athlone Stadium
Look to your left when approaching Cape Town on the N2 and you should see the recognizable white arches curving over the two stands at Athlone Stadium. This is the home of Santos Football Club and Chippa United, as well as the Cape Flats' lively football culture. The stadium holds 34,000 people and makes a festive venue in the midst of the legendary match-ups it plays host to.
Tip: Laduma with the locals and roar at the pitch. A definite way to experience Cape Town like a local. Stay up to date on fixtures at Athlone Stadium on the Santos FC website.
4. Hudsons Burger Joint
Forming an integral part of trend-setting Cape Town culture since 2009, Hudson's is the self-proclaimed creator of the Mother City's tastiest and most satisfying burger. Cape Town includes three branches: on Somerset Road in Green Point, Protea Road in Claremont and Kloof Street in Gardens. Inspired by the authentic American-style diner with a distinctly Capetonian twist, this is one place you'll get to experience Cape Town like a local.
5. Surf with the Muizenberg locals
Muizenberg – the sleepy seaside community comes alive in the line-up at Surfers Corner. The wave-riding culture of the area is alive and well and has been for some 50 odd years when The Corner Surf Shop (Africa's oldest surf shop) first opened its doors. Besides the shape of surfboards and the comforting presence of Shark Spotters, not much has changed in Muizenberg, and that's where its charm lies. Get ready to experience Cape Town's surfing culture.
Tip: Check out Gary's Surf School on Beach Road for lessons and board rental.
6. Slow Market
'Slow' in the new age sense of the word is defined as edibles that are produced or prepared in accordance with local culinary traditions, typically using high-quality locally-sourced ingredients.
What better way is there to experience Cape Town's 'slow' culture than at the Slow Market at Willowbridge. Taste locally produced food served by locals, and enjoy the culinary spoils of the merchants' ode to old family recipes. Featuring 100 speciality suppliers, including local farmers, grocers, artisan bakers, organic merchants, craftsmen, fine food purveyors, craft brewers and estate wineries, the Slow Market is available every Saturday and Sunday, come rain or shine.
Tip: For a day trip a little out of town, there is also a stunning Slow Market in Stellenbosch at Oude Libertas.
7. Ubuntu Khayelitsha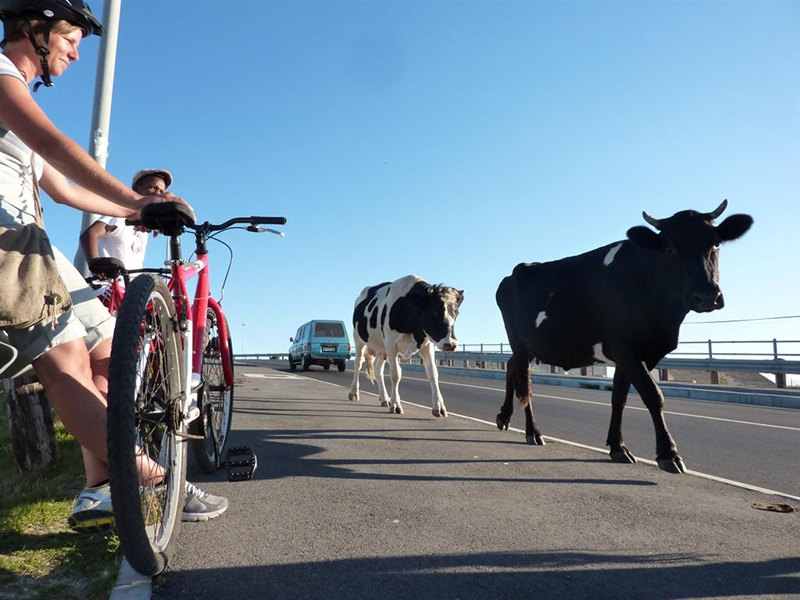 Khayelitsha, Cape Town's biggest informal settlement is rarely explored, but Ubuntu is changing that with their township bicycle tours. The tours, which are conducted in English and cost R550 per person, offer a safe and fun way to explore a new culture and landscape.
Tip: There are a number of B&B's in Khayelitsha. Why not stay for a night or two and experience Cape Town's other treasures?
8. Shop like a local, take The Lot
Capetonians are a fashion-conscious bunch, and The Lot in Sea Point is perfectly positioned to cater for local looks. A contemporary boutique with various locations around the city, finely dressed folks at The Lot have scoured the globe to bring you the coolest fresh and vintage fashion, accessories and lifestyle products. Their stores stock women's wear and menswear from local designers to well-known international brands. Discover the fashionable way to experience Cape Town!
9. Lefty's
Kentucky Chicken and waffles in one dish … what more can we say? Unashamedly itself, Lefty's on Harrington Street has been in Cape Town since 2014, drawing a local crowd for its grungy interior, American-inspired menu and all-round alternativeness. Spread over several interlinked rooms, this is the venue for booze, food, smoke and song. The menu is scrawled haphazardly on the wall, leading us to believe firm favourites such as chicken waffles and ribs is just the beginning of Lefty's' offering.
Tip: Discover another way to experience Cape Town like a local by ordering the famous deep-fried chicken and maple syrup waffles.
10. The Book Lounge
Kicking back with a book in the comfy setting of The Book Lounge is a promising alternative if you need a break from exploring the outdoors. Offering peace and quiet in the city, The Book Lounge won an award for being the best independent book store in South Africa. Curled up on a couch with your favourite novelist's latest work, this charming book store will take you back to the Victorian era with its beautifully-decorated wooden finishings and plush sofas. What's more, there is no rush! Join the locals for this relaxing way to experience Cape Town and spend the day lost in its charming collections.
Tip: The Book Lounge often has book launches and informal chats with authors, speak to the clerk to see what's on.
11. The Fireman's Arms
It's one of Cape Town's oldest pubs occupying the same site it did when it first opened for business in 1864. Despite its age, Fireman's Arms has stood the test of time, retaining its original ambience and standing firm as one of the best ways to experience Cape Town. It's still a great place to watch sport alongside fans of local sides, and a wintery Saturday cheering on your favourite team has never looked so good accompanied by a range of hot pub fare, a range of beers on tap, and table visits from Babelas – Fireman's Arms' resident cat.
Tip: Join Pub Quiz Night on Thursdays. Arrive around 18:00 to secure a table. Quiz starts at 19:30 at R20 per person. Don't forget your thinking cap!
12. Kalky's in Kalk Bay
The queue on weekends verifies this non-descript little shop's popularity. Kalky's offers an old-school fish and chip experience where patrons can choose to eat inside if the weather's looking sketchy, or on the pier, where you'll need to keep an eye on dive-bombing seagulls who are as hooked on Kalkys' food as the locals! Fresh from the sea (caught on the owner's boat) the blackboard menu brims with authentic fish and chips, deep-fried calamari, snoek, crayfish and prawns all served with rice or chips. Expect generous portions and daily offers which can be enjoyed with an easy-drinking house wine or beer. Experience Cape Town by indulging in Kalky's ocean-fresh seafood while watching trawlers at work and seals at play in the quaint Kalk Bay Harbour.
Tip: Take the Metrorail train to Kalk Bay and stop for a few cheeky drinks at The Brass Bell, sans 'Designated Dave'.
13. Beta Beach in Bakoven
While the water might not be as tempting as the photo suggests, Beta Beach offers a welcome respite from the crowds at Clifton, Camps Bay and Llandudno. This small, pristine stretch of sand is frequented by residents who live in the vicinity, providing one of the relaxing ways to experience Cape Town. Truth be told, unless a fellow sun gazer has brought their cat with, it's hard to tell locals from visitors. Although the beach mostly comprises large boulders there is a small section of white sand, and a clear swimming area if you're brave enough.
Tip: Have a pre or post-beach coffee at Baked Bistro which is around the corner from Beta Beach on Victoria Road.
14. Tokai Forest
Tokai Forest presents the perfect opportunity to get outdoors and experience Cape Town like a local. This green belt in the Southern Suburbs of Cape Town is the domain of SANParks and a favourite amongst picnickers, mountain bikers, walkers and runners. The mountainside setting affords fabulous views of the flats, and on clear days, all the way to the Hottentots Holland mountain range. Pine trees create a natural canopy, while a maintained network of dirt paths provide the perfect platform for adventure-seeking mountain cyclists, trail runners and horse riders.
Tip: Take the trek to Elephant's Eye Cave if you are in the mood for some off-the-beaten-track exploration.
15. Get in the game!
As an outsider, there's nothing like experiencing the passion and pulse of a home crowd on a winning streak. At the various sports grounds around Newlands, the atmosphere is electric. Make sure you join the residents of Newlands and experience Cape Town's enthusiasm for sport!
Tip: Are you a Sharks supporter in Cape Town? Then check out the Sharks Supporters Club near Newlands.
16. Long Street Baths
Right in the middle of Cape Town's lively centre, hidden behind an antique looking façade on the corner of Long Street and Orange Street, is one of the Mother City's often overlooked gems: the scruffy but charming Long Street Baths. For more than 100 years, the swimming pools at the top of Long Street have provided one of the oldest ways to experience Cape Town: generations of water babies have a place to play, relax and perfect their stroke. While the exterior exudes faded Edwardian elegance, the interior was upgraded (in 1990!) to include an up-to-date heating system, ramps and facilities for handicapped swimmers, as well as change rooms with hot showers.
Please note the swimming pool is currently closed due to the Covid-19 outbreak
17. Milnerton Flea Market
Today, the Milnerton Flea Market is situated on Marine Drive (R27), a stone's throw away from Lagoon Beach. The outdoor market has been going for over 20 years now, and it offers a truly local way to experience Cape Town on the weekend – browse delightful bric-a-brac, pick up some plants or find a rare Mother City keepsake hidden amongst mountains of antiques. A landmark popular with bargain hunters, it's open on Saturdays and Sundays, as well as public holidays.
Tip: Bring the dogs – Milnerton Market is pet friendly. Entrance to the market and its parking facilities is free of charge.
18. Eastern Food Bazaar
To step into this aromatic arcade between Longmarket Street and Darling Street is to step into another world, seemingly removed from the Cape Town experience you might be familiar with. But for locals who frequent this value-for-money restaurant and take away outlet, its diverse dining experience is what makes it so distinctly Capetonian. It doesn't matter whether you're going for lunch or a late in the day dinner. Expect a menu that takes you from India to Turkey and downtown Chinatown in one sitting! Eastern Food Bazaar is a multinational eating experience like no other.
Tip: Pay for your order at the cashiers first, then take your slip to the relevant chef and watch while he makes your meal.
19. Go places with the MyCiTi Bus
South Africa has never been praised for its public transport network, and for locals without their own vehicles it can be an uphill battle to get from A to B. Times thankfully changed, and things have been looking up; especially since the introduction of Cape Town's MyCiTi buses in 2010. This transport system is a great way to experience Cape Town's best way to get around with public transport. There are stations in and around Cape Town. Head to one to get a myconnect card for R35.
Tip: The MyCiTi Bus System is not to be confused with the City Sightseeing Red Buses which are sometimes far better suited to tourists and first-time visitors to the city. The Airport Express gets you to or from Cape Town International for less than 100 bucks.
20. Kloof Street House
Discover another side of the charming scene that Kloof Street offers! Kloof Street House is a local institution on… you guessed it… Kloof Street. That's thanks to the restaurant's cosy, refined ambience, exceptional décor and eclectic cuisine. This elegant Victorian house is home to lovely leafy gardens, which transform into a stunning sight at night with beautiful lighting.
Tip: Make sure you head there on Sundays to catch live jazz performances, enjoy idyllic lunches or relaxing times chilling with a drink. Just another way to experience Cape Town's slow lifestyle.
---
Whether you're from Sandton, Umhlanga or Soweto, we hope you'll find a fine balance of places and activities that truly showcase the best way to experience Cape Town's diversity and uniqueness. The city really does have everything and more you could want in a holiday destination. The real experiences, however, lie just off the beaten path waiting for you to find them.
Find your flight to Cape Town with popular flight routes from Johannesburg to Cape Town and Durban to Cape Town.
What would you add to our list? Tell us by commenting below.
All information on this blog page was correct at the time of publishing and may change at any time without prior notice. Travelstart will not be held liable for loss or inconvenience resulting from the use of out-dated or incorrectly noted information.