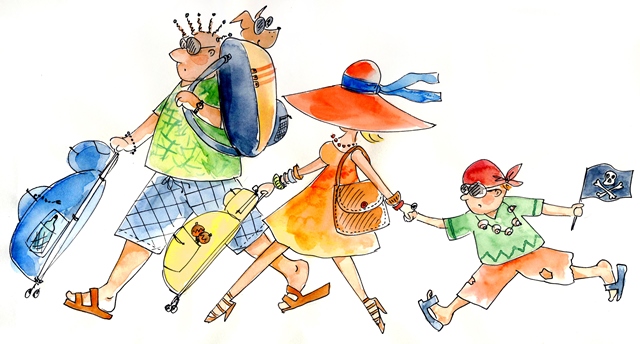 We know you're busy wrapping up the year, so we've created a list of tips and tricks for travel this festive season to use as a quick reference guide.
Before you travel…
1. Make sure your ID/passports are valid and if you're travelling overseas make sure you're familiar with any Visa regulations/restrictions of the country you're travelling to. As a general rule, make sure your passport always has 2 blank pages available and is valid for at least 6 months from the date you return to South Africa.
– You should read: How to renew your SA passport –
2. Children and Infants must have their own passports for international travel.
3. Travel insurance is a must and you can even get it online in a few easy steps. Check out
www.travelsafe.co.za
.
4. Make copies of all your important travel documents and your itinerary and leave these with someone you trust. Also keep copies of all your important documents in a safe corner of cyberspace so you can access them from anywhere.
5. Reconfirm your flights or do online check 24 hours before you depart.
6. Request special meals and seating (don't forget child meals) more than 24 hours before you travel.
7. If you're renting a car make sure you have your driver's license, a copy of your vehicle voucher and a credit card with funds available for the excess deposit.
8. Elderly/infant travellers should request additional assistance with the airline at least 72 hours before travel.
9. Keep a pen handy for all those pesky arrivals forms that need to be completed.
10. Charge all your phones, laptops, tablets etc. before you travel and remember to pack the chargers with the correct adapters for use at your destination.
11. Pack a small medical aid kit – medication available in other countries is often not the same as the medication available in South Africa.
12. Find out if you qualify for entry into any of the airport lounges as offered by some banks and airlines.
13. Arrange your transport to the airport – remember the traffic and take this into account when calculating time needed. Remember, you should be at the airport at least 1 hour before a domestic flight and at least 3 hours before an international flight.
On the day of travel…
14. Allow extra time for check in – flights can be over booked and airports are busy in peak season.
15. Take kids entertainment and snacks with you.
16. Keep carry on liquids under 100mls as per LAGS.
17. Flying with prescription medication? Keep a copy of your prescription.
18. Check the airline luggage restrictions – they are always strict but particularly when flights are full.
19. Don't forget to lock your luggage and/or have it vacuum wrapped at the airport (allow additional time for this as the queues can be long).
20. Check your travel date and time carefully. For example, if you're on the KLM flight from Cape Town – Amsterdam which departs at 00:25 you will need to be at the airport the night before.