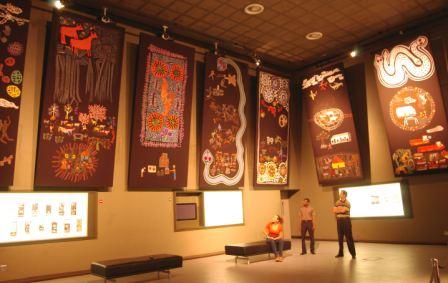 Anyone who tells you there's nothing affordable to do in Joburg clearly isn't from around here, or they've spent the last decade home alone watching series re-runs and eating TV dinners.
I'm always sceptical about must-see tourist attractions because invariably they're not shy to charge a hefty entrance fee and the brochure ends up being much more exciting than the real thing.
However, I'm willing to stick my virtual neck out for these 5 attractions:
Apartheid Museum
Focusing on 20th Century South African history, the multimedia installations are excellent and chillingly real. No matter how well, or how little, you know South Africa's past, the Apartheid Museum is an emotional and psychological rollercoaster ride no visitor to Jozi should miss. Tickets cost R50 (+/- £5) per adult and R35 (+/- £3.50) for kids age 12+. Book in advance and add R5 (£0.50) for a guided tour.
Constitution Hill
An inner city ex-prison site where  the histories of anti-British rebels, Mahatma Gandhi, Albert Luthuli, Nelson Mandela and school children of the 1976 Soweto uprising converge. Brutal, yet deeply moving, make the uplifting art collection of the Constitutional Court your last stop on your tour. Tours cost R30 (+/- £3) per person.
Origins Centre
An extensive collection of southern African rock art, art works, and installations from some of South Africa's leading artists, and brilliant use of technology immerses you in a world of symbols and shamans. Think art meets ancestry in a human origins mystery that the forensic detectives at CSI would love to crack (if they were that smart). Tickets cost R65 (+/- £6.50) for adults and R25 for kids under 12 (+/- £2.50).
The Johannesburg Zoo
Not just for kids, the Johannesburg Zoo is a world-class walk on the wild side. Animal welfare, conservation, and education are top priority here. R30 for kids (+/- £3) and R50 (+/- £5) for adults, and you get full day access to another zooniverse: 365 species on show in 55-hectares of parkland, and a choice of day, night, and behind-the-scenes tours.
SAB World of Beer Not just a booze cruise, this fun, fact-filled 90-minute adventure into the history and brewing of beer is genuinely absorbing. Costing only R30 (+/- £3) per person, even teetotallers will be fascinated. Don't forgo the 2 ice-cold frosties that are included in the ticket price. Brewed on site, the beer is unbelievably more-ish!