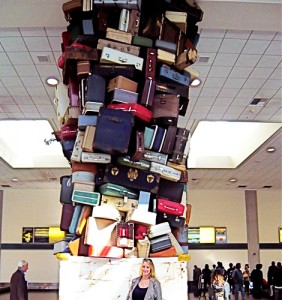 My everyday life involves a commute by train that passes by the local airport. Not a day goes by that I don't witness people of all ages looking overwhelmed while dragging around luggage that weighs nearly as much as they do.
Perhaps it's this daily observation, or the checked-baggage fees that most airlines now charge, or maybe it's the fact that I've lost two checked bags over the years, but nowadays I fly with carry-on luggage only.
If you'd like to skip the luggage check-in and pick-up at the airport and avoid a few hassles experienced by your flight-mates, here's 5 tips for travelling really light.
5. Know the exact size allowable for carry-on luggage.
The allowable carry-on size varies by airline, but the standard is 22″ by 14″ by 9″, so your chosen piece of luggage should be as close to this size as possible to maximize your storage potential. Luggage with outside storage pockets can provide you with additional space for items like a water bottle or snack.
4. Dress big, pack small.
When you fly, wear all the items that would consume the most space in your bags, like a jacket, sweater, jeans, and the largest pair of shoes you are taking. Layer your clothing, as you can always peel off layers if you overheat. When packing the small stuff, choose garments made from thin materials. To test this, you can roll up various shirts to determine which ones compact best for packing.
3. Do laundry.
One way I am able to travel with only a carry-on piece of luggage is that I do laundry at least once a week while away. It might seem like an inconvenience, but it takes just a couple hours and to me is preferable to carrying around heaving bags. Because laundry needs to be done in every corner of the world, finding laundry facilities should never be much of a problem.
2. Rolling beats folding.
Tightly rolling clothing compresses much better than does folding, and if done properly, your clothes shouldn't wrinkle. I also recommend rolling an additional cloth shoulder bag into your carry-on, so you can expand from one to two pieces of luggage upon arrival.
1. Technology management.
Many of us nowadays travel with any combination of laptops, mobile phones, mp3 players, cameras, chargers for these devices, plus books and printed materials, all of which take up space in our bags. I recently purchased an Amazon Kindle ebook reader, which stores all my books, printed materials, plus it has an mp3 player and internet accessibility, eliminating the need to travel with any books, paper or a laptop, saving me considerable space. One charge on the device lasts about a month, so I can even leave the charger at home.
Using these 5 tips, you can avoid checking-in any luggage, plus still have space available for a souvenir or two.
Happy travelling!
Image from: catchherifyoucan
[boilerplate bytitle="text"]