There are some rather interesting stats out there with regards to air travel, but one which really caught my eye was the list of busiest air traffic routes by number of flights. There are some very surprising routes one would not expect, here are the top 6: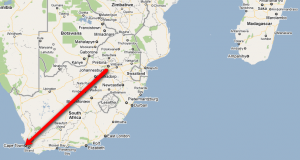 6. Johannesburg – Cape Town, South Africa
Familiar to South Africans and now the world, since the Football World Cup 2010, this very busy route is operated by 6 airlines with flights from 05:45 till about 23:00 daily which amounts to 700 flights per week! Cape Town is famous for it's landmarks like Table Mountain, Houses of Parliament, Victoria & Alfred Waterfront, Robben Island and surrounding areas like it's winelands and peninsula. Johannesburg is the business and economic hub of Africa and home to Africa's busiest airport – OR Tambo, the airport is also one of 3 airports worldwide with direct flights to all 6 continents (the other being Doha International Airport and Dubai International Airport).
5. Jakarta – Surabaya, Indonesia
Two cities not well-known by South Africans, Jakarta's well-equipped and internationally renowned S0ekarno-Hatta Airport serves Indonesia's almost 10million strong capital's population to reach all over this vast and diverse island nation. Being an island nation road travel is often difficult in that cities are divided by stretches of water, oddly enough, Surabaya Juanda airport is located on the same island as Jakarta, Java – but the sheer size of the world's 13th largest island is vast, makes this journey a 13 hour and 800km drive. The route serves 780 flights per week.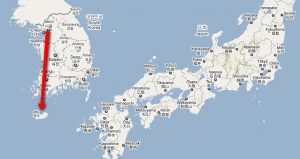 4. Seoul – Jeju, Korea
Seoul is home to two major airports, Incheon – the massive international airport and Gimpo, the older and smaller regional and domestic airport. Now the Republic of Korea is not a big country, just a little bigger than KwaZulu-Natal, so domestic flight travel is surprising, were it not for taking into account the sheer number of people (491 per square km) which makes for very congested road travel. Being a very cold country many Koreans long for warmer weather which is what the tropical island of Jeju offers. Just off the southern tip of the Korean peninsula this island is massively popular with Korean tourists because of it's volcanic beaches, warmer climate and outstanding scenery. The route serves 870 flights per week.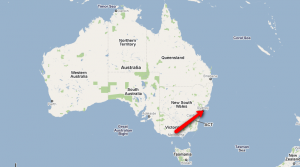 3. Melbourne – Sydney, Australia
Being one of the world's most vast and sparsely populated countries, air travel is an essential in Australia, even between the more densely populated and closer together, East coast cities. Not surprisingly one of the world's most popular air traffic routes are between Australia's two biggest cities. The route serves 950 flights per week.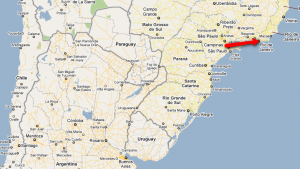 2. Sao Paolo – Rio de Janeiro, Brazil
The route between Congonhas Airport in Sao Paolo and Santos Dumont Airport in Rio de Janeiro is obviously going to be a very busy one. Despite the former having 3 airports and the latter, two, the cities are two of the most populous in South America making it easy to support such a popular route. Travellers will often find themselves arriving in Guarulhos Airport in Sao Paolo and transiting across the city to Congonhas to make a domestic flight to the popular beach and samba capital of Brazil. The route serves 1130 flights per week.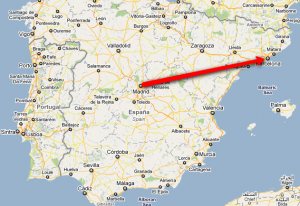 1. Madrid – Barcelona, Spain
Madrid's Barajas Airport, serves a multitude of destinations in Europe, Africa and the Americas, as well as a mass of domestic flights across one of Europe's largest nations from this, the economic and political capital of Spain. Sunny playground for many of Europe's holiday-makers, Barcelona is also the biggest city in one of Europe's richest regions and is famous for is design and fashion, this may explain the presence of the world's busiest air traffic route to it's El Prat airport as fishionistas and businessmen make their way between these two cities for both work and pleasure.
Check out flight deals between these and many other cities in the world on Travelstart's website.
[boilerplate bytitle="Standard"]