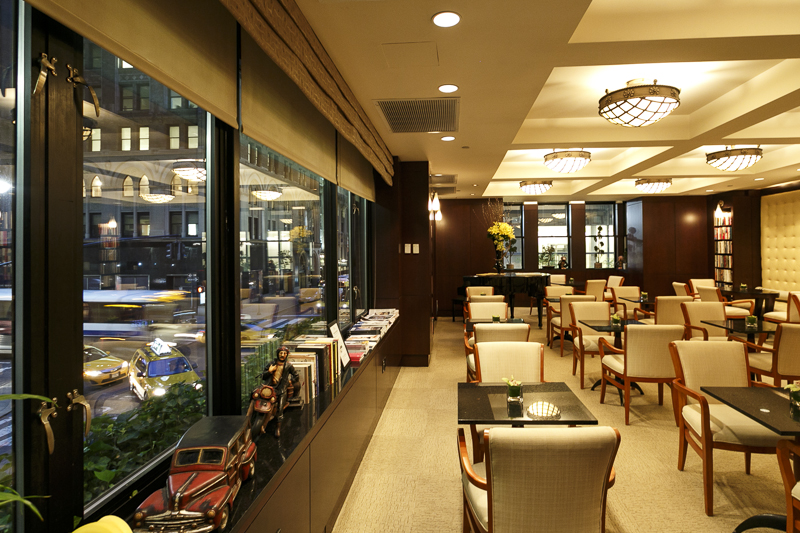 Do you love books? I love books and reading more than most things in this world… In fact, I would quite happily curl up with a book and a cup of tea any time of day, every day of the week, and be happy for hours on end. Which is why The Library Hotel in New York was quite possibly built especially for me.
It is, essentially, a hotel built inside a library. Which means that the emphasis is on (you guessed it!) books. Everywhere! In every room! In piles and bookcases and even on the walls. Add to that the fact that all the books are categorized according to the Dewey decimal system, that each room has its own bookish theme (literally, with a bookshelf of themed books, dinosaurs in our case) and the fact that the whole building exudes bookish charm (and calm) and you have an ideal spot to unwind in NYC.
To find awesome flights to New York go here.
What I loved about it – apart from the books everywhere – is that the hotel really felt like it was geared towards making traveller's lives easier. We dropped off our bags early and were invited to freshen up in the reading room, with coffee, snacks, ice-cold lemon water and plenty of reading material. What a gift! Come sundown, there's free cheese and wine in the reading room and come sun-up, there's free breakfast. It's the little details that make all the difference when you're travelling.
In fact, this hotel offered thoughtful touches at every turn (their 'escape to serenity' sleep options include ear plugs, mattress toppers and sleep phones – 'pajamas for your ears' – not a bad idea considering the hotel is on a busy street in Manhattan). They've also started an ingenious new programme called 'Treats for Tweets': if you tweet, Facebook or Instagram @LibraryHotel (as a guest, of course) you get a bottle of wine or a book. Ingenious!
For those whose tastes are more metropolitan than bookish, the rooftop garden bar offers a variety of literature themed cocktails and light snacks in a truly awesome setting, looking out over the rooftops and the city lights. But for those, like me, who tend towards comfort when they're travelling, the Library Hotel has everything you could wish for – and a whole lot more.
Images credit: Mark Peddle