After the 2010 World Cup I realised that even if you are not hugely passionate about sport, you can enjoy watching it live. Nothing beats standing in a stadium surrounded by adoring fans, wearing their team colours, shouting (or blowing their Vuvuzela's) in support of their team
It is because of this I have decided to try to attend more sports events to show my support of Johannesburg teams. This started last year with a soccer or rugby match or two and has carried on this year when Jozi team-the Lions played Australia's Reds at Coca Cola Park last Saturday.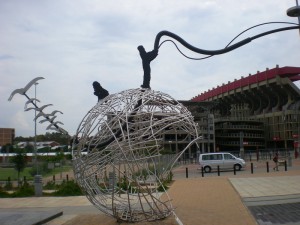 Coca Cola Park (previously Ellis Park) is a great Stadium. It has a long history (originally built in the 1920's) and is right in the middle of the Jozi inner city which gives it a great city vibe. The stadium was used both during the World Cup soccer last year and the Rugby World Cup in 1995.
It was great experience driving to the Stadium around the outskirts of Hillbrow and right past Ponte (a famous building on the Joburg Skyline). Ponte is known for always having huge advertising wrapped around the top (apparently the largest and highest in Africa). In the last week this has changed from a blue Vodacom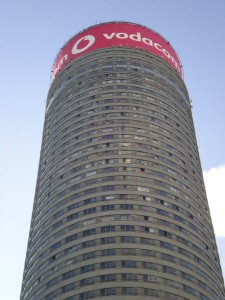 advertisement to a red Vodacom one. It's such an important building to locals- we will have to see how the people of Jozi feel about the change to their skyline!
The "pre game" entertainment was fantastic (if a little brief). Kwela Tebza, a local trio of brothers, are Kwela music genius's- when they start playing the penny whistle you are transported back to 1950's Sophiatown. And let's not forget to mention their style- matching red suits, knickerbockers, white tights, red high-tops and shades…very, very smooth.
The Lions' supporters are a very loyal group and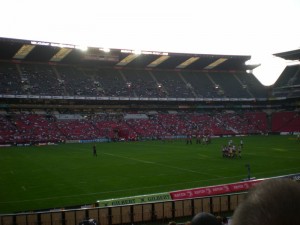 even though the stadium was relatively empty (the World Cup Cricket Final was on at the same time) they still made their presence known with their red and golden lion emblazed jerseys, hats, face paint and flags. I also learnt some interesting rugby player related info- Joshua Strauss, an excessively bearded Lions' player is growing his facial hair until his girlfriend moves to Joburg to be with him! Wow…that is dedication!
Although the Lions lost, it was awesome to watch some rugby, drink some beer, listen to some music and totally immerse ourselves in South African Rugby culture!
Next up is a Soccer Match! Watch this space.
[boilerplate bytitle="text"]