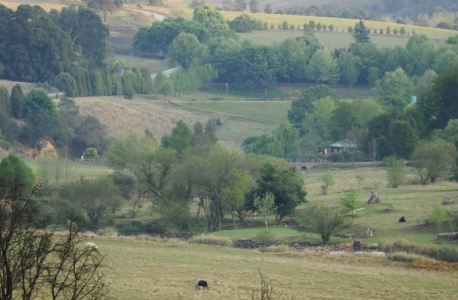 The next time you happen to find yourself in the KwaZulu/Natal Midlands (which should be rather soon if you're looking for a taste of green rolling hills, beautiful views and fresh country air), be sure to pop into Granny Mouse Country House.
When I was growing up, Granny Mouse was the place that everyone's parents went to for their anniversaries, and it was a given that it would look quite old-fashioned and have lots and lots of patterned fabrics adorning the walls, floors, and every available surface. Thankfully, it has since had a change of ownership and a fresh new look, which is all the more reason to pop in for a visit.
There are a number of ways to experience Granny Mouse. You could pop in for afternoon tea, served on the verandah looking out over the trees and rolling hills of the Midlands. You could indulge in a Sunday roast lunch, served in their fine dining restaurant, The Eaves, tucked under the thatched roof in the cosiest possible setting. Or you could take advantage of the fabulous fresh produce the Midlands is famous for, and help yourself to the Harvest Table buffet in the Bistro.
What I would do? Head straight for the spa! One of the (only) things I don't like about spa treatments is when you emerge from the spa in a relaxed bubble and head straight into real life – complete with traffic, noise and crowds. A late afternoon massage in the fabulously relaxing Granny Mouse spa lets you emerge into the sounds of birdsong and crickets amidst the beautiful gardens. I could go back there right now!
If you're planning a Midlands Meander in the not-too-distant future, make sure you include Granny Mouse as one of your stops… And give yourself a few hours to enjoy all it has to offer.
Have you been to the Midlands yet?