The white-washed seaside village of Batsi, which stretches along a crescent-shaped beach on the western coast of Andros, is one of the Grecian island's most lively towns. Or so we've been told by the locals when we arrive after a two-hour ferry from Athens. But when we're dropped off by the local bus, the streets stand silent, the restaurants are open but empty and only the sun basks on the beach. Though it's early November and low season, we don't expect it to be this quiet. As we walk along the narrow promenade, the only visible sign of life comes from the flapping Grecian flags that are tied between lamp posts and the yachts that rock and roll over the gentle swells in the harbour.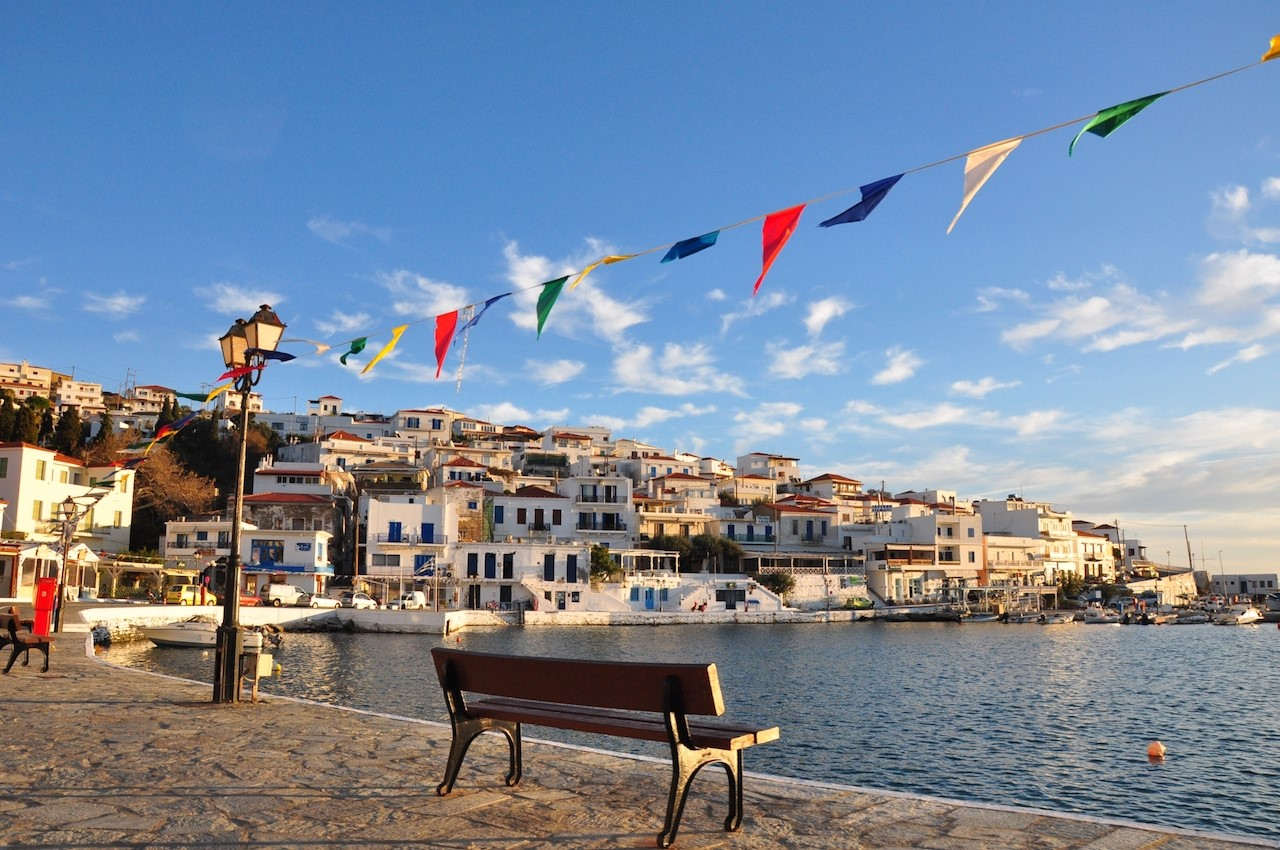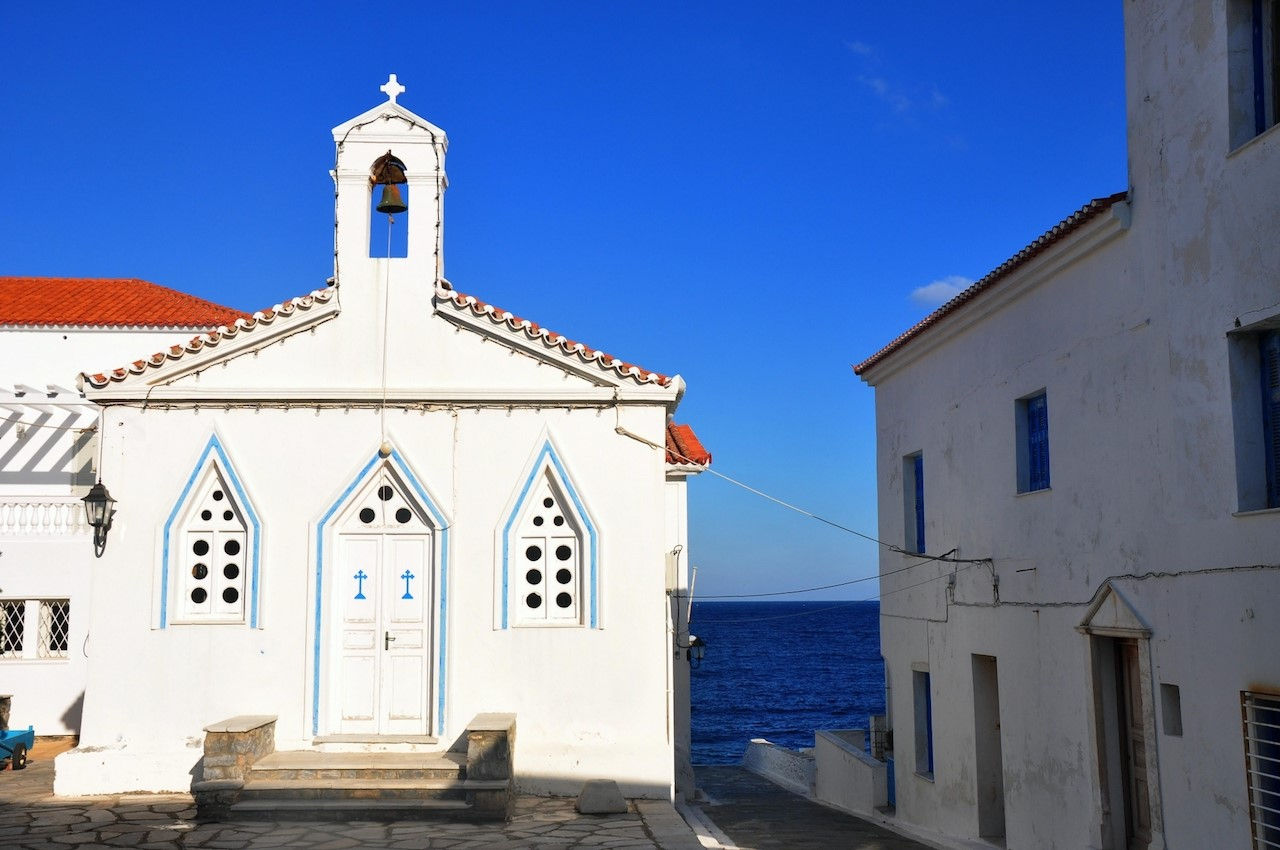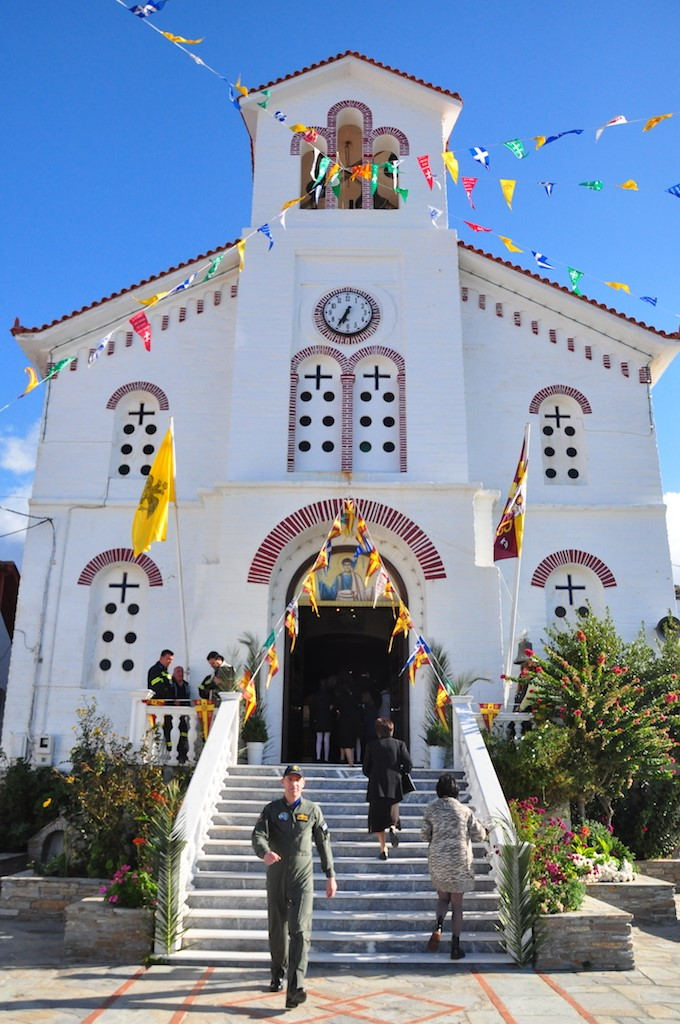 We walk towards the church's ringing bells. And here we find the residents spilling out into the sunlight. As they step out, they are each handed a small loaf of bread that was blessed with holy water during mass. It's the festival of Saint Philippos and we're warmly invited to join the celebrations. The marching band leads the procession down the steps to the beachfront and through the town, with an adorned painting of the saint shrouded with flowers at the head, followed by Greek Orthodox priests, churchgoers and school children in their Sunday best walking in time with the beat.
Soon enough the restaurants are filled with animated patrons who wave down waiters to order bread, fava (a green pea paste) and Volaki cheese – the island's culinary trademark. As it's autumn and the time of the harvest, pork sausages are now on the menu too. They symbolise abundance, a time for celebration and feasting, ahead of the winter.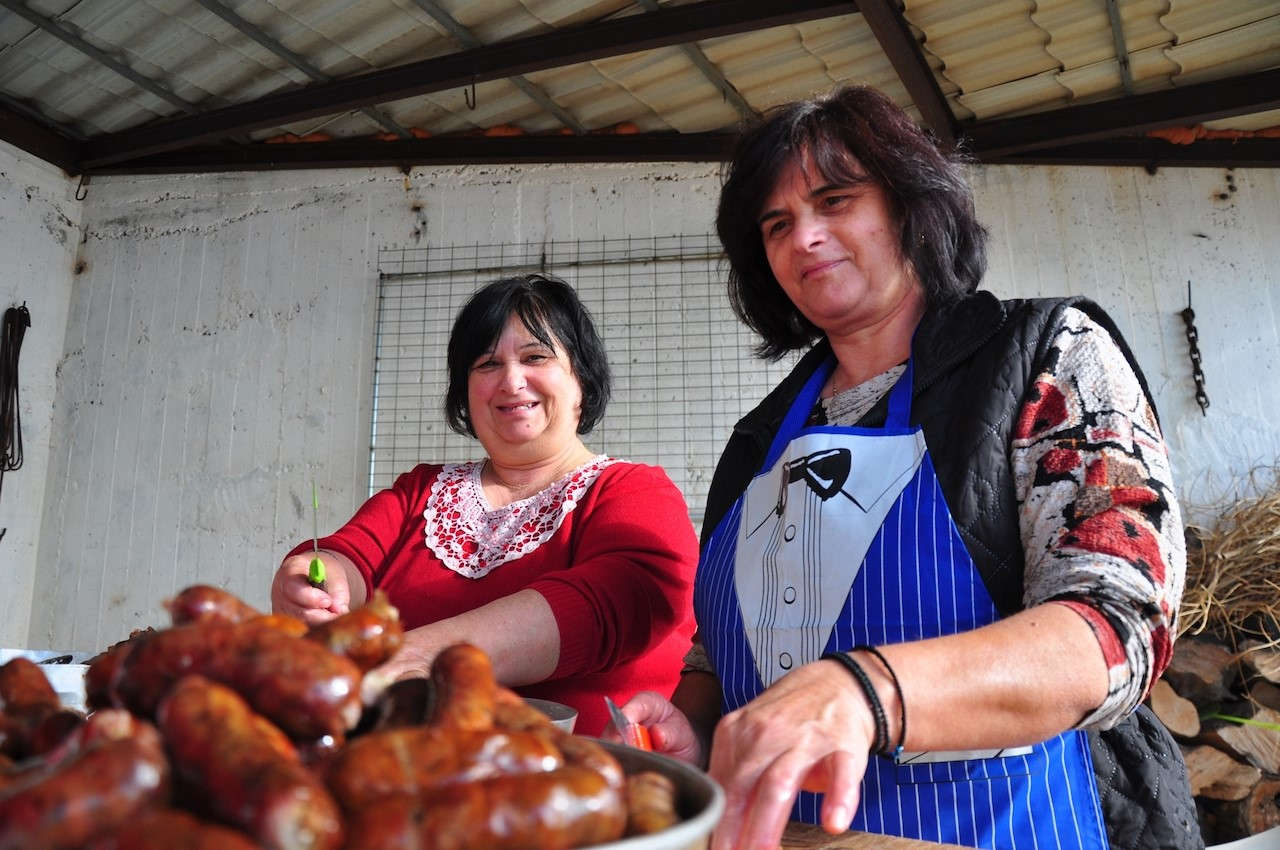 For the next five days, we walk Andros from coast to coast, climb valleys, traverse farmlands, cross stone bridges and walk through hamlets along its stone-paved mule paths (kalderimi) that have been transformed into a network of maintained hiking routes over 300km in length. The 12 most prominent hiking routes are clearly signposted and marked at regular intervals and make their way past some of the island's most interesting features – rural chapels and monasteries, windmills, olive orchards, freshwater springs and waterfalls, and through designated wildlife sanctuaries. The routes offer time for quiet contemplation and an opportunity to appreciate the undulating landscape and unspoilt natural beauty.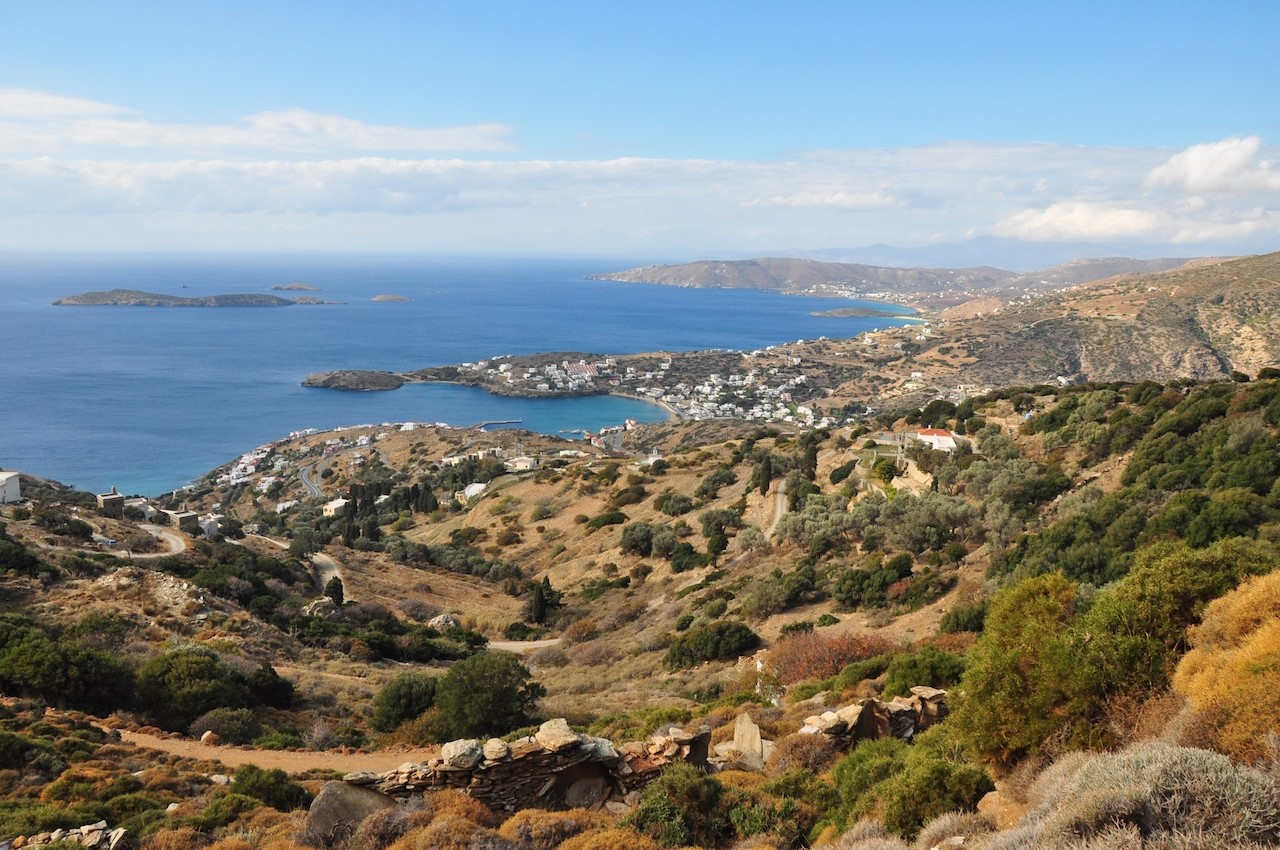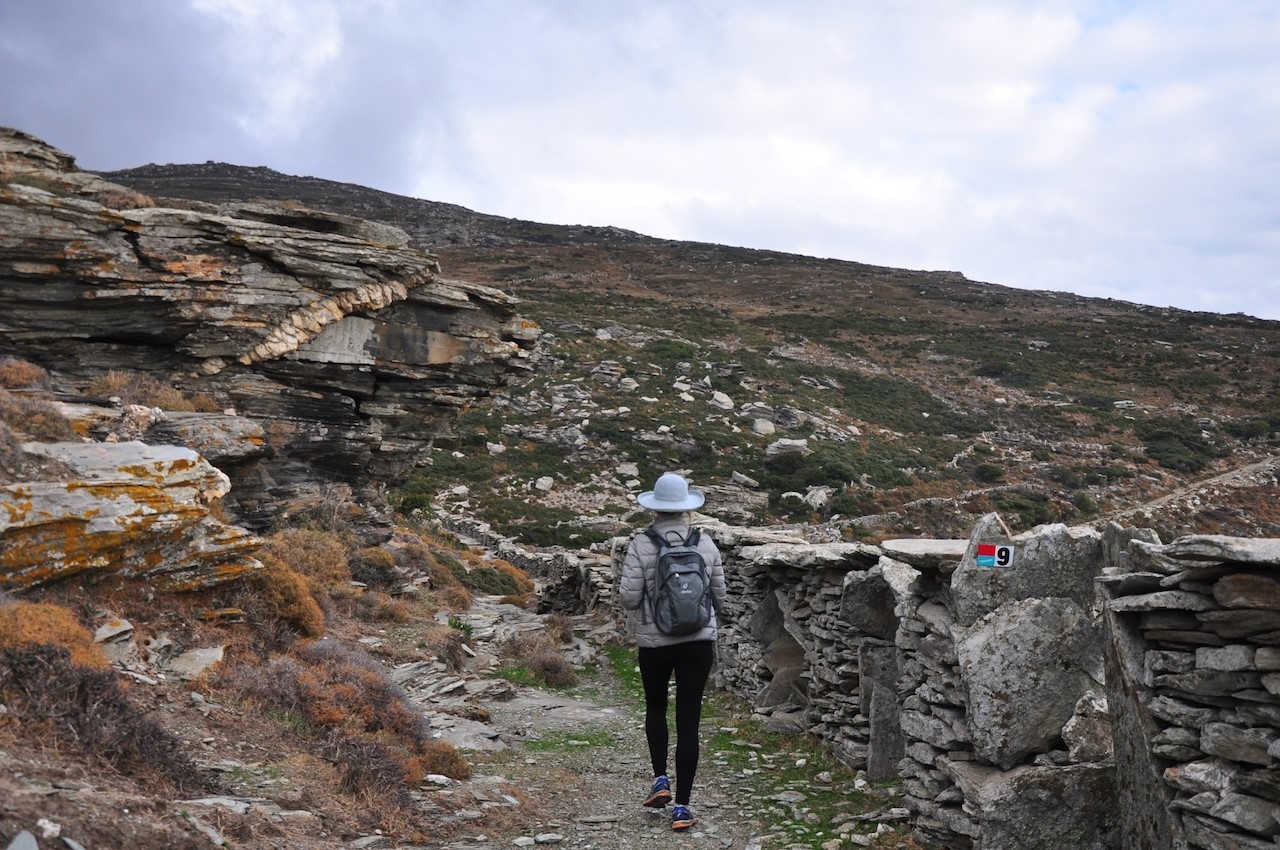 Though Andros is the second largest island in the Cyclades archipelago of more than 200 islands, it's not overrun by foreign tourists like its sister islands of Santorini and Mykonos. Instead many Greeks have their holiday homes here, which makes for a much more relaxed atmosphere and authentic experience. Andros is an island for cultural tourists who appreciate the history of its ancient ruins that date back to the fourth millennium B.C.
And the knowledgeable On Foot Holidays guide, Ariana Masselou, will narrate Andros' history as she joins you on some of the walking routes. She'll tell you of the mighty Grecian shipping families that were borne of the island and how they brought with them great wealth, merchant fleets and transformed Andros into a maritime commercial centre that lasted until the early 20th century.
By nightfall we feel a sense of accomplishment as we've made our way along the 21km-long walking route to Chora, the capital city and our base. The main road, Embirikou Street, is bordered by Neoclassical buildings, churches, shop fronts, restaurants and cafes, as well as souvenir shops that sell evil eye jewellery and age-old artefacts. It makes its way through the centre of town and through an arched marble gateway, past homes to the 13th century Venetian fort (Kastro) found on a nearby rocky outcrop. It's connected to the mainland by a steeply-arched stone bridge. From the fort ruins, as you look towards Andros, a larger-than-life, hollow-cast bronze statue of the Unknown Sailor, longingly stares towards the waters of the Aegean Sea.
Hike Andros
On Foot Holidays specialise in the art of slow travel for independent travellers. They will help you create a personalised itinerary based on your budget, interests, fitness level and available time. On Foot Holidays will provide you with a Walker's Pack, which contains a detailed map of the island and day maps, thorough route notes for each hike, two books (one of which is solely about hiking Andros), as well as information of how to get there and around. They partner with trusted local taxi drivers and a guide, who can meet you along the way on certain days and can join you at dinner to tell you more about the island's history, culture and way of life.
How to get to Andros
From Athens, take a local bus (₤6) or taxi (₤35) to Rafina Port, south of the city. There are two to three daily ferries to and from Andros Island. The two-hour ferry trip costs ₤20.
How much to budget
₤555 for five nights (on a bed and breakfast basis), plus four packed lunches, taxi transfers to and from Gavrio Port on Andros (when booking for 2018). Budget for dinner, alcoholic drinks, souvenirs and other small, miscellaneous expenses.
Where to stay on Andros
You will be based in the old Venetian capital of Chora in the south-eastern part of the island. Though small, the town has a number of museums, restaurants, cafes, bakeries, souvenir shops, as well as a bus and taxi stop. Depending on your budget, you can choose to stay in a hotel (Hotel Egli) or self-catering apartments (Anemomiloi Apartments). We loved the latter, especially as it looks out over Chora, has a lovely swimming pool and welcoming hosts.
Best time to visit Andros
April-June and September-October. April and May are best for the flowers, while October is perfect for the warm seas and autumnal colours. It is very hot from mid-June to mid-September.
Level of fitness
 A medium level of fitness is required. Expect to walk between 11km and 21km each day with average cumulative uphill stretches of around 500 metres, though you can tailormake your trip. You can adjust the difficulty, intensity and distance of the walks and hikes depending on your fitness level and in conversation with On Foot Holidays and the local guide.
The food on Andros
Grecian food on Andros is sublime from vegan pumpkin quiches to hearty salads (the kind we know as Greek, just sans the lettuce), pork stews and famous gyros 'wraps'. Try fava, a kind of hummus made from green peas, topped with sundried tomatoes and olives. Mussels are also popular. Order a number of dishes for the table and share. Cafes and bakeries sell strong coffee, cakes, cookies and of course baklava.