"After such an unexpected surprise, I doubt things can get any better. Until we get into the water. Green turtles!"

The Indian Ocean island of Réunion is unlike the Seychelles and Mauritius in that it's an overseas department of France and while it's still very popular among honeymooners, it's mostly considered to be an adventure destination for nature lovers and avid hikers.
No visa required
Despite being an overseas French department, South African (as well as Chinese and Indian) citizens don't require a visa when travelling to the Indian Ocean Island. They're permitted to visit for 30 days.
How to get there
The national carrier Air Austral flies direct to the capital of St. Denis thrice a week, on a Sunday, Wednesday and Friday. Air Mauritius also operates daily flights, with a short stopover in Mauritius.
Find cheap flights to adventurous Réunion Island here.
Getting around
Your best bet at exploring Réunion is to hire a car and take a road trip. International car hire brands, such as Avis, Budget, Europcar, Hertz, Rent a car, Sixt are available as well as a large number of local car hire companies. You'll need an international drivers license though, as they drive on the right hand side of the road, like in France.
Guide
Sully Chauffe of Ethnix Tours can customise an itinerary for you based on your interests and budget. He's an incomparable guide with a friendly nature and exceptional knowledge about all aspects of Réunion. If he doesn't know the answer to your questions, which is unlikely, he'll find it for you. Alternatively you may contact the Réunionese Association of Tour Guides on: 06-93-92-86-69.
Currency
Due to the fact that Réunion is technically part of France it uses the euro as its currency. It's worth saving for a little longer and taking full advantage of your time here, as it would be a shame to miss out on the adventures it has to offer.
Climate, weather and when to go
Réunion island has a tropical climate with a hot but rainy summer and temperatures of around 30°c, and a cooler, dry winter with temperatures of around 20°c.

High season is from July to August (during the French school holidays) and between October and January. While July and August are cooler, January can be quite wet. The shoulder season ranges from April to May and also in September, when temperatures are still high. Low season ranges from February to March with average temperatures of between 27-33°c along the coast. It's also peak cyclone season, though very few make landfall. June is the quietest month of the year.
"I now understand why the French say a trip to Réunion is a voyage d'emotions and The Ultimate Experience!"
Réunion Island's two distinguishing features – the volcanic peaks of Piton des Neiges and Piton de La Fournaise – are the reason why its black beaches sparkle in the sun. A 45-minute Complete Tour helicopter flight with Corail Hélicoptères from the Saint Pierre coastline over the mountains and the active Piton de La Fournaise gives me a good introduction to the island's landscape. We fly between the luscious peaks surrounding Piton des Neiges – Cirque de Cilaos, Cirque de Mafate and Cirque de Salazie – over villages that are only accessible by foot or flight, past six waterfalls that disappear into the forest floor.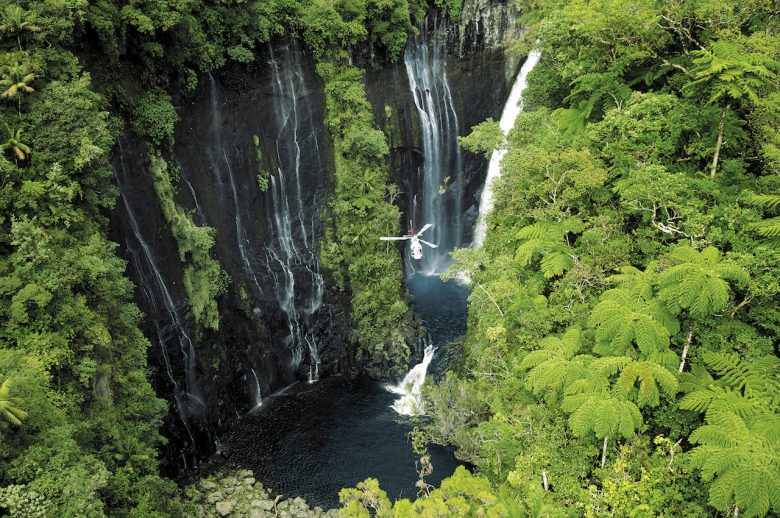 Courtesy of Serge Gelabert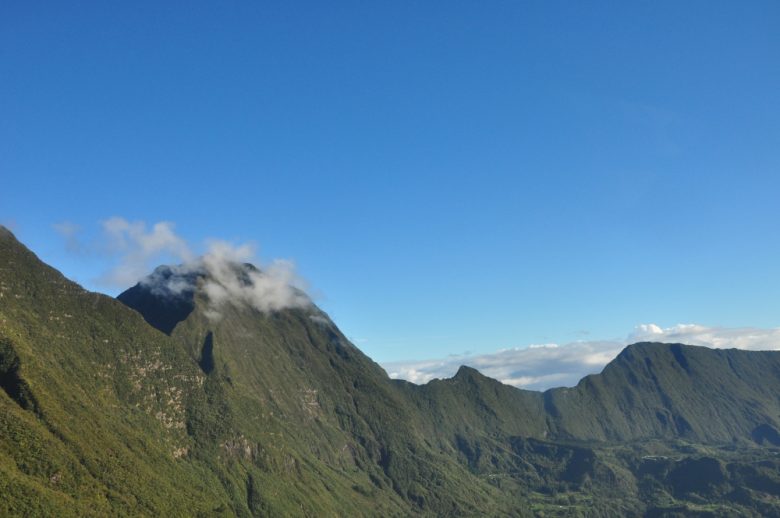 Courtesy of Iga Motylska
Because it's a shield volcano, which creates effusive eruptions – the kind that doesn't explode and shoot out gas, ash and rocks, but rather squirts lava fountains and gently releases lava flow – it can be photographed safely from a very close distance when it comes to life. It's one of the world's most active volcanoes and an eruption can last anything from a few days to a few months. The last time it erupted was in September 2016. Some travellers deliberately make the trip to see the volcano in action.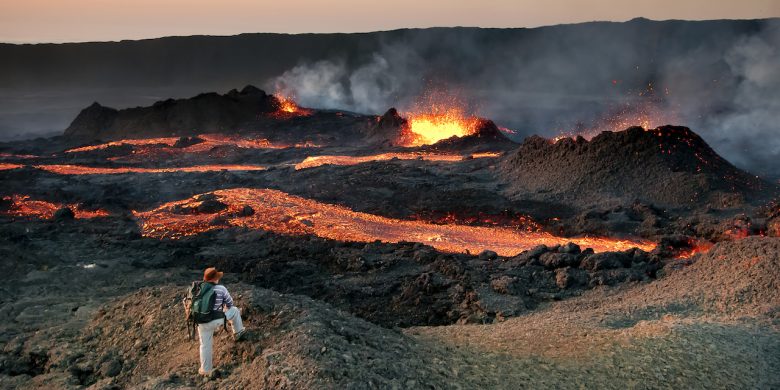 Courtesy of Pierre Choukron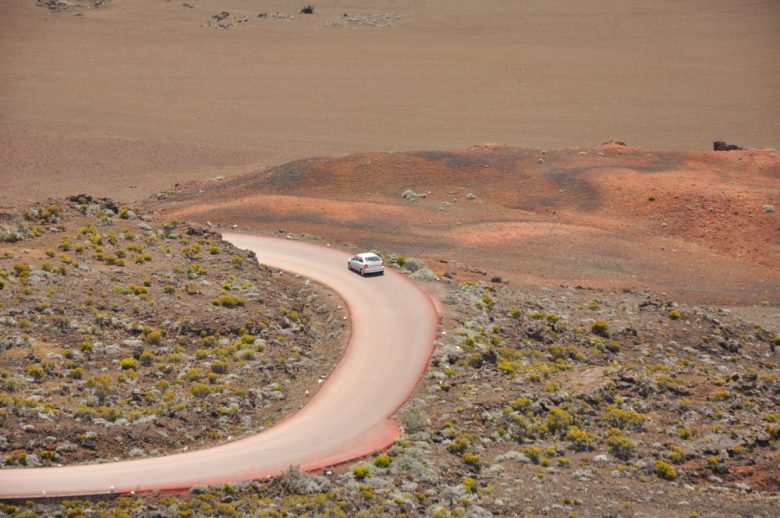 Courtesy of Iga Motylska
Then we drive to Réunion National Park (entrance is free) for the day to see the volcano from a different angle. In its tenth year in 2017, the park cover close to half the island and is a UNESCO World Heritage Site. The drive takes us through barren, red and grey Mars- and lunar-like landscapes that sprout a cone here and there, then suddenly erupt with the colour of vegetation. The massive crater humbles me, as I stand on the lip of the vertical cliff, looking into the depression below me. It makes even more of an impression on me as I climb down the steep rock face into the bowl via a zig-zagging pathway. From here I distinguish the freshest lava flow and walk up a much smaller pyroclastic cone, which appears more sandy than solid. Because it's made of finer rocks and stones it looks like an anthill from above. It's a good comparison of scale and makes me realise just how small I am.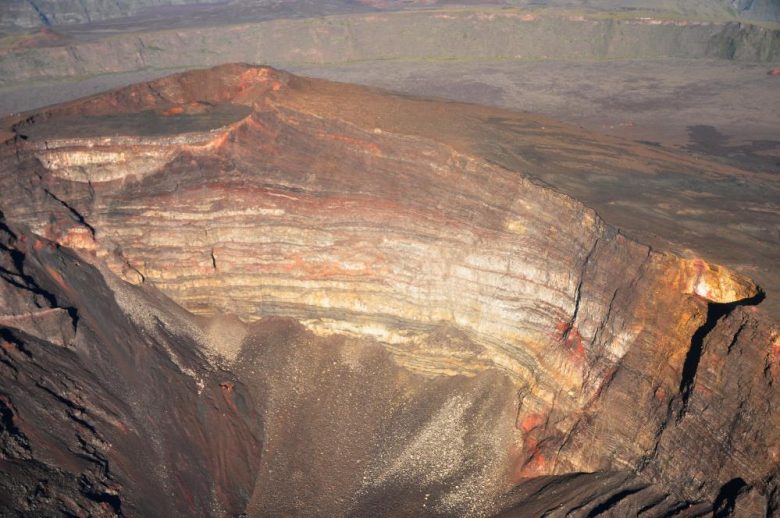 Courtesy of Iga Motylska
The following day it's off to Saint Leu and the outer slopes of Piton des Neiges, which is a launch pad for paragliders. The morning sky is a flurry of colourful chutes that whizz through the air, above green gorges, matchbox houses and over the aquamarine ocean.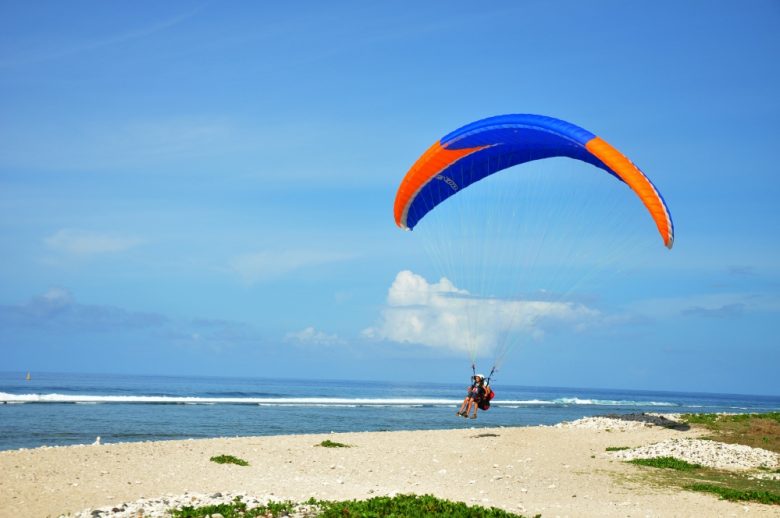 Courtesy of Iga Motylska
From way up high, surfers and yachts are mere speckles floating over the coral reefs. The ocean and sky become indistinguishable as my tandem instructor, Jamel from Air Lagon Parapente does acrobatics that see us twirling in the wind. Perhaps it's nerves, at first, but I snort with laugher as we roller coaster through the air. Then we are suspended in the air for what seems like seconds – just like when you reach the zenith of a swing – before tumbling and turning on the wind some more.

Courtesy of Bruno Tandrya
Explore Réunion by water too, whether it be by hiring a yacht for a day of sailing, going on a snorkeling expedition or scuba diving. The ocean is bathtub warm, just be sure to follow the signs and to swim where the shark nets are up. If you're fortunate, as we were, you may come across schools of dolphins en route to your dive site. This wasn't planned nor promised, as they are wild dolphins, but it was the best of surprises. With our scuba gear already on, we jump into the water with our snorkels. They are a few metres away and swim among us – evidently not perturbed by our presence. I can hear their clicking through the water and then they go deeper and deeper until they disappear into the big blue depths.
"Today's a bad day," says one of our dive instructors Olivier from Bleu Marine Réunion, "We've only seen them three times, usually we see them about 10 times a day."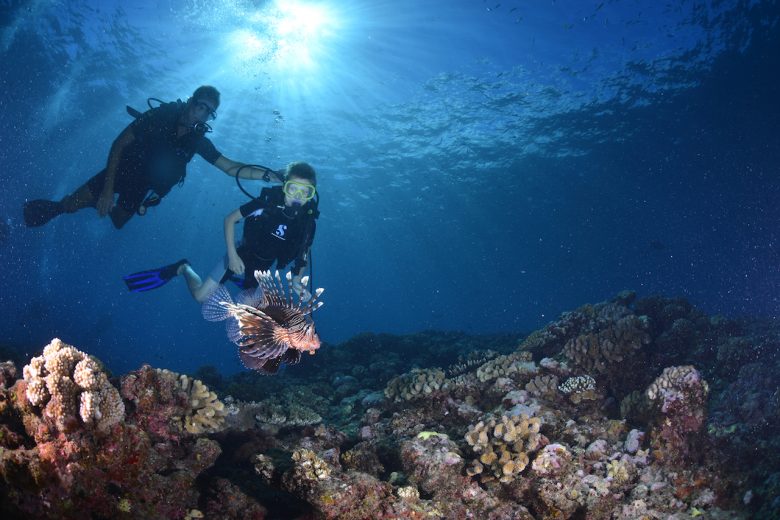 Courtesy of Antoine Mettra
After such an unexpected surprise, I doubt things can get any better. Until we get into the water. Green turtles! As a novice diver, it's my first sighting and I see not one, nor two, but three gliding through the crystalline waters. We dive through volcanic tunnels and between granite rocks. Two fire fish, a porcelain crab, Moorish Idols, Sweetlips, Clownfish and a Moray eel are among our most unusual sightings among the tree-like coral.
When we surface my dive instructor Romaine Dorard, says the third must have weighed well over 100kgs and is the biggest he's seen to date. I now understand why the French say a trip to Réunion is a voyage d'emotions and The Ultimate Experience!