The Seychelles isn't just for honeymooning lovers, it's a sanctuary for conservation, where you can see things you won't find elsewhere in the world, and a playground for adventurers and adrenaline junkies.
Zip lining through forests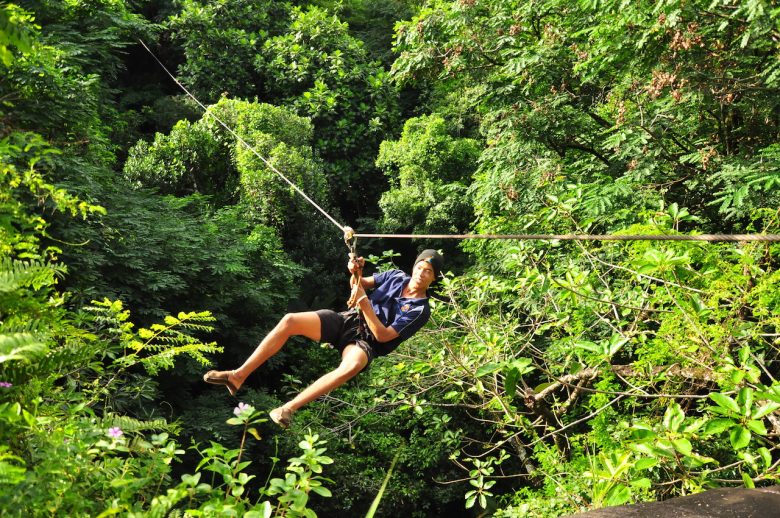 Courtesy of Iga Motylska
If you want to fly the best way to do it is strapped into a harness as you glide over the evergreen forest canopies at Ephélia Resort with SMAC Adventures (which is owned by a South African). The knowledgeable guides will tell you about the indigenous plants, birds and insects you'll see between the eight platforms and lines that vary in height and length. Ask your guides to take you to the lookout point over the turquoise waters of Port Launay Marine National Park below, where you can cool off afterwards.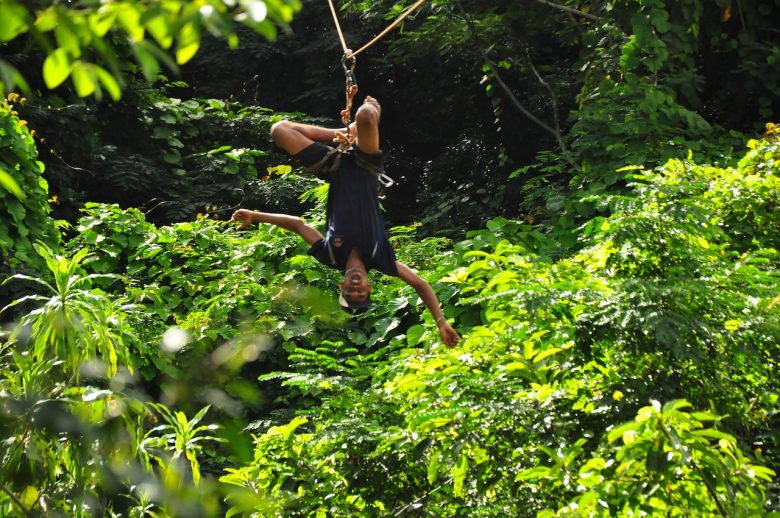 Courtesy of Iga Motylska
Rock climbing granite peaks
While you're still at Ephélia, dust your fingers with chalk, put on the provided climbing shoes (they're clean – I checked) and make your way up the 18-metre high granite rocks. Each of the five routes are colour-coded according to their degree of difficulty and present a new challenge for your climbing abilities. The helpful guides from SMAC Adventures will advise you where to find those concealed crevices to make your way to the top. Abseil down and take on the next one.
Scuba diving in marine parks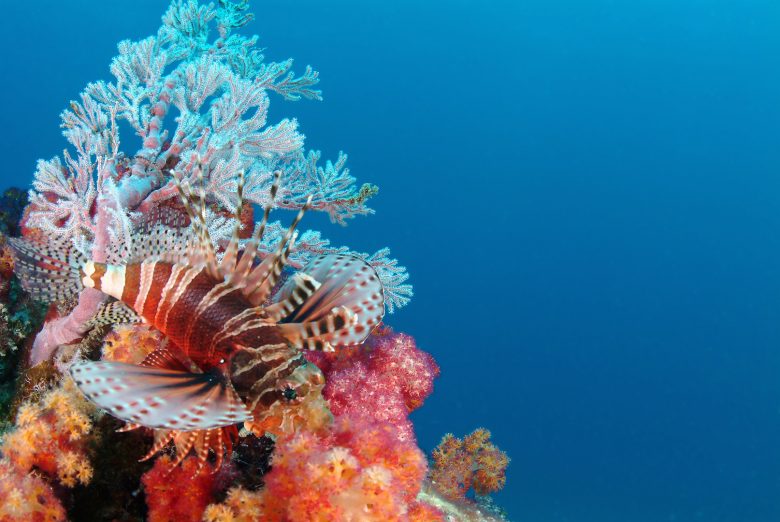 Courtesy of Seychelles Tourism Board
Don't miss out on one of the world's top scuba diving sites, even if you don't have your open water divers license. Within an hour of doing a beginners Padi-accredited Discover Scuba diving course with Big Blue Divers – one of the oldest diving schools on Mahé – you'll float through the waters of Baie Ternay Marine Park. But be warned that the beautiful coral and granite reefs as well as the luminous marine life may spoil you for life when it comes to future diving expeditions. More advanced divers may swim in deeper waters among whale sharks, manta rays and turtles.
Courtesy of Seychelles Tourism Board
Deep sea fishing
Courtesy of Seychelles Tourism Board
The Seychelles offers big game fishing, night fishing, deep sea and bottom fishing. From Mahé embark on a half- or full-day fishing expedition, around 40 kilometres offshore there are sharp drops of up to 2 000 metres. The archipelago hosts six major fishing tournaments each year and boasts the best mixed-bag catches in the world, such as sailfish, barracuda, tuna, swordfish, shortbill spearfish and black marlin. It also holds a number of International Game Fish Records. Due to conservation efforts, tag and release is widely practised, which protects fish stocks. Have a look at what the Seychelles Sports Fishing Club gets up to.
Surf's up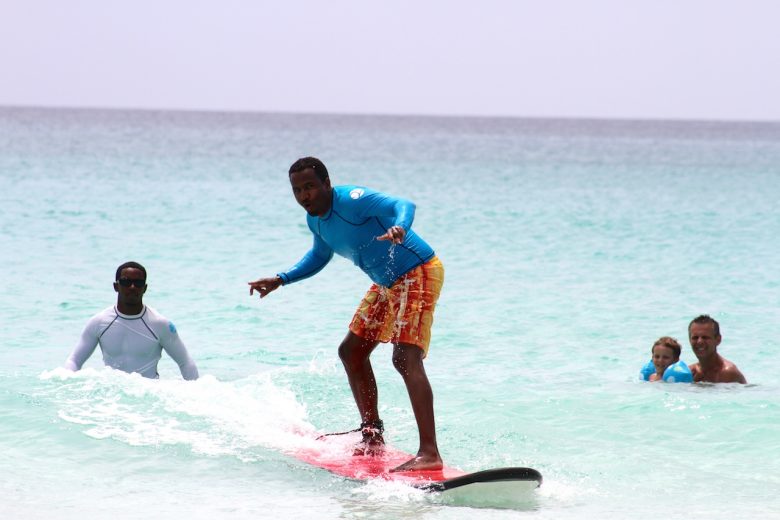 Courtesy of iSurf Seychelles
Although the Seychelles has less swell than other surfing destinations it's well known among international surfers – since it started gaining popularity in 1967 – for its reef bottom breaks. That means that even if you've never hung 10 on a board before this is the best place to learn and it's seldom too crowded either. iSurf offers lessons for beginner, intermediate or advanced surfers, or you can simply rent a board from them. Otherwise, challenge yourself to try something new like stand up paddle (SUP) boarding.
Island hopping around Praslin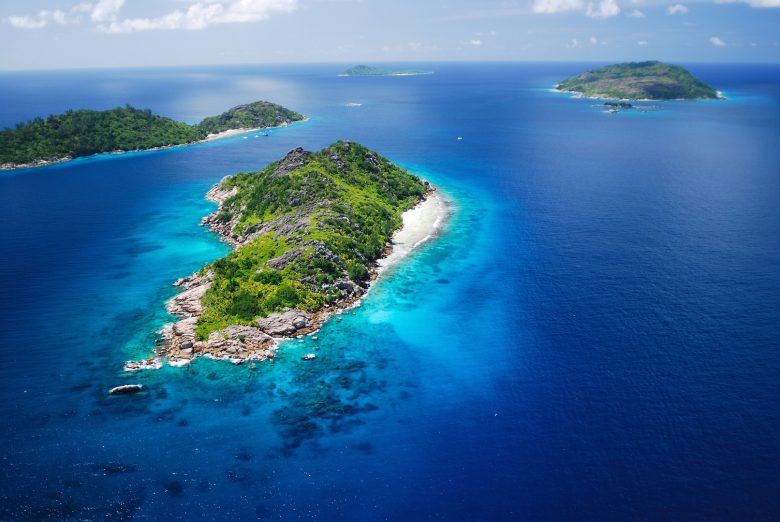 Courtesy of Seychelles Tourism Board
Locals will tell you that God created the Seychelles with the sailor in mind. Take to the waters around Praslin in a catamaran for a day-long island hopping expedition with Creole Travel Services. You'll see the cast of Finding Nemo as you snorkel in the shallows of the coral reefs and hopefully you too will swim among turtles as you sail between Coco, Sister and Felicite islands. Sleep off the fish braai in the sun on the catamaran's trampoline as you head back to Praslin.
In search of the coco de mer and Black Parrot in Valle De Mai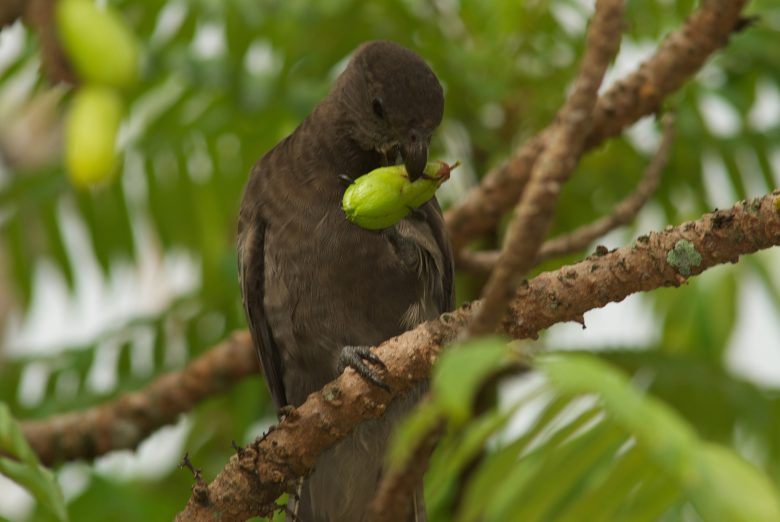 Courtesy of Seychelles Tourism Board
In the primeval forest of Vallée De Mai Nature Reserve on Praslin Island you'll find the male and female plant of the coco de mer palm, which can't be found elsewhere in the world. Both plants display 'fruits' that are evocatively representative of their gender: a double nut with erotic curves and a rather suggestive phallus. It's for this reason that it's often called the love nut. This UNESCO Natural World Heritage Site, which some myths claim to be the original Garden of Eden, is also home to the very rare Black Parrot and is a must for nature lovers.
Cycle La Digue
The best way to get from one beach to the next on the quaint island of La Digue is by bicycle and you can easily cycle the entire island in a day. Sometimes you will barely cycle 100 metres before discovering yet another untouched beach, with no one else in sight. My favourite beach was Grand Anse, from there walk through the forest to Petite Anse. Another unbeatable beach that shows off the island's characteristic giant granite boulders is Anse Patates in the north. Most guest houses offer free bicycle rentals, otherwise you can rent one when you arrive at the harbour. At sundown reward yourself for all that hard legwork with a drink at the Fish Trap Restaurant and Bar. It has one of the best spots on the island as it looks out towards Praslin.
Sail away with me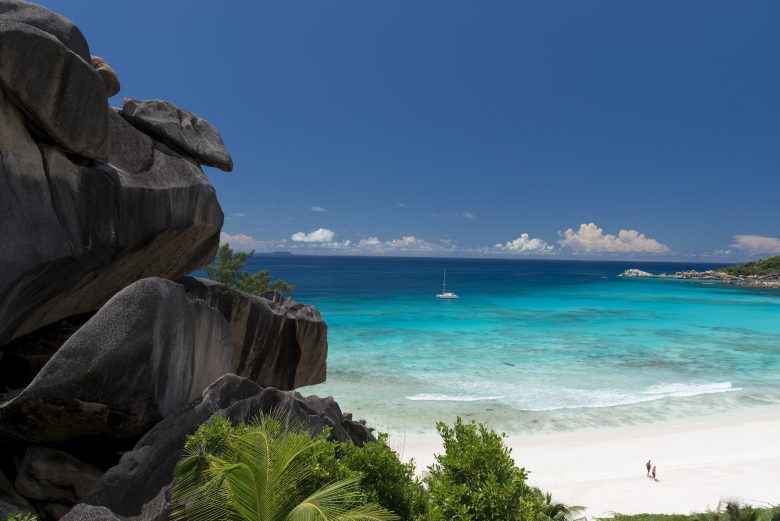 Courtesy of Seychelles Tourism Board
Dock (or charter) your yacht at Eden Island Marina for a day or longer, as you explore the 115 granitic and coral islands and islets that make up this island nation. Anchor your yacht in secluded bays of pristine clear waters and white beaches that you can have all to yourself. Overnight mooring around national reserves and marine parks is a highlight.
Indulging in authentic Creole cuisine
Courtesy of Seychelles Tourism Board
Seychellois Creole cuisine is an infusion of African, Chinese, European and Indian flavours: curry from the subcontinent, rice dishes and stir fries from the Far East, garlic and herb blends from France and exotic coconut milk and banana from East Africa. Seafood is always on the menu, try the ever popular line-caught shark chutney or the famous octopus curry. The best meal I had was at the Treasure Cove boutique hotel after a dip in the infinity pool that looks out to the sunset. If you're really feeling adventurous you can also buy fresh seafood from the Sir Selwyn Selwyn Clarke Market or from local fishermen.
Good to know before you go
Flights
A direct flight from O.R Tambo International Airport to Victoria on Mahé Island in the Seychelles takes five hours. Earlier this year, the national carrier, Air Seychelles, expanded its flight services to five-per-week from Wednesday through to Sunday. The airline also has a codeshare partnership with South African Airways so you can easily connect to Johannesburg from Durban, East London, Port Elizabeth and Cape Town. And once there, their domestic fleet flies more than 200 times weekly.
Book great flights to the Seychelles here.
Visa
The Seychelles is a hassle-free destination to travel to. South Africans don't require a visa, all you'll need is a valid passport for six more months, a return or onward ticket, proof of accommodation and money in your wallet otherwise Mastercard and Visa are widely accepted. You won't need any vaccinations or medication either, as it's Malaria-free and there's no risk of contracting Yellow Fever.
Climate and time difference
The Seychelles boasts a tropical climate year-round and temperatures seldom drop below 24'c or rise above 33'c. The archipelago lies outside the cyclone belt, so it doesn't experience weather extremes. October to May is the best time of year for scuba diving and water sports. The Seychelles is four hours ahead of GMT, or two hours ahead of South African Standard Time.
Transport
It's affordable and safe to take the well-maintained local busses, although naturally the journey will take longer than a private air-conditioned taxi. The bus drivers were friendly and willing to exchange large bank notes when they realised I was a tourist. Marlon Panagary was my knowledgeable driver on Mahé, he's contactable on whatsapp and charges €150 per day: +248-252-6770. Fly or ferry between islands.
Budget
A holiday in the Seychelles doesn't come cheap, however it'll possibly be the best island holiday you'll ever have, which will leave you with an insatiable yearning to return. R1.09 is equal to 1 Seychellois Rupee (September 2016).
Visit the Seychelles Tourism Board for more info.