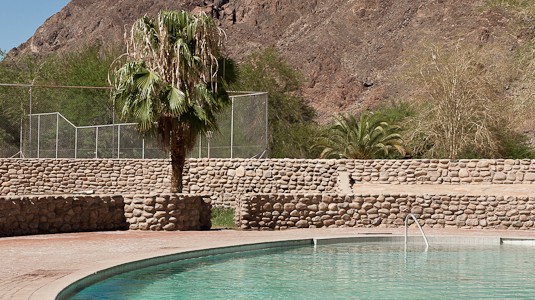 Image credit: Mark Peddle
There are some people (insanely) adventurous enough to hike the Fish River Canyon for 5 days. That's a desert canyon in the blazing sun for five days. Not me, thank you very much.
However, I can see the allure – especially seeing as when you finish the five day hike you end up at the Ai Ais Hot Springs Resort, where we spent a delightful two days. The hot spring itself is so hot it's impossible to dip more than a big toe into it (65 degrees Celsius is no joke) but they have a large outdoor swimming pool that's partly fed by the hot spring, so you get all the restorative minerals without having to scald yourself – far more preferable!
Aside from the outside pools, there's an inside series of pools and jacuzzis, sheltered from the blazing sun, where you can while away many an hour sipping drinks, reading, or eating ice creams available from the bit-of-everything store on the premises.
And for the more energetic, you can walk out into the desert and do the beginning of the end of the Fish River Canyon hike. Just out of sight of the resort, the real desert takes over, and it's mile after mile of dusty sand, rocks and boulders, a few scraggly trees and some brave desert plants. And nothing else. The stillness out in the desert is intense – there's the singing of cicadas and the chirping of birds in the morning, but once that fades it's simply still, save for the occasional barking of a baboon.
Back at the resort, it's the ideal place to unwind after a busy adventure on the Orange River. Only an hour and a bit from the Namibian border, this is a great first stop if you plan to explore Namibia further afield, and a nice jumping off point for other adventures. We went on a trip to Keetmanshoop (3 hours away) to see the ancient Quiver Tree Forest and Giant's Playground – both awesome sights. Quiver trees are endemic to the Northern Cape and Southern Namibia, and are actually aloes, but they grow so huge and with so many branches that they used to be mistaken for trees. They can only grow from seeds, and only flower after 20 to 30 years, so it's no wonder they're so rare… Seeing a whole scattered forest of them is quite remarkable – and makes for some amazing photographs.
Back at the Ai Ais Resort, we were ridiculously grateful for our airconditioned room (the heat in Namibia in midsummer is no joke) and the huge platefuls of food served up at the restaurant – in particular large slabs of kudu and rump steak (it's not the kind of place vegetarians would enjoy – be warned!)
In short? The ideal place to relax, rejuvenate and acclimatise before you head off for more Namibian adventures.