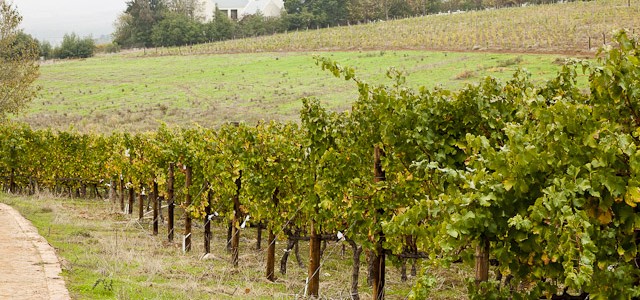 If you're anything like I was a month ago, you might not even know that boutique wineries exist. Surely a vineyard has to be absolutely massive to produce enough wine to be sustainable? Surely you can't have one that is boutique (i.e. exclusive and not-very-large) and still make enough wine to get by? Surely.
Except that the Alluvia Specialist Winery is doing just that: making small amounts of exceptional wine and getting along just fine. More than fine, in fact. Because aside from their superb wines, they're also running an inspiring charity project, called 'Give Me a Chance'. It's a children's foundation that has been running since October 2004 in aid of the local Kylemore community, their neighbours. Alluvia has created the 'Give Me a Chance' Cabernet Sauvignon and Sauvignon Blanc, and all profits from the sale of these wines go to the 'Give Me a Chance' Trust, which helps promising children from the community get a higher education, or follow their sporting, artistic or academic dreams. They also train them in leadership and life skills and empower them to not only help themselves out of financial dependency but become influential and contributing members of society. In a nutshell, they're making a tangible difference to the next generation of South Africans being raised in the Banhoek Valley in Stellenbosch. Find out more at www.givemeachance.co.za
Believe it or not, there's yet more to Alluvia – more than the unbelievably good wine, more than the on-site charity. You can also go and spend a few days on their farm in extremely comfortable guest accommodation looking out over the vineyards and the dam, surrounded on all sides by nature, stillness, peace. And while you're there you can stroll through the vineyards or play a few holes of golf or go fly fishing or lounge by their swimming pool… Or if the weather is cold and misty, as it was when we were there, you can simply cosy up in the lovely rooms and read for hours on end, pausing every now and then to sip some wine, look out at the vineyards and thank your lucky stars.
One of the best things about Alluvia (apart from their Ilka and Lisa wines, named after the children of Delarey Brugman – the inspired winemaker) is how close it is to Cape Town. A mere hour out of the city, and ten minutes from Stellenbosch, it couldn't be more convenient to get to, yet it feels so secluded from the hustle of the city that the travelling price should be far higher.
If you're going to be in Cape Town for any length of time, make it a point to pop into Alluvia – whether for a wine tasting with a difference or for a blissfully relaxing weekend escape. Either way, you'll leave a much happier person! Find out all you need to know on www.alluvia.co.za
Image: Mark Peddle