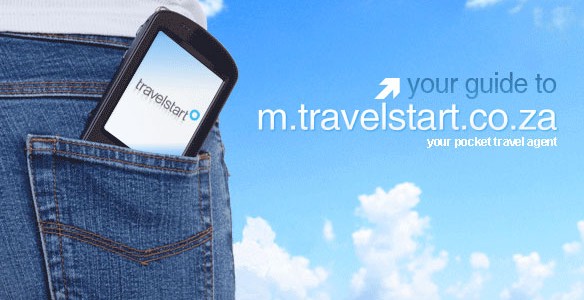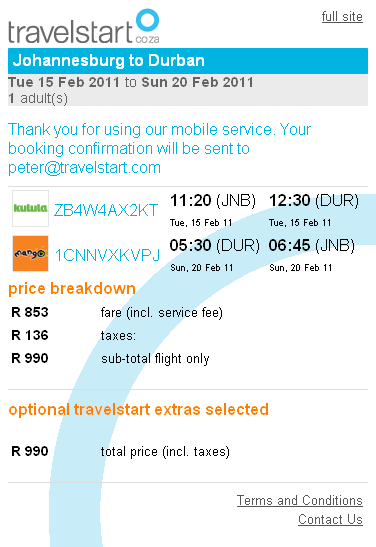 Travelstart's just launched South Africa's first public flight booking engine for mobile phones, which was great news for price-conscious travellers who are always on the go. But another great feature makes its debut on this revolutionary site, the ability to mix and match low cost airlines in one booking.
Previously with all travel agents and airlines, if you're buying a return domestic ticket, you have been forced to use the same airline there and back. You could be paying more than you need to, for example:
A return ticket on Airline "A" costs R1200:
R300 for the flight there
R900 for the flight back
A return ticket on Airline "B" costs R1300:
R800 for the flight there
R500 for the flight back
Travelstart have been working hard on a new system which allows you to pick the cheapest flight going out and the cheapest flight coming back, even if they are on different airlines.
That means in this example, you'll be paying R800 for the return ticket:
R300 for the flight there on airline "A"
R500 for the flight back on airline "B"
That's a saving of R400!
The Travelstart system then combines these two flights into one booking for you for convenient payment. You'll still get a reference number for each airline you're travelling with to help you check-in either online or at the airport. This exciting feature will be exclusive to those booking on Travelstart's mobile site at first and will be rolled out to the regular booking site later.
Even more incentive to book with Travelstart where our systems do the dirty work for you speeding up your search for the best bargains around! Make a booking on m.travelstart.co.za today and stand the chance to a BlackBerry – we're giving one away at the end of January!