The island of Bali is easily one of the most popular holiday destinations in the world! Do you know why? Just look at the incredible amount of Bali beaches! You may not know where to start, with 131 spots along this Indonesian island's spectacular coastline. But you can relax because we've made sure to offer you a list of the best and most beautiful beaches in Bali!
What makes these the best beaches in Bali? Some are ideal for just letting go. Others are perfect for a day out with the family. Then there are those spots that are great for simply relaxing and people watching. Some beaches even offer you exclusivity and quiet waters. Let's not forget about surfing! A number of Bali beaches have great waves and conditions that will test skilled and aspiring adventurers. Get ready to discover the most alluring beaches of Bali!
Western Bali Beaches
Only a small number of Bali's best beaches are in the west, but they offer the best sunsets!
Medewi Beach
Sitting along the southern coastline of Bali, Medewi offers, at first glance, a gorgeous and deserted stretch of beach. While most head to this spot to relax, the strong waves it offers are perfect for surfers.
You can look forward to riding long waves at Medewi. The river mouth at the village is also great for launching out to the ocean! Medewi Beach can get crowded with other surfers. The locals are renowned for their friendliness, and you'll easily be able to get info about the beach breaks around the area. To catch the best winds, time your visit to the beach in the early morning.
How to get there
Medewi sits 75 km to the northwest of Denpasar (a 2-hour drive, but a longer travel period if using a bus), on the main south coast road (Jl. Raya Denpasar – Gilimanuk).
Balian Beach
Another great venue for surfing, Balian also offers one of the most beautiful Bali beaches in the west!
Balian provides a breath-taking setting, situated at the estuary of the Balian River. It's the longest river in Bali and one of the best surf spots in the island. The beach offers two other surfing spots, one with powerful waves and the other with long swells. The best time to surf at Balian is during middle and low tide (mid- to late-morning and mid- to late-evening, but this shifts according to every month).
Balian Beach is close to Soka Beach, which is a popular tourist destination if you want to mingle with bigger crowds.
How to get there
Balian Beach is a 1-hour, 30-minute drive northwest from Denpasar. You can take the main south road, Jl. Raya Denpasar – Gilimanuk.
You can use this map to find the Bali beaches in the west.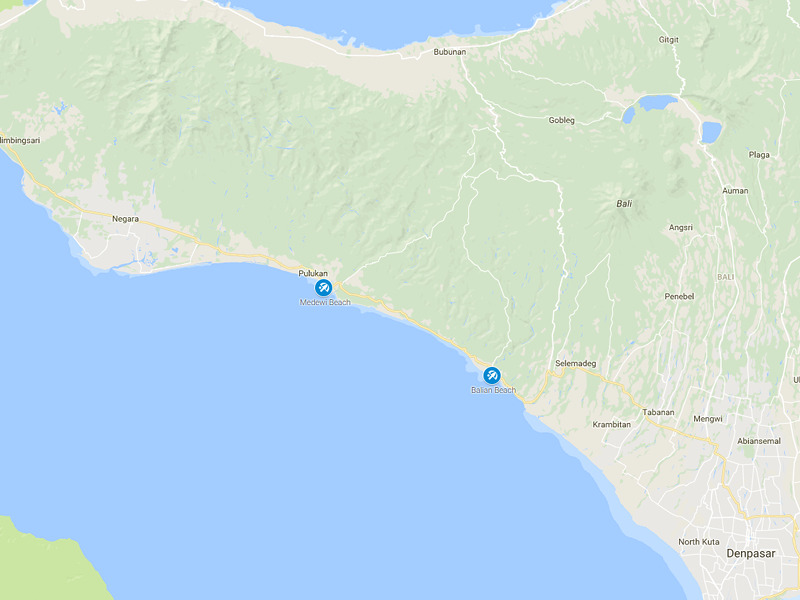 Central Bali Beaches
The centre of Bali boasts the most of the island's beaches. These are the beaches where many travellers flock to. Why? Plenty of beaches offer their own highlights that will cater to your holiday plans.
Seminyak Beach
The beach of Seminyak is easily one of the most sophisticated coastal attractions in central Bali.
Over the years, Seminyak Beach has drawn resident expats, which helped the area develop into a fashionable scene. You'll be close to some of Bali's best restaurants, entertainment spots and an exciting nightlife scene! During the day, take a stroll along the coast, or rent a sun lounger and just sit back and enjoy the view. When night falls, watch Seminyak transform into a thriving party scene.
How to get there
Seminyak is a 25-minute drive southwest from the city centre of Denpasar.
Nusa Dua Beach
At first glance, you might think that Nusa Dua is manmade! That's because the coastline borders Nusa Dusa's resort area, with manicured lawns and the sheltering of palm trees.
You'll find the beach to be amazingly clean and offering plenty of family-friendly restaurants, watersport activities and even a shopping complex! Nusa Dua Beach is the ideal area to bring the entire family. Your little ones will have so much fun and there are many places to cool off.
How to get there
You can access the beach by driving south from Denpasar for approximately 40 minutes, along the Mandara Toll Road.
Padang Padang Beach
There's a chance you might recognise this Bali beach, especially if you've watched the movie Eat, Pray, Love, which starred Julia Roberts!
While the movie's main character Elizabeth Gilbert fell in love with a fellow traveller, what's to say you can't either? You'll also find yourself getting drawn into the surfer crowds and falling in love with the bright white bay, which is framed by impressive rock formations and world-class waves. There are calmer periods at Padang Padang Beach, guaranteeing you an enchanting scene.
How to get  there
You can reach Padang Padang Beach by driving southwest from Denpasar for just over an hour.
Suluban Beach
This is one of the secret treasures of Bali's beaches! Suluban Beach remains undiscovered during high tide, but during low tide, it's the best place for a secret swim.
Set against impressive cliffs, with turquoise waters, you may think you're in paradise! To get down to this area, walk down the steps at Uluwatu, then through the caves and onto the sand. Low tide tends to shift every month and lasts for about five to six hours. Be sure to check for tide times online around the time you visit.
How to get there
Suluban Beach is a 1-hour, 15-minute drive southwest from Denpasar.
Use this map of central Bali beaches to help with directions.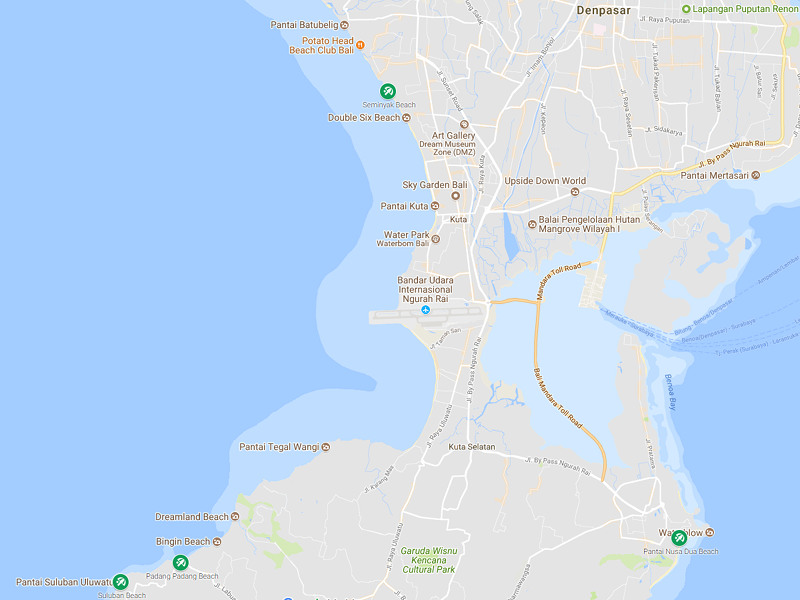 Other beaches of central Bali you can check out are:
Echo Beach (ideal for relaxing)
Jimbaran Bay (ideal for seafood and sunsets)
Balangan Beach (ideal for surfing and sunbathing)
Sanur Beach (ideal for sunrises and cycling)
Karma Beach (for those seeking privacy in a chic setting)
Bingin Beach (ideal for a bohemian atmosphere and surfing)
Gunung Payung (ideal for photos)
Thomas Beach (ideal for secluded beach walks and sunbathing)
Legian Beach (ideal for beach parties)
Kuta Beach (ideal for swimming and sunbathing)
Eastern Bali Beaches
The beaches of eastern Bali are the best for adventures! Some are even off the coast of Bali. You can feel as if you're truly stepping away from the world.
Keramas Beach
Words alone will not prepare you for what you will find at Keramas Beach. You'll have pumping waves in front of you, and the mighty Mount Agung behind you. Thanks to the mountain (actually a volcano), you'll have a beach with black sands! Won't that be a sight that will stay with you forever?
With big and fast waves to challenge surfers, you can either test your skill or just watch as the pros ride the swells. With the unique sights of the Bali Sea, black sands and Mount Agung, you'll have plenty of photo opportunities!
How to get there
Kermas Beach is a 40-minute drive northeast of Denpasar.
Amed Beach
This stretch of coastline is another one of the Bali beaches offering black sands!
Situated on the northeastern coast, Amed Beach isn't your typical beachfront. But with awe-inspiring landscapes, you'll have incredible holiday pictures. The beach also offers one of the best diving and snorkelling spots in Bali! You will find the island's most colourful coral reefs to explore (make sure to avoid touching or standing on the corals, as this rubs off their protective coating and they can die).
How to get there
You can reach Amed Beach on scenic 2-hour, 20-minute drive to the northeast from Denpasar.
Nusa Lembongan
This island, southeast of mainland Bali, is where you can have all the adventure you like!
Nusa Lembongan is home to the aptly named Dream Beach. Small during high tide, it's a great spot for simply relaxing on the beach and taking photos. While it can get crowded, you can avoid dealing with more travellers by arriving early. Secure yourself a great spot before 10:00, when the beach is much quieter. If you follow the coastline for a few minutes, you'll find rocky outcrops where you can take photos. There are even some spots further down the coast with deep water below (great for cliff jumping!).
How to get there
To get to Nusa Lembongan, travel to Sanur (a 20-minute drive southeast from Denpasar). From Sanur, book a trip with a scoot boat. The trip takes roughly 30 minutes and the boat is completely enclosed.
Nusa Penida
Less than 2 km from the coast of Nusa Lembongan is the larger and more popular island of the Nusa Penida district.
Nusa Penida is home to Crystal Bay, a beach framed by palm trees. At this beach, you can rent umbrellas, chairs, snorkel gear and light refreshments. Many travellers and locals consider snorkelling in Crystal Bay to be the best on Nusa Penida, thanks to the clarity of the water. You'll be able to swim with eels, turtles, brilliant coral, Napoleon fish and parrot fish. During summer (May to September), you may even be able to spot the large Mola Mola sunfish!
As with Nusa Lembongan, travel to Sanur, and book a trip with a scoot boat to get to Nusa Penida.
You can use this map to locate the beaches along eastern Bali.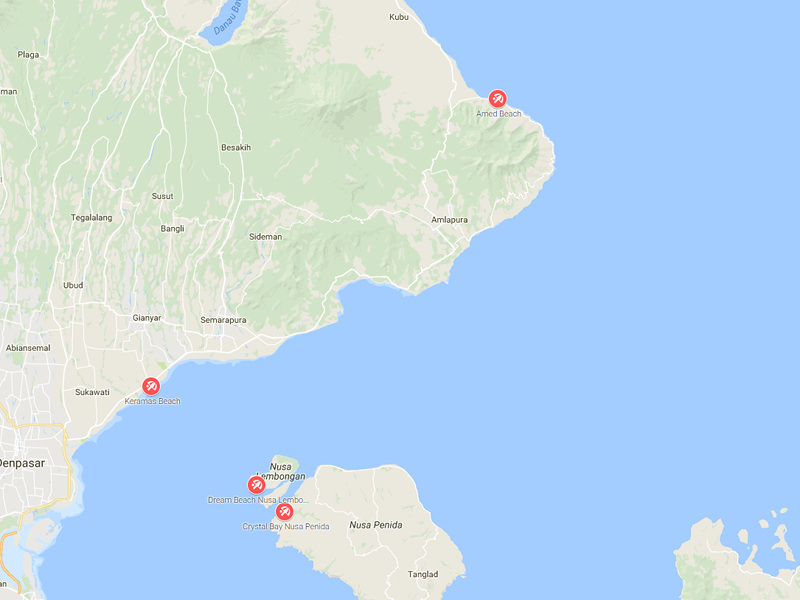 A number of hotels are near to these beaches, but should your accommodation be further away, there are bus services, taxis, bemos (minivans) as well as car and motorbike rentals in Bali.
Now that you know about the many exquisite Bali beaches, don't you have even more reasons to make this island your next holiday destination? Start by finding out the best time to visit Bali, then book your flight and start packing your bags!
For great deals on flights to Bali, subscribe to our newsletter and stay updated with our latest flight specials.