Visa-Free Destination Wedding Locations:
Saying 'I do' to the love of your life on a pristine beach or a picturesque church wedding in a foreign country may sound ideal. In fact, nearly a quarter of weddings are destination weddings, according to TheKnot.com's most recent survey. There are three ways to get married abroad:
Host the wedding at a respected hotel or resort where the hotel personnel organise everything.
Hire an experienced wedding planner based in your country or abroad.
Do everything yourself!
As romantic as it sounds, getting married abroad isn't simple as each country has different laws and traditions. Las Vegas is a popular destination with over 150 000 couples getting married there every year. The paperwork is minimal, as couples only need to be 18 years or older, and pay US $40 for the licence and a further US $10 for a copy of the certificate. Drive-thru weddings are also available. England requires that either the bride or the groom be in the country for at least 15 days before the ceremony, whilst a civil ceremony in France must be in a commune (town or village) that you or your future spouse are linked to for at least one month. This makes it difficult for foreigners who often opt to have their second or religious ceremony in France.
Here are five visa-free destinations making it easy for South Africans to have civil ceremonies:
Jamaica
Jamaica is the third largest Caribbean island known for its vibrant culture, warm weather and exotic food. If it's spectacular white sand beaches that you're looking for then this is the perfect place, as it has crystal blue waters and beautiful scenery and sunsets that will look stunning in wedding photos. Other popular attractions include the Bob Marley Museum and Devon House which was built by the country's first black billionaire.
To wed in Jamaica, couples must arrive at least 24 hours before the ceremony for marriage license applications at the Ministry of Justice which costs JA $4,000.00 (US $32) and three hours to process.
Things to know:
1 Jamaican Dollar equals 0.10 South African Rand
South Africans can stay in Jamaica for up to 90 days visa-free.
Legalities and documents needed:
Blank Marriage License Form
Proof of citizenship – certified copy of birth certificate and passport.
Parent's written consent if under 18 years of age.
Proof of divorce if applicable (original certificate of divorce).
Certified copy of death certificate for widow or widower.
Tip: There is nothing worse than seeing strangers wearing bikinis in the background of photos and wedding videos. Therefore, it is advised to only book beaches.
Georgia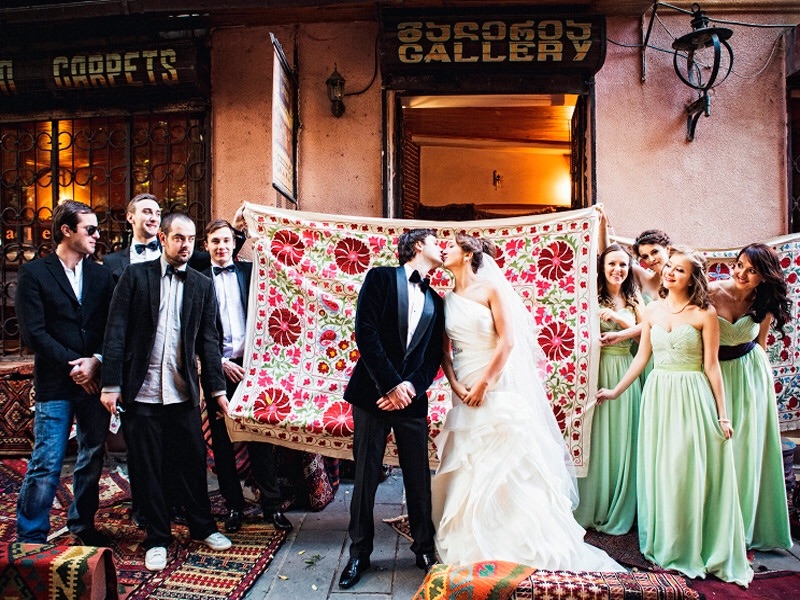 ---
Known as the birthplace of wine, Georgians use the Kakhetian methodology of making wine in large clay pots known as "kvevri" which are sealed and buried in the ground to ferment for up to six months. The most popular place to tie the knot is Sighnaghi also known as the "City of Love". This 18th century fortress town is full of wineries, cobblestone streets and 24-hour wedding registries. Founded in the 5th century BC, the town of Mtskheta is the second most popular and oldest in the country. Couples can get married at the UNESCO World Heritage site, Cathedral Svetitskhoveli where it's believed that Christ's robe lies beneath the central nave, under a square pillar decorated with colourful frescoes of the conversion of Kartli.
Things to know:
Legalities and documents needed:
Passports
Two witnesses over the age of 18
Turkey
With breath-taking scenery, mouth-watering food and rich history to immerse in. Only a few places on earth are as magical as Turkey. The Turkish state only recognizes civil weddings which are officialised in the offices of their own countries embassy or consulate or in the Turkish Marriage Offices run by local municipalities. 
Also read: Travelstart's Magic Carpet Ride to Turkey
Things to know:
1

Turkish Lira

equals 

2.67

 

South African Rands

South Africans can visit Turkey for 180 days per annum, but you may not stay for longer than 30 consecutive days per visit.
Legalities and documents needed:
Marriage request form ("Evlenme Beyannamesi" in Turkish) must be filed in person at the Municipality (Belediye).
Originals and copies of birth certificates and passports, translated into Turkish by Turkish Embassy in the country of origin or a certified notary in Turkey.
Medical certificate, which has to be obtained from a state medical institution in Turkey, known as "Saglik Ocagi" or "Devlet Hastanesi" in Turkish.
Six passport size photos
Certificate of Celibacy, which states if a person is single, divorced, or widow. To be taken from the proper Civil Status Register of his/her own country.
Accommodation Letter: A letter written by the hotel stating the couple's duration of stay and date of departure.
Mexico
With a population of 127 million, Mexico is twice the size of South Africa, and has no shortage of resorts that provide romantic beach weddings in Mexico. Fun fact: Texas used to be a Mexican province before it declared independence from Mexico in 1836, which resulted in the war with the United States (1836-1838).
Things to know:
1

Mexican Peso

equals 

0.70

South African Rand

South Africans can stay in Mexico for up to 180 days visa-free.
Legalities and documents needed:
Marriage request form
Passport and birth certificates, translated into Spanish by a certified translator
Prenuptial medical certificates that shows you and your spouse are both HIV-negative, issued less than 15 days before the wedding
If applicable, a divorce or death certificate for your previous spouse(s). In Mexico, you must wait a year after divorce before remarrying.
Original and copies of four witnesses' IDs
Fiji
Fiji is home to is the world's fourth-largest barrier reef which also, curls around the sparsely populated southern island of Kadavu. With more than 300 islands to explore, visitors have no shortage of tropical attractions. For a one-of-a-kind wedding, rent a private island or private boat like Cloud 9 which caters for 100 guests and offers 360-degree views of Fiji's incredible Mamanuca and Yasawa Islands.
Things to know:
1 Fijian Dollar equals 6.34 South African Rands
South Africans can visit for up to 90 days visa-free
Legalities and documents needed:
Passports and birth certificates
Decree absolute (if divorced)
Death certificate of deceased former spouse (if applicable)
Two witnesses over the age of 21
Fees:
Application for special license US $10
Marriage officiated by the registry US $11
Marriage officiated by the registrar or distict registrar after hours US $15
Tapa designed marriage certificate US $8
Standard certificate US $3
Have you been to a destination wedding or are you planning your own? Share your comments below.
Stay updated with our latest flight specials by subscribing to our newsletter for great deals and travel tips!
***Disclaimer!
All information on this page was correct at the time of publishing and may change at any time without prior notice. Travelstart will not be held liable for loss or inconvenience resulting from the use of information from this website!