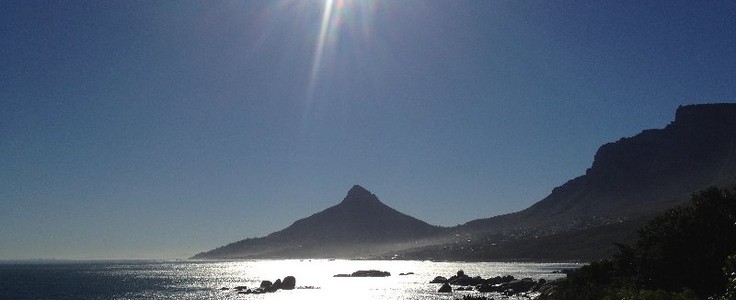 I'm not sure if the drive I'm about to describe to you is actually called Suikerbossie, but after seven years in Cape Town that's what I call it (and everyone I know calls it that too!) so you might as well make like a local if you need to reference it.
The drive is, quite simply, from Camps Bay to Hout Bay via Llandudno. That might not sound very exciting, but this particular drive snakes along some of the most beautiful coastline you can imagine, right on the edge of the sea, climbing up and over the mountain and then down into Hout Bay (that bit is definitely called Suikerbossie). It's part of the Cape Argus Cycle Route, and one of the toughest hills the poor cyclists have to climb. I walked it once, and was amazed how the hill just goes on and on and on…
But in a car, there's nothing to worry about. You simply leave Camps Bay, drive past all the beautiful people sunning themselves on the pristine beach, keep driving along the narrow winding roads past the secret beaches that only locals go to, and then break out onto the coastal road, with nothing but fynbos and mountain on one side and ocean on the other. The Twelve Apostles Mountains watch over you as you drive past the roadside markets selling everything from African carvings to zebra skins and crocheted clothing (not too sure how that last one fits in) and then it's nothing but ocean, ocean, ocean, all the way to Llandudno.
What makes this drive so special is that it's beautiful no matter what time of day you drive it. Whether it's early morning and the sea is just glistening with the first rays of sunshine, bright daylight with all the waves in sharp focus, or late afternoon when the sun is starting to sink over the sea – this is one stunning drive. I've even driven it on full moon, and the sight of the moonlight on the water is enough to make you want to take up poetry.
This Suikerbossie road is the one I take any time I need reminding how beautiful Cape Town is, and how lucky we are to have it as our hometown. A tall order for a drive? Wait until you've done it….
Image credit