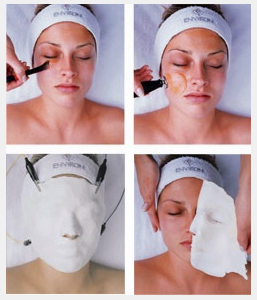 Ladies and gentlemen (well, probably more ladies, let's be honest…) I have found Cape Town's best facial. You can thank me later.
I love a good facial, I really do. I love the pampering, the way my skin glows afterwards and getting to lie down for an hour while someone rubs delicious smelling products into my skin. What's not to love? But I find it difficult, between facials, to figure out what to do with my skin. I spend hours staring at the many wonderful promises on skincare labels, trying to decide which one to trust.
No more! Not now that I've found Environ. For starters, when you first go for an Environ facial, it's not a facial at all, but a skin analysis. Using all kinds of machines I only partly understand, they test your skin for everything from hydration levels to pigmentation, sub-cutaneous damage and depth of wrinkles, take extremely close-up photographs that show what's going on underneath the top layer of skin, and then prescribe a course of action to fix whatever is wrong with it – or what will go wrong if you continue doing what you're doing.
The Environ skincare range was developed by Dr. Des Fernandes, a plastic surgeon who saw the effects of the South African lifestyle (and sun!) on the skin, and decided to do something about it. What I love about their whole approach is that everything is based in scientific research: from the products themselves (which are fabulous) to the facial, which was as high tech a facial as I've ever had, with sound and light energy frequently used to maximise the absorption of the various serums into the skin. All Environ therapists are intensively trained, and it shows. I had all kinds of questions, and all of them were answered by the lovely Farah.
The secret? Vitamin A in high, effective doses, to replace the vitamins lost in the skin. It's gradually increased (over a few months) as you become used to the levels of vitamin A, and guaranteed (scientifically!) to make your skin look and feel wonderful. No need to stare at the many hundreds of skincare promises made up in ad agencies… How wonderful is that?