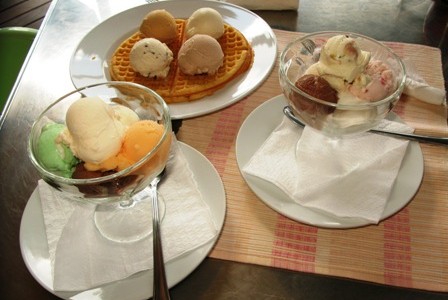 In recent weeks, Johannesburg has gone from Jo-rainy-burg, to Jo! Where's the swimming pool?
It is hot, hot, hot, in the city. So hot, that if Jo'burg had any gold left underground it would have smelted itself by now.
Killer heat calls for a cool head, and what better way to degauss those sun-frazzled brain cells than with a scoop or three of Italian gelati?
Jo'burgers craving cooling carbs go to Trieste Café in Greenside, where the spoils include flavours like honey malt, chilli chocolate, and pistachio. If decision-making's not your forte, try their 5 mini-scoop coupé, or order a waffle and try a different flavour on every quarter. Hmm-hmm! (+27 (0)11 646 3473)
Gelati doesn't come better than at Italian Deli, Tortellini D'Oro, where mamma Bollini makes bellisimo amaretto, hazelnut, stracciatella, and hazelnut ice cream. This is real deal Italian gelato with not a preservative in sight (+27 (0)11 483 1249).
Looking for fat-free refreshment? Ice-solate your indulgence angst with a Red Mango natural, fat-free, cholesterol-free frozen yogurt ice-cream or smoothie. Choose a seasonal fresh fruit topping for added yum factor. (+27 (0)11 684 1058)
For fabulous sorbets, made from fresh seasonal fruits, drop by a Doppio Zero. Their homemade gelati are not too shabby, either – think cappuccino, tiramisu, French vanilla, or nougat.
Never mind the calories, if you can deal with the air miles guilt, then Häagen Dazs' shops in Sandton (+27 (0)11 883 7393) or Hyde Park are the coolest places to be seen indulging in scoopfuls of their famous dulce de leche, blueberry crumble, and chocolate chip cookie ice-creams.
Their crepe cones, packed with 2 scoops of your choice, fresh fruit, gooey chocolate sauce, and fresh whipped cream may chill your craving for something frosty and sweet, but watch those Rands vaporise to pay for Jo'burg's costliest frozen fix.
Those looking to chillax seriously should side step the ice-cream cart, and head straight for the Westcliff Hotel, where a pitcher of frozen margarita, sipped on La Belle Terrasse, ticks all the boxes: a cool drink, a stylish setting, and the most awesome views of Jo'burg.