Amsterdam is a diverse city, home to blooming, colourful tulips, enchanting canals, extraordinary museums, and unique nightlife. This incredible city is a year-round travel destination. Many people suggest April to May (spring) and September to November (autumn) as being the best time to visit Amsterdam. However, keep in mind that the best time will depend on what you're hoping to see and do in this beautiful metropolis.
So, whether you're going to Amsterdam for the tulip spectacle or heading to the city for its incredible music festivals, Travelstart has the ideal guide for you!
Weather and Seasons
Ideally, the best time to visit Amsterdam is during spring and autumn when the weather is lovely for outdoor activities and sightseeing. These two seasons are also directly before and after the high tourist season. The city has four distinct seasons: summer, autumn, winter and spring! All four seasons offer unique experiences and various sides of the city become the drawcard.
Summer
Amsterdam comes alive in summer (June-August) as the city's streets, parks and canals are frequented with a buzz of activity. Temperatures reach an enjoyable average of 22 degrees Celsius. Summer is also peak season, as Amsterdam's weather is ideal for outdoor activities, which means that it is the busiest and most expensive time to visit. However, if you're keen to see the city in full sunshine bloom, you're guaranteed a whirlwind of fun activities!
Reasons to visit Amsterdam in summer:
Attend the festivals
With the sun out, you're guaranteed a festival happening every weekend! The Dutch sure know how to party with more than 300 festivals taking place annually. The majority of the festival fun takes place during the warm summer months. There is a plethora of summer festivals to check out, ranging from music to culture and food!
Barbecue in the park
This is a great way to show off your barbecue (or braai) skills. Parks that are barbecue-friendly include Rembrandtpark, Oosterpark, Frankendael Park, Noorderpark and Amsterdamse Bos. Enjoy a lamb chop and local beer under the trees!
Autumn
Many travellers consider autumn (September to November) to be the best time to visit Amsterdam. Rightfully so, as the tourist crowds quieten down while the autumn leaves fall solemnly to the ground. The city's autumn foliage is a spectacle to see in their browns and golds! This is also a great time to travel to Amsterdam if you have a strict budget. There's a great drop in prices throughout the city and you'll get to experience cosy cafés, free museums and intimate cultural get-togethers in the city. Autumn is also the time to enjoy Amsterdam at your own pace! Expect mild temperatures between 9 and 18 degrees Celsius.
Reasons to visit Amsterdam in autumn:
Eat traditional Dutch food
The Dutch prepare interesting cuisine during the cooler autumn months. Head to a cosy café in the city and enjoy a hot slice of apple pie with a hot chocolate – it feels like a hug from inside your tummy! Once in Amsterdam, you're obligated to locate a 'brown café' (a traditional Dutch pub), where you'll have to order hefstbok (a beer brewed especially for the autumn months). Other hearty dishes worth tasting are stamppot (mashed potatoes with vegetables and sausage) and erwtensoep (pea soup).
Visit the museums
Autumn temperatures provide the perfect conditions for getting around the city and exploring the Dutch culture. There are amazing cultural events that take place throughout the city! Head out to the museums and see marvellous art collections without the usual tourist crowds. 3 November is Museum Night – more than 50 museums are open during the night with special exhibitions on show, tours and performances. Rijksmuseum, Stedelijk Museum and Van Gogh Museum are some of the world-renowned museums worth visiting.
Attend various film festivals
During autumn, Amsterdam plays host to many incredible film festivals. There is something for everyone, whether you're a documentary fanatic or animation enthusiast, rest assured there is a festival to treat your senses! Film festivals that you should check out include KLIK Amsterdam Animation Festival, Cinekid Festival and International Documentary Film Festival (IDFA).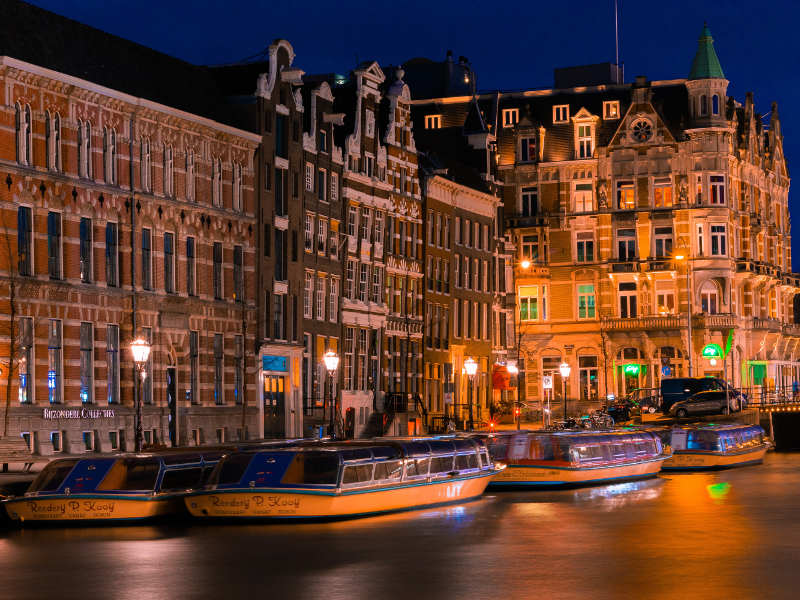 Winter
If you're looking to save on flights then winter (December-February) is the best time to visit Amsterdam. With cold winter temperatures ranging between highs of 5 and 10 degrees Celsius, the weather is mostly dismal and dreary. But as mentioned before, Amsterdam is a year-round destination! So, if you're up for cold European weather then visit the Dutch capital during the festive winter season. The city will prove to be the perfect winter destination with its hearty festive cheer.
Reasons to visit Amsterdam in winter:
Witness the light spectacle
The city becomes a gigantic outdoor art gallery. It truly is breathtaking, accompanied by the crisp winter temperatures. The dark winter months are adorned during the annual Amsterdam Light Festival with magical light installations. Catch the beautiful lights across the canals, streets and landmarks from November to January. Take an Amsterdam Light Festival boat tour for an epic vantage point. Don't forget your thermals!
Visit the winter markets
The winter markets create a trendy buzz. With the excitement of Christmas approaching, there's always a different market popping up somewhere in the city. Warm up with a glass of glühwein and taste the popular olliebollen and stroopwaffel while strolling through the family-friendly winter markets. Cool markets to add to your Amsterdam bucket list include Amsterdamse Kerstmarkt, De Lelystadse Kerstmarkt and the Haarlem Christmas Market.
Also read: Visiting Amsterdam? Here are some budget-friendly tips.
Spring
Spring (March-May) welcomes milder temperatures averaging 15 degrees Celsius. It is usually warm and dry with bright blue skies. It is considered the best time to visit Amsterdam for fewer crowds and a greater chance of good weather. See how the city and its countryside awakens from its winter dry spell as trees burst with their green charm. Spring is also tulip season, head to Keukenhof Gardens between March and May for the best blooms.
Reasons to visit Amsterdam in spring:
Visit the tulip fields
Covering much of the country, tulips are a major drawcard in spring. Book a tour in advance to get the full "Tulips in Amsterdam" experience. Get your camera ready as you'll see all the beautiful colours that brighten up this beautiful city. The tulip fields look like a painting come to life!
Head to the city farms
Going to see adorable baby farm animals is a fun spring activity and this will give you the chance to skip the urban noise and bustle for a few hours. You'll be surprised at how many city farms there are! Pack your picnic baskets and get ready to meet the animals. Most city farms have playgrounds for children and also sell refreshments. City farms worth visiting include De Dierencapel Kinderboerderij, Stadsboerderij Osdorp and Dierenpark De Buiktuin. You'll get to see animals like goats, rabbits, donkeys, and lots more.
Shop at the city markets
Take a stroll through the city's markets during the pleasant spring temperatures. You'll find great bargains at the colourful and lively markets. Be sure to shop for some beautiful Dutch souvenirs. There are around 12 daily outdoor markets where you can shop to your heart's content. The most well-known markets worth shopping at are Antiekcentrum, Postzegelmarkt and Waterlooplein Flea Market.
Average weather in Amsterdam
| | | | | | | | | | | | | |
| --- | --- | --- | --- | --- | --- | --- | --- | --- | --- | --- | --- | --- |
| Month | Jan | Feb | Mar | Apr | May | Jun | Jul | Aug | Sep | Oct | Nov | Dec |
| Low °C | 1 | 0 | 3 | 4 | 8 | 11 | 13 | 13 | 1 | 8 | 4 | 3 |
| High °C | 5 | 8 | 9 | 12 | 17 | 19 | 21 | 21 | 18 | 15 | 9 | 6 |
| Rainfall (m) | 69 | 39 | 78 | 36 | 45 | 69 | 63 | 54 | 75 | 84 | 90 | 69 |
Daylight Hours
Winter: 08:30 – 16:30
In winter, daytime hours in Amsterdam are majorly short! Prepare for up to 9 hours of daylight in the city. This is the time to enjoy those cosy cafés as Amsterdam's weather sees temperatures dropping to 3 degrees Celsius.
Summer: 05:30 – 22:00
Daylight hours are favourably long, giving you enough time to go sightseeing and do other outdoor adventures. Amsterdam experiences around 16 and a half hours of daylight during summer! This is the best time to visit Amsterdam if you've got an extensive itinerary.
How much are flights to Amsterdam?
High season: June to August
The summer months (June to August) together are peak season all over Europe. Accommodation and flight prices are the most expensive during the high season. Flight tickets can cost 18% more during Amsterdam's summer months.
Book your flights at least three months in advance!
Shoulder seasons: March to May; September to November
The shoulder season is considered the best time to visit Amsterdam for mild weather and lower prices. When travelling during the shoulder seasons you can save around 7% on flights!
Low season: November to February
If you're willing to brave the cold then consider travelling to Amsterdam during the winter months. You can save up to 18% on flights to Amsterdam! Winter offers plenty of activities and unique sights during the cold months.
Popular annual events in Amsterdam
The Amsterdam Light Festival: Early-December to late-January
This annual light art festival is a spectacular show in Amsterdam's winter. Watch the city light up as artists, architects and designers from all over the world bring their light displays and installations to life during this cool festival.
King's Day: 27 April
The streets and canals are adorned in orange as people make their way through the city. King's Day is one of the world's biggest street parties. This national holiday is celebrated in honour of King Willem Alexander's birthday. There's plenty of street vendors, outdoor bars and music!
Vondelpark Open-Air Theatre: Early-May to late-September
Every summer the Vondelpark Open-Air Theatre presents a five-month programme, jam-packed with jazz, children's theatre, dance and stand-up comedy. You'll get to enjoy a mix of established and upcoming Dutch artists.
Dekmantel Festival: July-August
This cutting-edge electronic festival in Amsterdam sees people from all over the world heading to the city for this mind-blowing music showcase. Genres such as house, techno, disco, Latina and more can be heard throughout the festival. Top international DJs make their way to Amsterdamse Bos to play the best sounds!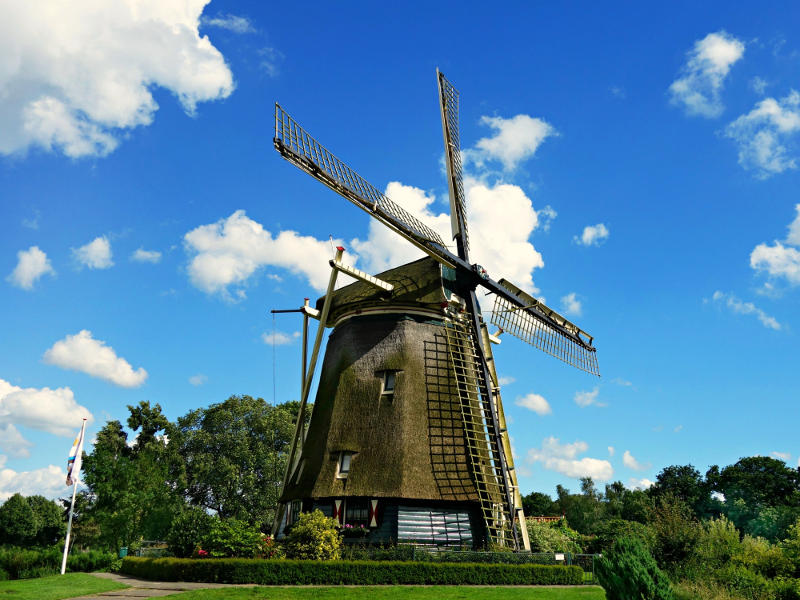 Now that you have a solid guide on the best time to visit Amsterdam you can decide which season is ideal for you and your Dutch capital itinerary. Whether you're looking forward to bike rides and museum hopping or winter markets and ice-skating on the canal, each season has its own cool experiences perfect for you.
Subscribe to our newsletter for the best flight specials to Amsterdam and other amazing destinations!
Have you recently been to Amsterdam? Tell us about your experience in the comments below.