"There's something in the New York air that makes sleep useless." – Simone de Beauvoir
It's not called the land of opportunity for nothing. Come country bumpkins to the most discerning of city dwellers, millions of people flock to New York City on an annual basis in the hope to get a taste of the dynamic energy this city holds. Although known as the city which never sleeps, visitors can still plan a time of year which best suits their preferences. Perhaps it's the magical display of Christmas markets over the festive season, or are you more a 'picnic in Central Park over the summer' kind of traveller? Below, we've taken a closer look at the best times to visit New York City to help you make a more informed decision.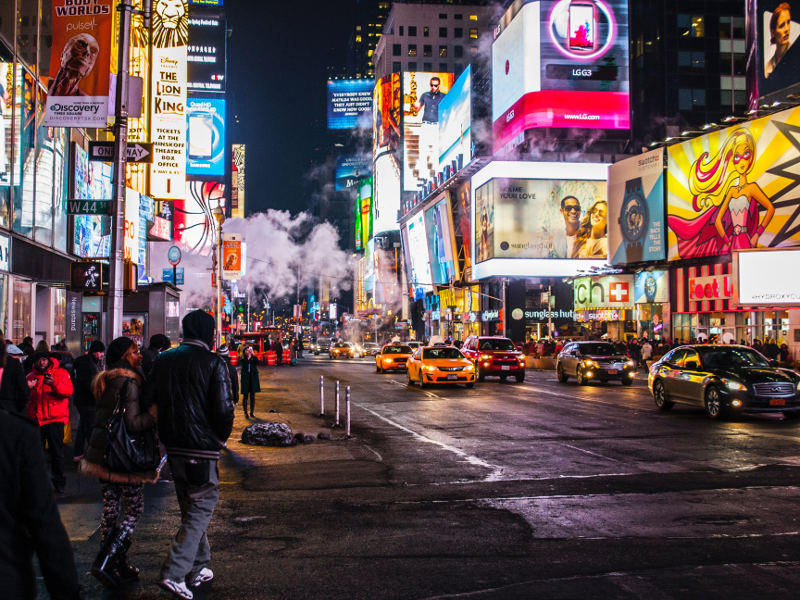 Weather
While we're not totally convinced there is a best time to visit New York City, the weather might sway your decision based on the places you want to visit in New York or the things you want to do which may be drawing you to the big apple. It's important to understand that the weather is strongly influenced by two air masses, the cold ones coming from Canada, and the warmer ones coming from the Gulf of Mexico.
Come summer or winter, the wind factor should not be ignored. It may cool you down in the summer, however, snow storms in the winter are not uncommon.
Average temperature (°C) & rainfall (mm) per month
| | | | | | | | | | | | | |
| --- | --- | --- | --- | --- | --- | --- | --- | --- | --- | --- | --- | --- |
| Month | Jan | Feb | Mar | Apr | May | Jun | Jul | Aug | Sep | Oct | Nov | Dec |
| Low°C | -3 | -2 | 2 | 7 | 12 | 18 | 20 | 20 | 16 | 10 | 5 | 0 |
| High°C | 4 | 4 | 5 | 10 | 16 | 22 | 26 | 29 | 28 | 24 | 18 | 12 |
| Rainfall (mm) | 95 | 80 | 110 | 115 | 105 | 110 | 115 | 115 | 110 | 110 | 100 | 100 |
Summer (June – August)
July is the hottest time of the year averaging temperatures of +/- 29°C. While New York is not quite as humid as Asia, the building infrastructure tends to make it quite hot and very humid at times. While sometimes unpredictable, most of the rain comes in the form of afternoon or evening showers and thunderstorms, but fear not, umbrellas are provided for patrons in most restaurants and coffee shops. If summer is your vibe then the best time to visit New York City would be between June – August.
What to pack:
Shorts / dress / skirts
Bathing Suit
Pants / trousers (for going out)
Short sleeved tops / shirts
Light jacket
Comfortable walking shoes
Sunscreen
Sunglasses
Rain jacket
Winter (December – February)
New York winter can be rather cold with averaging temperature of sometimes -4°C in February. As chilly as that may sound, this by no means takes away from the charm of this city. In fact, with every season, comes a new set of exciting attractions and activities to explore. Although rain is at a low with as little as about 80mm in February, snowfalls are quite frequent with an average of 26 inches of snow a year. If snuggling around a fireplace or walking in the snow is your idea of a perfect evening, then the best time to visit New York City would definitely be during the winter months.
What to pack:
Long pants / trousers / jeans
Jerseys
1 x coat
Woolly hat
Boots
Gloves
Scarf
If you're looking for a more temperate climate the best time to visit New York City would be between April and June and September to early November when the is milder and less unstable.
Daylight Hours
The vastly ranging seasons also have an effect on the daylight hours.
In summer you can experience between 12–14 hours of sunlight, with sunrise starting at 05:30 and sunset occurring at around 20:30.
In winter sees around 9–11 hours of sunlight with sunrise starting at around 07:00 and sunset starting as early as 16:30.
How much are flights to New York City?
Peak season:
High season for South Africans travelling to New York is typically around the winter periods (June, July, August) and the summer periods (December, January, February). This is mostly due to school holiday periods and around Christmas time where most offices close their doors for the festive season. Flights tend be rather pricey when flying during this time. You'll have to be smart about booking in advance to avoid disappointment. The earlier you book the better the savings. While this might be the only time you have to spend with your family or get away from the grind, peak season means high volumes of people and crowds at all the tourist sites and attractions. This really depends on your personal preference. The best time to visit New York City might actually be during peak season as this is when the city's energy is at it's best.
Shoulder to low Season:
The more temperate times of the year (January, April, May, June, September) is the best time to visit New York City for South Africans . You can save as much as 40% on your flights. This might free up some extra cash for travel insurance or other extras for your trip While it might be a cheaper flight, there's nothing worse than being caught with unpleasant surprises at the last minute. You would much rather be prepared. Better yet, you'll have a little slush fund to see more attractions and more activities.
Annual Festivals
There are always things to do in New York City. There are tons of festivals and markets which take place throughout the year in New York City and to make mention of all of them would take away from the really special ones. Come rain or sunshine, there is certainly never a dull moment in this dynamic city. Below is a list of festivals and markets we feel might help you to figure the best time to visit New York City.
Christmas Markets (November-December)
Who doesn't love a Christmas market?! If you happen to be travelling over the later part of the year then the best time to visit New York City would be from the middle of November to end-December because the Christmas markets are an absolute must. A white Christmas is really quite special if you are yet to experience one and you couldn't choose a better city if you tried. There are a number of markets scattered around New York City but these are a couple of really special ones you should look out for:
Bryant Park
Brooklyn – Made Holiday Market
Union Square Holiday Market
Grand Central Holiday Fair
Summer Music Events (June-August)
Amongst other things, Summer in the Big Apple means grabbing your family and friends and heading out to as many music festivals as humanly possible. From hip hop to jazz, or Red Hot Chili Peppers to Erykah Badu, you will never be at a loose end for live entertainment. If music is your thing, then the best time to visit New York City would definitely be between June-August. Here are the top 10 festivals to add to your calendar.
Governors Ball Music Festival
Panorama Music-Festival
The Meadows Music & Arts Festival
SummerStage
Electric Zoo
Northside Festival
Bric Celebrate Brooklyn Festival
Blue Note Jazz Festival
Afropunk Festival
The Classic East
Bastille Day (mid July)
In celebration of France's independence and the great relationship the French have with the US, Bastille Day is celebrated with huge enthusiasm throughout the US. New York City is no exception. Around mid-July each year New York's biggest & liveliest French street fête, held on 60th Street for the past 20 years, brings all things French to a fun and festive afternoon of food, wine, culture, and entertainment!
New York Fashion Week (February & September)
If you consider yourself to be a fashionista, the words "New York Fashion" Week are probably words you have uttered with great excitement on many occasion. Taking place in February and September, this production showcases collections from some of the world's most famed designers, and has the city coming to a trendy screeching halt. If spotting the rich and famous in while leisurely walking the streets of the city, then Fashion Week is definitely the best time to visit New York City.
As you can see there isn't a shortage of places to visit in New York, or things to do in New York. New York City is a world unto own. Summer, winter, spring or autumn, you're bound to have the time of your life. If you still haven't figured out when the best time to visit New York city is, or why you should be going to New York City, then here are 21 Reasons New York is Always A Good Idea. If you have already had the privilege of experiencing it, then let us know when you the best time to visit New York City on the comments below.
Make sure you give yourself enough time to get your visa. If you are unsure about visa requirements read up on the step-by-step visa application process.
Book your SAA flight to New York with Travelstart!
Remember to subscribe to our newsletter and be the first to know about our cheap flights to New York and other awesome deals.
Disclaimer:
All information on this blog page was correct at the time of publishing and may change at any time without prior notice. Travelstart will not be held liable for loss or inconvenience resulting from the use of out-dated or incorrectly noted information.