Feel the soft ocean breeze kiss your face as you free your senses to the sights and sounds of the natural beauty of Cape Town, when you take an electric bike (e-bike) tour with Venture South. If you're looking for a cycle tour with an added European flair, without having to break a sweat, then an e-bike tour is definitely a must.
With a unique way to explore Cape Town, Venture South offers e-bike tours to some of Cape Town's most iconic tourist attractions. Take in the breath-taking views of the Cape Peninsula, excite your taste buds on a traditional food tour or simply enjoy a picturesque sunset tour along the coastline, all on a sleek and stylish electric bicycle.
Introducing the E-Bike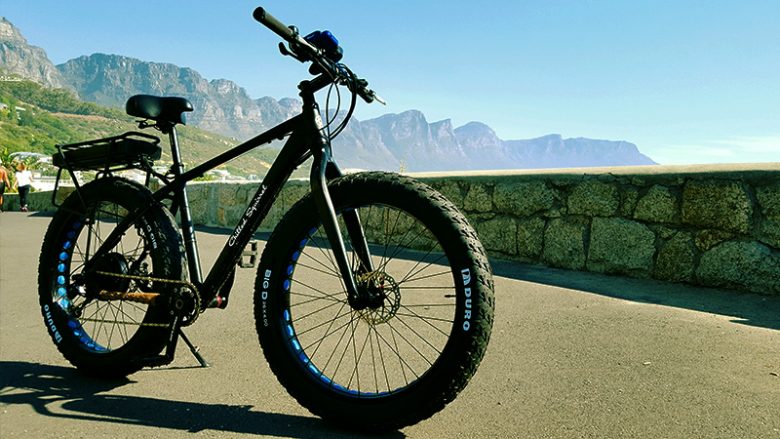 E-bike usage has grown at a rapid rate since 1998 worldwide and is popular in countries like China, Germany, Netherlands and Switzerland. The concept of electric bicycles is fairly new in South Africa, so one would automatically imagine a scooter or electric motorcycle when they hear of an electric bicycle.
An e-bike is just like a regular bicycle, except there are several technical components like a motor, a battery and a controller integrated into the design. E-bikes have pedals and handles like a normal bicycle however the electrical components make obstacles like hills manageable which allows you to travel at ease.
Venture South. Specialized bike tours
Venture South is the love child of co-founders Mike and Emilie, who with their combined experience in the tour industry, passion for hiking and cycling and business knowledge, aim to become the pioneers of e-bike tours in South Africa.  Started just over a year ago, Venture South have partnered with Chilled Squirrel Electric Bikes to provide customers with a cutting-edge tour experience, all the while immersing them in the local and cultural make-up of Cape Town.
When in doubt, pedal it out
We had the opportunity to try out the Sunset and Cocktails E-bike Ride along the stunning Cape Town coastline, boasting unrivalled scenery, stunning sunset views and postcard worthy sights of Camps Bay, Sea Point and Lions Head.
Each bike tour is customized to the specific needs of the client and each bike is adjusted according to your height and level of fitness–to ensure an enjoyable experience. The tour starts off at the luxurious 12 Apostles Hotel and Spa, where the itinerary is explained and you can test ride the bike to familiarise yourself with the bike and its different features.
With the mountains as your backdrop and the warm hues of the sunset in sight, the e-bike tour proceeds to the coastal beach strip of Camps Bay. One of the highlights of the bike tour, is the unique experience of riding on the white sands of Camps Bay, as your whizz past intrigued beach goers. The throttle feature, which overrides the pedal assist system—for quick acceleration or for a hill-start, made it possible to ride on the beach.
Take in the unspoilt views of the Atlantic Ocean as you ride through the prestigious area of Clifton before you navigate your way effortlessly through dog walkers along the Sea Point promenade. Stop for a quick refreshment at the V&A waterfront before you make your way back to the starting point. To end your bike tour, sip on a refreshing cocktail as you watch the last light of the day disappear beyond the horizon.
Other E-Bike tours
If you looking for a family treat, a romantic date for your partner or just looking for an excuse to explore Cape town, be sure to check out one of the other bike tours provided by Venture South:
The Cape of Good Hope E-bike ride
E-bike and traditional food tour
Franschhoek E-bike and wine experience
Sunset and Cocktails E-bike ride
Customize your e-bike tour to your specific needs today and treat yourself to a truly unforgettable experience. Contact Venture South for more information. Click Here.