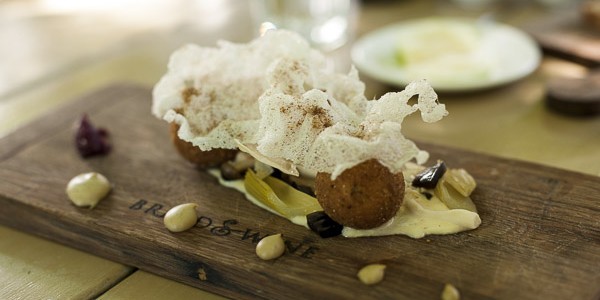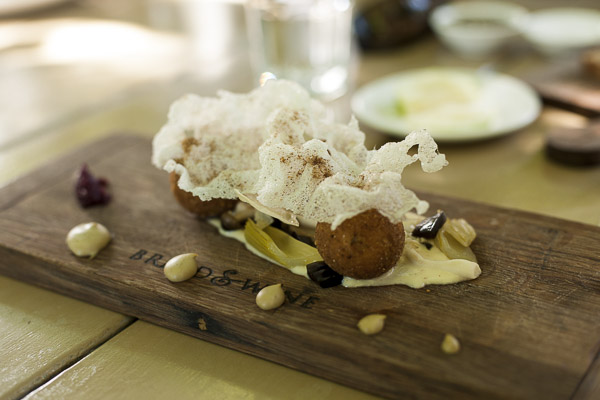 If there's one thing that encapsulates Cape Town for me, it's sitting in the dappled shade, eating superb food and drinking fabulous wine, surrounded by vineyards (or the sea, come to think of it). Bread and Wine is the perfect spot to have this quintessential Cape Town experience, because it is one of the Cape's favourite restaurants. And rightly so.
Perfectly at home in the Moreson vineyard, Bread and Wine is only open for lunch – in the shady courtyard in summer, or the quirky restaurant in winter. What looks like a typical vineyard restaurant menu at first glance soon reveals itself to have surprising and delightful touches – fine dining in a very relaxed setting. A simple menu belies a deliciously captivating flavour explosion. Oh yes, that's what I said.
Do yourself a favour and order at least three starters so you can experience as many of the flavour combinations as possible. We had chilled broccoli veloute with pine kernels and buffalo ridge mozzarella, ricotta fritters with mushroom jelly and porcini custard, and a risotto of cap classique, pea, white truffle oil and auriccho cheese, followed by pan roasted trout with a crab croquette and sweet and sour cucumber, and lacquered lamb rump with skordalia, bean and marjoram hummus. Are you drooling yet?
The menu changes with the season, because so much of it is fresh local produce, and apparently there are new dishes on the menu every week. That seems a shame only because the ones we had were so superb – works of art on the plate as well as in the mouth. The flavours are complex and multi-layered, with seemingly simple dishes transformed by the chef's creative touch. Moreson is famous for their Chardonnay and Pinotage, but that doesn't mean their bubbly isn't something to write home about. They have four to choose from, and they are all worth a try.
There's also an orchid nursery and farm kitchen on site, as well as the unmissable wine tasting, so be sure to set aside a few hours to get the full Bread and Wine experience. You won't regret it.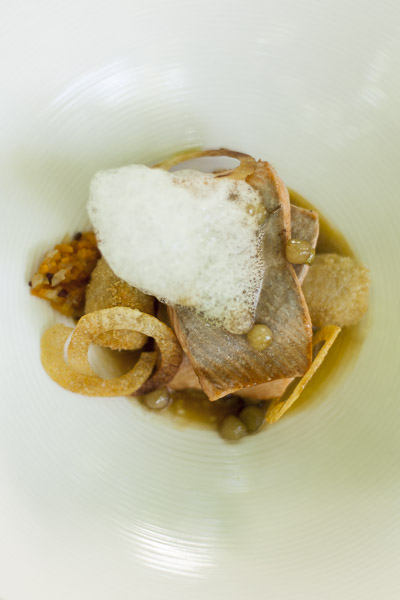 Images credit: Mark Peddle