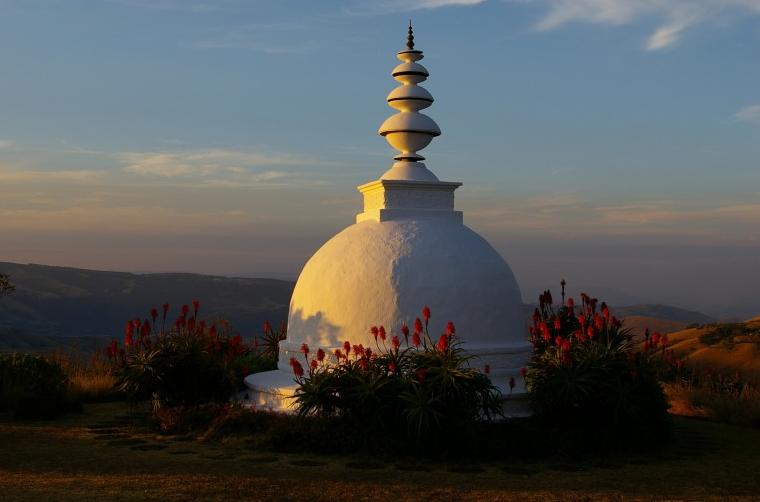 Image credit
Visitors to Durban could be forgiven for thinking that the city holds enough delight for one visit. It has the beaches, the markets, the leafy suburbs and golden coast. But head inland, towards the Midlands and beyond, and a whole new Durban reveals itself.
This is not Durban itself, of course, but the rolling hills of Zululand and, more specifically – Ixopo. And, most specifically of all, the Buddhist Retreat Centre. This oasis of calm and serenity is a hidden gem for many Durbanites, and certainly most South Africans. They hold weekend retreats, weekly self-retreats or you can go up for the day – but you most certainly won't want to leave. That's a guarantee.
In fact, take my advice and save yourself the round trip (an hour and a half from the city each way). Go for the weekend: even that won't seem long enough.
Each weekend offers something different – from yoga to meditation, storytelling to Buddhist practices, art to writing to photography to drumming to cooking – you name it, it will be on the schedule at some time of the year. Each weekend retreat also has a few sacred things in common, though. They will begin on a Friday before 5pm, with dinner at 5.30pm. The dinner will be wonderful – the centre is famous for fresh vegetarian food cooked to perfection. Most evenings a hearty veggie soup is served up with fresh crusty bread, loads of different cheeses, all kinds of spreads and fresh fruit in abundance.
Then it's time for either a welcome talk or some kind of talk, sharing knowledge relating to the course, and an evening meditation in the beautiful meditation hall. Then it's Noble Silence till after breakfast the next morning – a wonderful practice that ensures you soak up the sounds, smells and flavours of the morning meal (delicious fresh fruit, yoghurt, muesli and porridge), and of the place itself.
Because the place is simply amazing. No matter what the subject of the retreat, you're guaranteed a weekend of serenity, peace, and extraordinary natural beauty. The centre itself sprawls over a number of acres of green rolling hills interspersed with succulents, indigenous plants and white Buddha statues. Go for one of the many walks and you might find yourself at the dam, or the stupa, looking out over the rolling hills of Ixopo. Or simply lie in the dappled shade of one of the many established trees and soak up the serenity.
The days follow a set structure: 6am chi kung or meditation, breakfast, morning session, tea (and yummy homemade cookies or crunchies), mid-morning session, fabulous lunch (with all kinds of vegetarian delights) and a few hours of free time. Then it's time for the afternoon session, dinner, evening session, meditation and the cycle repeats. It's a full day, but full of the kind of deep peace and relaxation that's hard to find in everyday life.
No matter what your reason for going to the Buddhist Retreat Centre, I'm sure you'll love it. Let me know what you think when you return!