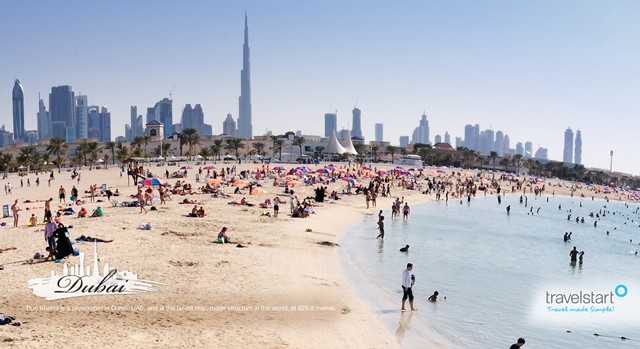 We'll be honest … Dubai is one of those destinations that South Africans either love or can't stand. It's big, extravagant, over the top and it's beating every other major city at doing big, bigger.
Click here to skip to your free wallpaper downloads
What I like about Dubai is that it's so in our faces, most people tend to know what they're getting long before they decide to travel there. While some critics believe Dubai will come full circle and eventually end up like some kind of contemporary ghost town when the oil dries up, quite the contrary is playing out in other industries that call the city home. I went to a talk by Dubai Tourism who were in South Africa last week, and it's immediately apparent the city is doing a lot to capture the world's imagination beyond its vast oil fields.
Truth is, Dubai wants to be liked, Dubai wants to be known for more than just oil, and it's doing a damn fine job of marketing itself as a fun, family friendly holiday destination. Plus it has the attractions to back its claim to its share of the global travelling public.
Dubai is a city that doesn't stand still and it's our ambition to increase our tourism figures from over 11 million visitors per year in 2013 to 20 million visitors by the year 2020 – Hoor Al-Khaja, Dubai Tourism
One could say the UAE vision for Dubai Tourism is loftier than the 163-storied Burj Khalifa building …
About the Burj Khalifa
The Burj Khalifa was the turning point for Dubai. It's an engineering masterpiece of mammoth proportions, and when it opened in 2010, it figuratively and literally changed the landscape of Dubai forever, effectively shifting the city's centre to a new position underneath its towering omnipresence. Downtown Dubai is now considered the area around the Burj with the massive, gleaming, structure the 'brave new world' foundation at the centre of it all.
Despite its hulking presence, I learn Dubai residents identify with the more conservative Dubai World Trade Center which was once the tallest building in the city. It's markedly shorter than its soaring neighbours that have sprung up around it, however, given its history; it still holds a special place in the hearts of city dwellers.
I met so many people from the Dubai Tourism Roadshow – hoteliers, destination management companies and tour operators – listening to them one thing became perfectly clear – the Burj Khalifa carries a lot of weight when it comes to the "selling" of Dubai. It's a key decision-maker as hotels are marketed with "view of the Burj Khalifa", "view of the Burj Khalifa's fountain", "view of Burj Khalifa on one side and desert on the other", and so on.
Almost equally important as the Burj Khalifa is the mall. The mall is key to Dubai life and the city is home to hundreds of malls; The Dubai Mall and Mall of the Emirates being the most popular. All of these facilities boast features that go far beyond even your best retail shopping experiences found in other cities. If Dubai is a shoppers paradise then it's equally a children's playground paradise and an adventure-seekers paradise too – the best part; all these activities taking place under one roof; the roof of the mall.
While I've spoken at length about the urban aspect of Dubai, there's much to be discovered in the traditional souks, the cultural awakening you need to experience at the SMCCU, and the sandy allure of the Arabian Desert. My perception of Dubai has been budged to one of excitement and awe of this fully-emerged megalopolis. Whether it's on an extended stopover or it's my final destination, personally I can't wait to visit Dubai.
Want to travel to Dubai? Check out the FAQ Friday explaining the various way to get a visa for Dubai.
Free Wallpaper Downloads for November 2014
Desktop Computers
1366 X 768 – DOWNLOAD (with calendar)
1366 X 768 –  DOWNLOAD (without calendar)
1980 X 1080 –  DOWNLOAD (without calendar)
1980 X 1080 –  DOWNLOAD (with calendar)
Laptops
1440 X 900 –  DOWNLOAD (with calendar)
1440 X 900 –  DOWNLOAD (without calendar)
Tablet Computers
960 X 800 –  DOWNLOAD
Phones
320 X 480 (for iPhone 3/Small Android) –  DOWNLOAD
640 X 960 (for iPhone 4/Regular Android) –  DOWNLOAD
1136 X 640 (for iPhone 5) –  DOWNLOAD (without calendar)
1334 X 750 (for iPhone 6) –  DOWNLOAD (without calendar)
1080 X 1920 (for Samsung Galaxy S4) –  DOWNLOAD
Facebook Cover Photo
851 X 315 –  DOWNLOAD