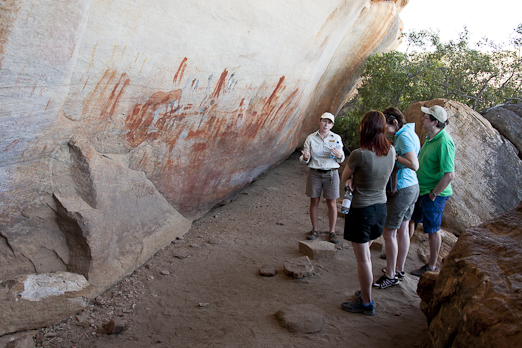 I have been to heaven – and it is just a few hours out of Cape Town. Okay, well, maybe it isn't exactly heaven, but it's pretty damn close… And that's saying something, considering how beautiful the city of Cape Town is itself.
Just three hours from the city lies Bushmans Kloof Wilderness Reserve and Wellness Retreat – quite a mouthful of a name, quite a wonder of a place. It's not only that it is set in some truly spectacular natural surroundings, with dramatic rock faces and vast fynbos reserves on every side. It's not only that the service is impeccable – friendly, discreet and unbelievably decadent. It's not only that there is so much to do that you could stay there for two weeks and not run out of activities (although you could, and I would love to).
It's all that and so much more… It's one of those magical places where it feels like you are the first guests they've ever had, and they are willing to do anything necessary to make your stay completely unforgettable. And they do. Oh yes, they do.
We arrived late afternoon and missed high tea (very sadly), but they had thoughtfully selected a number of baked goodies for us to eat in our room, a vast and very beautiful lounge / bedroom / double bathroom affair with a wide verandah and a swimming pool right in front of us. That night we ate at Embers, one of their outdoor dining options, and were treated to a 'traditional South African braai' that was much more delicious than any South African braai I've ever had! Eating dinner out under the stars, with only the flickering firelight to cast shadows on the rock formations, was an amazing way to start our holiday.
And it just kept getting better! An early morning trek to see the simply stunning rock art on the property, a huge breakfast buffet, a couple of hours lazing around in one of the many comfortable lounge areas, and then one of the best spa treatments I've ever had. Ever. They have a Riverside Gazebo treatment room set in the middle of incredible natural surroundings with an uninterrupted view out over the wilderness… And you can have an amazing massage while feeling like you're out in the middle of nature. * sigh! *
That evening we were treated to another unforgettable experience – dinner in Kadoro, a small shepherd's cottage out in the middle of the reserve, with no electricity but a million lanterns and candles making the room glow from within… We had a bonfire to sit by and sip our drinks, a specially-made (delicious) 3 course dinner, and an evening all to ourselves, in the middle of nowhere. It was magical.
And that's the feeling we got from Bushman's Kloof – whether you're there for two days or ten, they'll make sure your stay is magical. I cannot recommend it highly enough! In fact, I'd like to go back today (can you guess?)