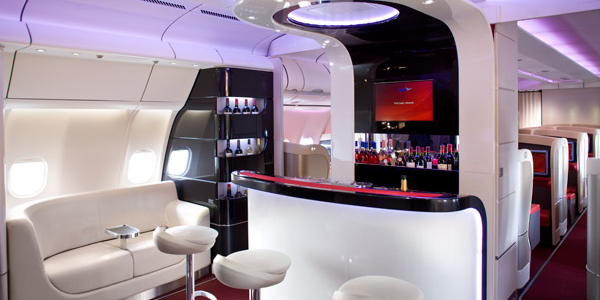 Searching for business class flights but not sure which is worth it's money? We take a look at 5 popular top business class options from South Africa and what makes them special: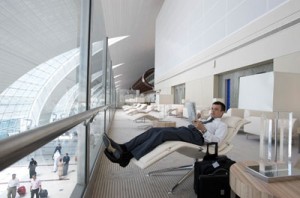 1. Emirates Business Class
– popular choice
Superstar of service excellence, especially in the minds of South Africans, EmiratesBusiness class is a popular choice for the discerning traveller – and often at a bargain price, a good R5000 cheaper than it's British counterparts. Emirates features lie-flat seats on most of its planes (in particular the Boeing 777-300 and Airbus A380), massage pads built in to the seats as well as excellent space and over 600 channels of entertainment to chose from. Food is also top-notch, as one would expect from Emirates. Another great bonus to Emirates Business Class is the lounge at Dubai International Airport, complete with gourmet food and drink, a spa, dedicated kids play area and fully equipped business centre.
For Emirates Business Class Enquire HERE
2. Qatar Airways Business Class
– voted top in 2010
Voted best business class in the world for 2010, Qatar Airways will certainly not disappoint! Prices on Qatar Airways are also very reasonable, so look out for regular specials (around R23,000 return to London from Joburg). What makes Qatar Airways special is that every plane has lie-flat seats in business class, your meals are 6 courses of gourmet cuisine and most uniquely, Doha airport features a dedicated terminal for first and business class passengers making your airport experience not only comfortable and easy, but exclusive and of the highest quality possible. There's a reason they're voted top in the world!
For Qatar Business Class Enquire HERE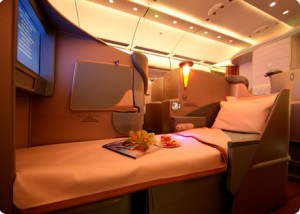 3. Etihad Airways Pearl (Business) Class
– voted top in 2009
The third top business class provider from the Arabian Peninsula, Etihad Airways differentiates its service further by referring to it as Pearl Class. Featuring lie-flat business class seats on all flights out of South Africa (except those featuring First Class on-board), Etihad also boasts a-la-carte menus, wine from boutique estates, massaging seats and mood-lighting. You can expect all the usual business class facilities like in-seat power points, and access to lounges worldwide. The Etihad Pearl Business Class Lounge in Abu Dhabi (the airline's hub city) is however quite special, offering spa treatments, gourmet cuisine, a business centre, snooze room, family room and world class entertainment room complete with Bang & Olufsen flat screen TV's and even a library!
For Etihad Pearl Business Class Enquire HERE
4. Arik Air Premier (Business) Class
– great new kid on the block in Africa
Not the first airline which jumps to mind, but Arik Air offers a great business class. Very new to the airline scene, Arik seems to be set on turning African air travel on it's head, especially with it's business class product which is a good R4500 cheaper than its direct competition to Lagos – one of Africa's top business destinations. Fitted with lie-flat leather seats their Premier Class also boasts 17 inch screens, an a-la-carte menu and modern in-flight bar. Your regular business class facilities can also be expected like in-seat power for laptops, on demand entertainment and extra storage for luggage. Another great feature is the allowance for 3 pieces of luggage at 30kg's each (that's a total of 90kg's luggage!) which outshines the competition.
For Arik Premier Class Enquire HERE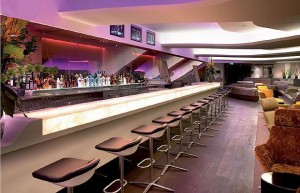 5. Virgin Atlantic Upper (Business) Class
– rockstar service for direct London flights and beyond
The rockstar of airlines once again comes in on our recommendations as the best to use on direct flights to the UK (and beyond). Owner Richard Branson lets his personality shine through throughout Virgin Atlantic's business class product, known as "Upper Class"; it's that little bit above business class and a lot cheaper than its direct competition too. Full of seductive features like an in-flight bar and some of the longest lie-flat seats on any airline, all of which are aisle seats. On the ground, there's more rockstar treatment like a chauffeur service for certain category tickets and above, the unique and exciting lounges known as "Clubhouses" which play rock music, offer spa treatments, business centres and fully-equipped bars. In fact it's the business class of note for Travelstart's owner, Stephan Ekbergh, since they know how to make his favourite cocktail – the Vesper Martini!
For Virgin Upper Class Enquire HERE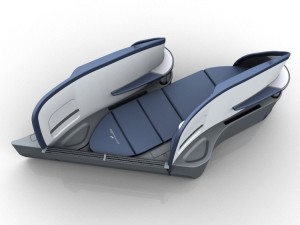 6. Delta Airlines Business Elite (Business Class)
– best direct to the States
Delta had long been known for it's less than standard planes to South Africa (in comparison to it's competition), included in this was a business class which many had little write home about. But all this has now changed, with the introduction of the Boeing 777 200 Long Range aircraft, business class passengers can now expect full lie-flat seats on flights to and from South Africa on the Atlanta route, with diagonal facing seats for privacy, a 5 course meal designed by chef Michelle Bernstein with wine pairing by somellier Andrea Robinson, you'll definitely be in for quality and comfort. On the ground you get access to Delta's sky lounges and for some pampering and relaxation before your flight as well as prioritised baggage collection to make sure you're first off the plane and on your way.
For Delta Business Elite Enquire HERE
[boilerplate bytitle="Travelbar"]