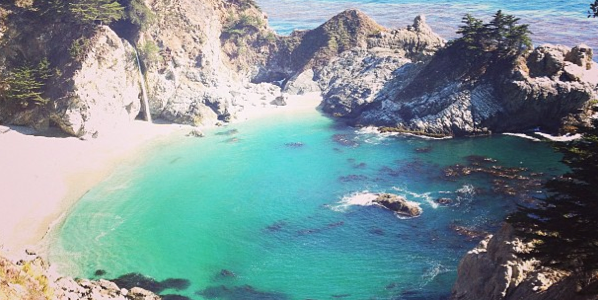 I don't know if you feel the same way, but any time I hear the words 'Big Sur' it sounds kind of magical to me… This is either because of reading too much Jack Kerouac as an impressionable teenager, or because the last (and only) time I was in Big Sur, we spent a magical 24 hours among giant redwoods, running down to the beach for sunset and passing a llama on the way (?) and then had to hitchhike back to civilization…
So it was with pretty high expectations that I returned to Big Sur last year. Luckily, they were exceeded. It is, quite simply, breathtakingly beautiful. Every twist and turn of the road reveals an even more extraordinary view, yet more stunning vistas with a bright blue ocean and staggering cliffs on all sides… Sunset in Big Sur (preferably with a bottle of wine and some cheese and biscuits) remains one of the most beautiful sunsets I've seen.
And camping here is a must. There are hotels, of course, and B&Bs and probably chalets, but it's so wild and rugged that camping is the only real option, as far as I'm concerned. That said, it's probably a good idea to book ahead – especially if you're going to be around during the popular summer months. We didn't book ahead and were lucky enough to get the very last camping spot at an amazing campsite – but the one before had told us they were booked up from 3 months before!
While I'm not usually the hugest fan of camping, when you're somewhere as vast and beautiful as Big Sur, with a canopy of twinkling stars and the crashing of the ocean just down the way, it seems a waste to cocoon yourself in a hotel room, with all those unnecessary lights and TV and mod cons… Where you end up isn't even as important as experiencing it in the first place: which might just be a metaphor for life, come to think of it!