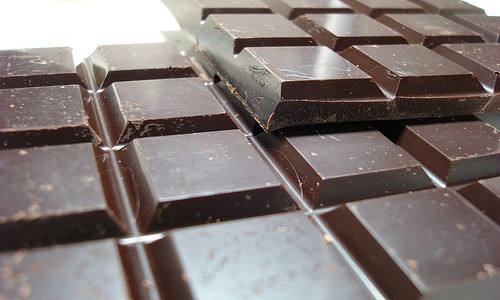 The fancy Cavendish Hotel London has created a chocolate room that is entirely decorated with Callebaut chocolate. The reason for this was that the Cavendish Hotel London ran a competition and the first prize was a free night's stay in the chocolaty room. The winners, a couple from somewhere in the UK were given the opportunity to eat their way through chocolate fixtures and other luxury chocolate hotel amenities created by some fine master chocolatiers.
The hotel room, which by the sound of it very much looked like the living room of the witch in Hansel and Gretel, contained 100kg of the brown stuff. The 'do not disturb sign' was written in chocolate, there were chocolate toothbrushes, two pairs of chocolate slippers, a bouquet of chocolate flowers in a chocolate vase. But the highlight of the room was a giant Easter egg and Easter Bunny that were both so massive that two men were needed to get it up to the room. I'm not quite sure whether the bed and bathroom furniture was also made out of chocolate, but I guess that would not be compatible with bed and bath activities.
As a prelude to the chocolate experience, the winning  couple was welcomed in the hotel bar with, of course, a chocolate cocktail with orange, white and chili flavours.
How much chocolate can a person eat? One might wonder. I just hope the Cavendish hotel London provided the lucky couple in the chocolate room with a sick bag as well which was hopefully not made out of chocolate…
MUST READ: