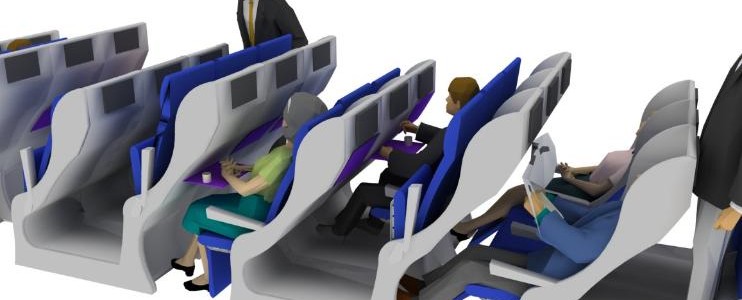 I have been flying for more than 30 years now, long enough to remember when people could light up cigarettes during flights.
While much has changed about the flying experience, one thing that has evolved very little is the level of comfort of economy class seating.   Economy seats have have always been just a little too dense for an above-average sized person, especially on long-haul flights.
This challenge likely motivated a revolutionary seating design concept by the Jacob-Innovations firm from Cambridge, Massachusetts. The company, recently featured in the media, has several design concepts being promoted on their web-site, designed to enhance passenger comfort.
Perhaps the most straight-forward of these concepts is titled Alternate Elevated Seats (photo left), what the company calls the most cost-effective way to improve Economy Class comfort. This concept suggests that every second row is raised by a height of 7 inches, creating additional legroom for both the elevated row and the row behind. This simple yet ingenious idea also allows for additional reclining capabilities.
Additional designs by the company include sleeper seat concepts and innovations to business class seating.
Do these designs mean the change of economy class seating forever?  I wouldn't get your hopes up; these are designs that are subject to patent pending and have yet to be implemented.  But airlines seem to be paying attention to the fact that passengers want more leg room. Last year Air New Zealand revealed new lie-down seating in economy class. Delta and Air Canada, that I am aware of, offer passengers additional leg room in economy at a small price.
The question the industry needs to pay attention to is whether people would fly more if seating were more comfortable. Would you?
* Photo courtesy of Jacob-Innovations website