Fairy light ribbons of torches and head lamps float silently up the steep volcano side. Not a single whisper beneath the expanse of stars but for the crunch of sand as we inch toward the summit. Hundreds of hikers, bowed over pilgrims, making peace with their own internal war of strength and determination.
Climbing the summit of Mount Rinjani, the second highest volcano in Indonesia, at 3,726m above sea level, is hands down (literally), the toughest and most rewarding achievement I have ever acquired.
An active volcano that last erupted in 1994 killing 30 people, Rinjani is a mighty mountain to be respected and revered. It's rumored that the Canang Sari offerings laid out everyday by locals to bring blessings to their homes, is also done to appease the volcano gods.
If you are looking to add a bit of adventure to your tropical travel itinerary – trekking Rinjani will put your idle days of seaside lounging to shame and give you a real, never-to-be-forgotten story to write home about.
Here's everything you'd need to know to plan your trip.
What to expect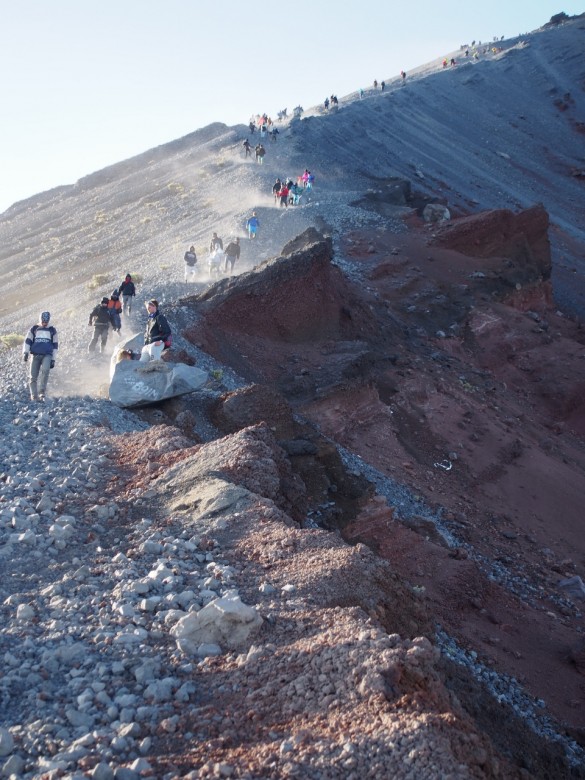 Three days hiking, 22 hours in total. It doesn't take long to do the math- trekking Rinjani is serious business.
Our first morning dawned in Senaro Village with sun salutations and hot ginger tea to steel ourselves for the trek ahead. A 30 minute car ride later and we were at the base of Rinjani, ready to start our epic ascent. The first day took us up and down loose sanded peaks, as we ambled towards camp one. An hour in and it was immediately obvious who the serious trekkers were (easily identifiable by their matching lycra and hiking poles), who'd just stepped off from a surf trip on a whim, and who were blissfully optimistic but for a slight glint of terror in their eyes (that was us).
After a stunning sunset seen only from those rare moments above the clouds, and an early bedtime, we awoke at 2am the next day to chase the sunrise up the summit. Three straight hours of two steps forward, one step back in loose volcanic sand, near tears and a slew of swear words flung at the mountain side, we finally made it to the top. For those who did, it was a moment never to be forgotten. Our fingers were numb, our legs floated semi-detached somewhere beneath us, but there was a glow to our cheeks and stardust in our eyes. We'd made it and that sense of accomplishment was something that would always carry us through when life got tough.
Which it did. A few hours later…
Back to camp for a hearty breakfast and we were off again, descending two hours to the crater lake. As a welcome reprieve from the sun beaten slog and after not showering in two days, a dip in the nearby hot springs with healing sulphuric water, breathtaking views, and a gushing waterfall was just what the mountain doctor ordered!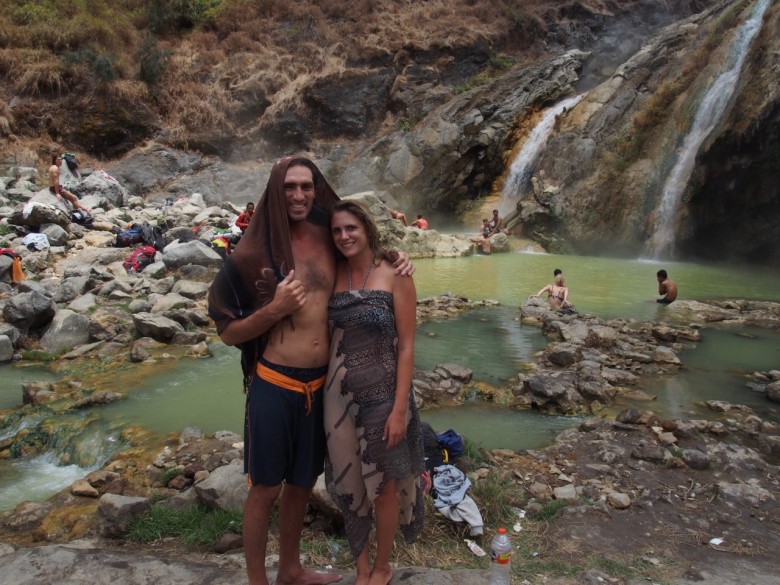 But the mercy of barefoot feet and pack-free backs didn't last long. After lunch around the impressive crater lake, we were back to it, with a climb equivalent to hiking Table Mountain between us and camp two. This was far from music to our ears, but the adrenaline of summiting Rinjani was pumping through our veins (as so was slight delirium from alternating altitudes) and we were up for any challenge. A second night on the mountain side preluded what seemed an easy and even enjoyable descent the next day. Four hours through forests home to the rare Black Ebony Leaf Monkey and the commonly spotted dishevelled, dust-laden hiker and we were across the finish line!
How to get there
Lombok is a short ferry trip and even shorter plane ride across from Bali. A cruise on a fast boat departing from Padang Bai Harbour on Bali's east coast, will get you there in close on two hours, and a journey on the slow boat will take between four to five hours. Despite the speed factor, taking the fast boat is preferable as it ends in Senggigi Harbour, about a two hour car trip from the base of Rinjani. The slow boat docks in Lembar Harbour which is close on four hours away from the base. Taking a plane from Nagurah Rai Airport in Denpasar to Lombok International will take 30 minutes and cost only R350.
Once on Lombok, you need to catch a cab to one of the villages surrounding the base of Rinjani. If you have organised a guide (which you should; you'll find out why below) then a lift from the harbour or airport might be included.
How to find the right guide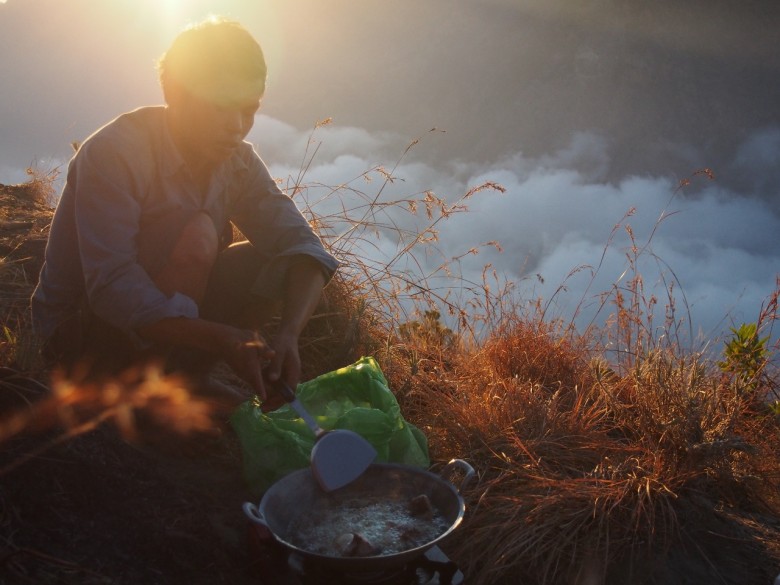 It's not required that you hire a guide to accompany you up Rinjani, but, unless you fancy the idea of carrying all your own food and camping supplies, enough water for a three day hike, as well as shovelling out your own poop hole, then I highly recommend you get one. There are a lot of guides out there, all claiming to come with epic trekking experience in tow. But don't make the mistake a buddy of mine did and snap up the first one who comes around. Tipsily taking on the services of a bartender from Gili Air who claimed to know the route, he, his girlfriend and their bartender turned guide, had to turn back after the first day, having lost the track completely and having no warm clothing.
Our guide was a lithe 22 year old local named Nur who spoke limited English, only took me up to my chest, and smoked steadily the whole climb through. He was the best guide we could have ever asked for. Bantering in broken English/Bahasa, he offered words of encouragement when the haul got particularly tough. "Pelan pelan!" (slowly does it) when ambling up a never-ending incline or "hati hati!" (be careful) when maneuvering over slippery rocks.
A young seasoned climber, Nur has done the trek over 200 times in his 20 something years, having started as a porter which is an impressive role in itself.  Each hiking group is assigned one porter per person. Balancing between 30-45Kg of load distributed in two wicker baskets on either end of a bamboo pole, they effortlessly wind their way up and down the mountain, cigarette in hand, cell phone tunes in pocket and slip slops on feet. Slip slops? Seriously! They put me, my blisters, and my slowly abandoning toenail on my left little toe to utter shame.
To find a suitable trekking company, search the net or ask around. We found ours through John's Adventures, the very first Rinjani trekking company. John certainly knows his adventures, as we didn't take long to find out.
What to take with you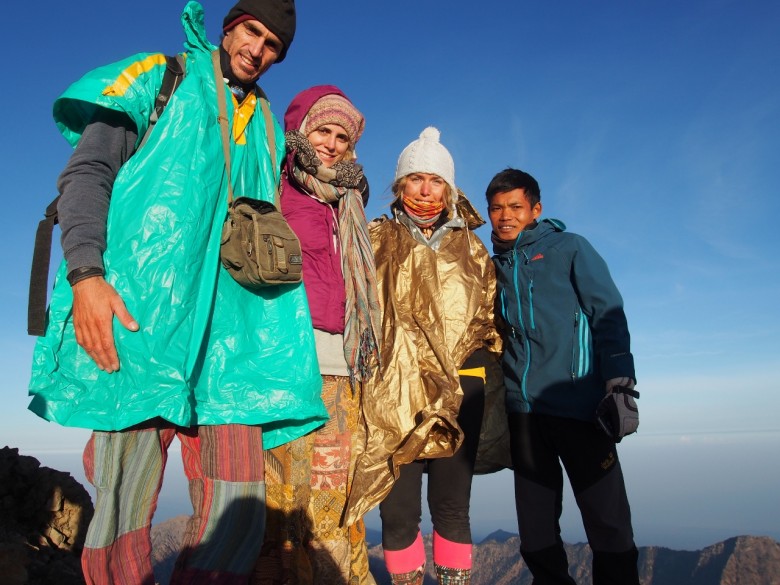 Most sites will say all you need to carry is a daypack while your porters will handle the rest. Now, don't go under the misconception we did, thinking this means you only carry a small backpack with the essentials like suncream and oreos. No, you have to carry all your clothing, toiletries and medical supplies for the whole trek. So pack strategically.
Your tents, sleeping bags and pillows, and all your water and food, will be provided for you. Depending on your trekking company, you can expect full on three course meals of nasi goreng, prawn chips, side salad, fruit platters, tea and coffee, biscuits… You could tell how much people had splashed out on their guides depending on the lavishness of their meals, and whether their bums were comfortably seated in camping stools or on weathered groundsheets displaying various cheery Disney characters like the rest of us.
Another bit of advice- just because you are a pebble's throw away from Bali does not mean that Rinjani adheres to tropical beach traipsing temperatures. Pack warm gear like gloves, a beanie, scarves (I wore two), thermals (yep those happened) and a rainproof/windproof jacket. Whatever you can get your hands on! Having acclimatised a bit too well to the warmer weather of Bali during the last six months, my best friend, boyfriend and I had to make a last minute plan, scrounging together whatever begged and borrowed items we could.
This was the result:
A fellow lycra-clad hiker did remark to my friend she was by far the best dressed he'd seen on the mountain. We were suitably chuffed.
Why do it?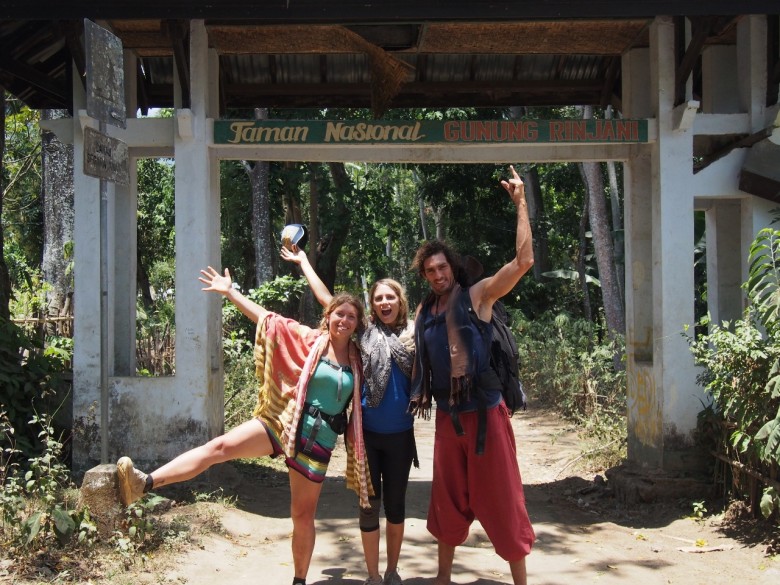 Disregarding the stunning scenery of Mount Rinjani National Park and the obvious benefit of boasting to your friends you've climbed an active volcano (and the second highest in Indonesia at that), climbing Rinjani is a lesson in life. No matter what challenges come your way, if you tackle them slowly and steadily one foot-hole at a time, keeping your self-confidence and determination permanently switched on, you can achieve anything. The only limitations we face are the limitations we place on ourselves.
Despite contracting a nasty cold a couple of days before the hike, having to battle close on zero temperatures up the top and losing my left little toe's nail which will for the rest of time have its peace amongst the swirling clouds and tumbling hills of Mount Rinjani, I made it down in tact outwardly, and forever changed on the inside.