"He grabbed two beers, activated the slide and slid to freedom."
Flight attendants have one of the most difficult jobs around. People treat you like a waiter when your primary job is to ensure the safety of all passengers, make sure safety procedures are followed and be on the alert for any suspicious behaviour. As a flight attendant says:
"My job is literally to keep people safe and comfortable, but above all to be able to evacuate a plane in under ninety seconds with only half our exits being usable."
That being said we're all human and sometimes flight attendants have bad days too, we've included funny flight attendant stories as well as tips to keep on their good side and get the best customer service.
Flight Attendant takes a 'selfie' with suicide bomber to let the authorities know his identity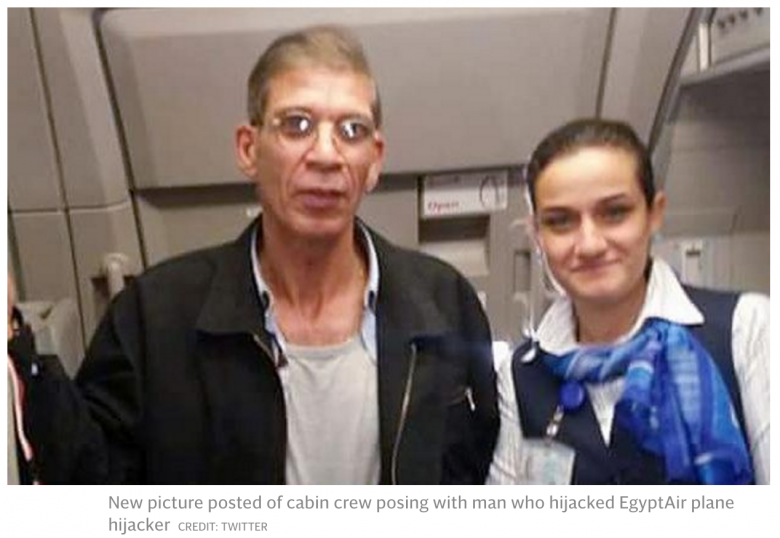 Some might say the selfie craze has gone too far when a flight attendant is taking photos with the EgyptAir plane hijacker. Flight attendant Naira Atef says she had the photo taken to send the image to authorities so they could confirm his identity during the five-hour stand-off on Tuesday aboard the EgyptAir A320 jet.
One of the passengers didn't even realize the plane had been hijacked
AbdAllah El Ashmawy, a passenger onboard the hijacked plane, told reporters his family friend "gave them his passport and slept. He did not know that anything is wrong until he woke up."
Upon waking up the man was annoyed the plane had been diverted to Cyprus and said he would miss his connection. Luckily the hijacker turned out to be harmless and had no actual weapons on the flight.
What a way to exit

Also in the news this week an air hostess had finally had enough. She quit her job then activated the emergency slide, threw her bag out the plane then made a swift exit! The United Airlines flight landed in Houston after traveling from Sacramento. This is not the first time this has happened. In 2010 Steven Slater of JetBLue started the trend by announcing over the loudspeaker that he had had enough after a woman had sworn at him about overhead luggage. He grabbed two beers, activated the slide and slid to freedom.
Worst case scenario when the plane hit a pocket of dead air…
"Probably my favorite story is about a gentleman who went into one of the lavs to relieve himself. As he flushed, and opened the gooseneck valve to the tank, the plane hit a pocket of dead air and dropped, like 15 feet vertically. Everything in the tank proceeded upwards at the speed of gravity. He was…covered. They had to hose him off on the tarmac upon arrival." Source: Reddit
A pilot's son had a good story to tell about the Wallabies
"My father is a pilot and apparently one time when he was flying a flight back to Australia, the champion Australian rugby team was flying back on his flight. They rented out the entirety of first class, and the moment the flight reached cruising altitude, stripped down to their boxers. Allegedly they were some of the most polite patrons he had seen, but were just mostly naked." Source: Reddit
Anonymous advice from a flight attendant for those wishing to join the mile high club
Apparently on larger airplanes there is a way to unclip the middle panel in bathrooms that are next to each other.
One pillow per passenger
A passenger on a recent half-empty flight to Japan recounts an incident when two men "one in his 30s and the other in his 60s, almost got in a fight on a more than half empty flight from SFO to Osaka because the 60 year old man was not happy that the younger guy was using the pillow from the empty seat.
The old man kept yelling "NO! One pillow per passenger! NO!" and trying to take the pillow away. The younger guy just had this "WTF?" look on his face.
Laughs were had (not by them) and the flight attendants and captain had to get involved." Souce: Reddit
How to get on your flight attendant's good side
To get the best treatment on long haul flights, it pays to be polite. Here are some tips from flight attendants:
Don't argue about safety procedures, they're there for a reason.
Make sure you don't have any hand luggage under the seat in front of you when you are seated in the emergency exit aisle. This is so in the case of an emergency your purse doesn't trip someone up, break their ankle and block the exit.
Also one redditor swears by giving a box of cookies to the flight attendant when he boards the plane.
Show restraint with the flight attendant call button.
Do you have any crazy inflight stories to add? We'd love to hear about them in the comments below.