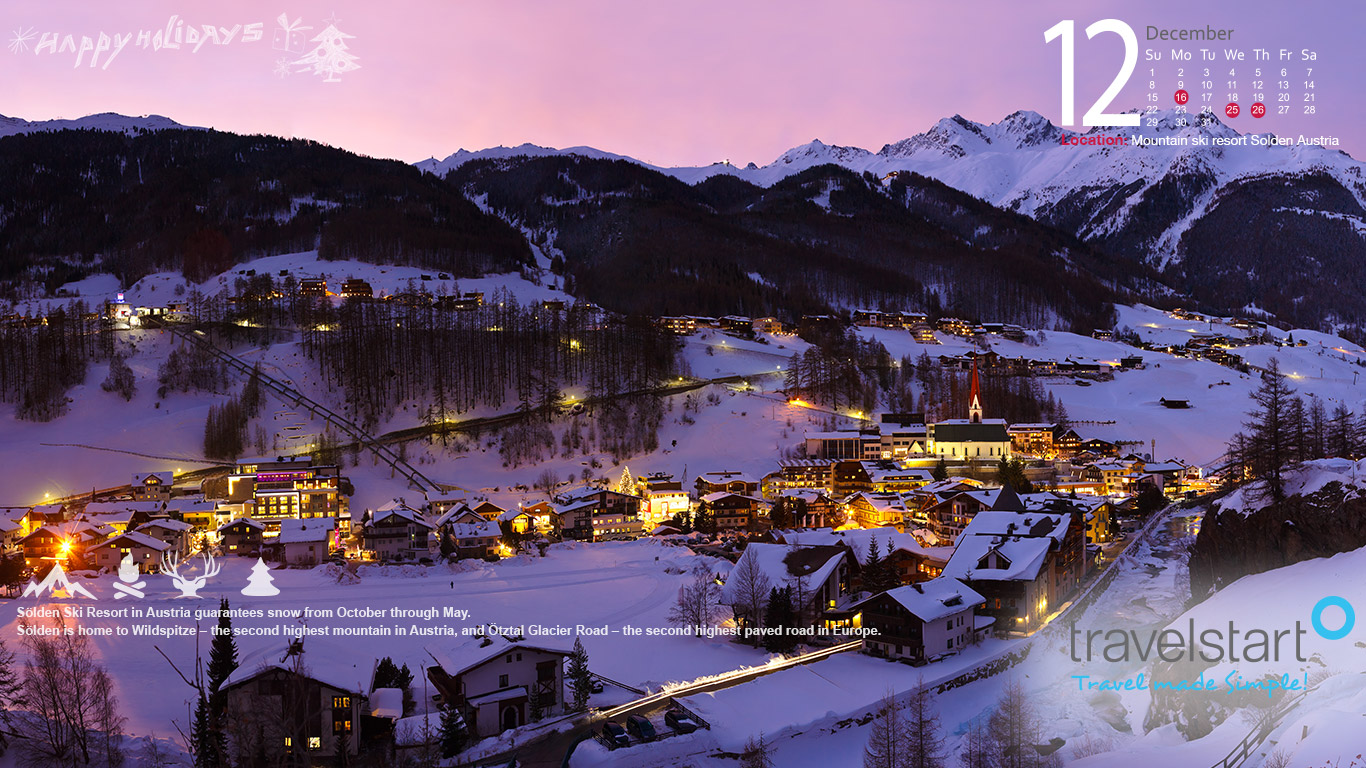 When Irving Berlin penned his classic Christmas song, we doubt its South Africa he was dreaming of. I guess it's the absence of snow over the festive season that's made it part of our nature to hanker after a White Christmas, but you're going to have to get on a plane if you're looking to your ease your snow starved spirit this Festive Season.
Get in the spirit by downloading the latest free wallpaper featuring Sölden Ski Resort in Austria, and then find out about 5 awesome ideas for a White Christmas below.
Desktop Computers
1366 X 768 – DOWNLOAD (with calendar)
1366 X 768 – DOWNLOAD (without calendar)
1980 X 1080 – DOWNLOAD (without calendar)
1980 X 1080 – DOWNLOAD (with calendar)
Laptops
1440 X 900 – DOWNLOAD (with calendar)
1440 X 900 – DOWNLOAD (without calendar)
Tablet Computers
960 X 800 – DOWNLOAD
Phones
320 X 480 (for iPhone 3/Small Android) – DOWNLOAD
640 X 960 (for iPhone 4/Regular Android) – DOWNLOAD
Facebook Cover Photo
851 X 315 – DOWNLOAD
5 Awesome Ideas for a White Christmas
White Christmas' are most common in the northern countries of the Northern Hemisphere. Because December is in the middle of the Southern Hemisphere summer, White Christmases there are extremely uncommon.
U.S.A.
We're going to cut to the chase here and suggest New York City if it's an American White Christmas you're after. As the home of the Rockefeller Center Christmas Tree, outdoor ice-skating in Central Park and decorative Macy's window displays, New York is the quintessential Christmas destination for a happy holiday this Festive Season.
Finland
Nothing gets you in the Christmas spirit quite like a snow-blanketed winter wonderland, and Finland is likely to deliver the goods come 25 December. Napapiiri In Lapland boasts 2 major St. Nick themed parks and is geographically closest to the Jolly man's headquarters near the North Pole.
Germany
While there are many towns in Germany where the buildings, decorations, and holiday markets create a veritable Christmas atmosphere, few can beat the appeal of Cologne. Boasting eight different Christmas markets on both sides of the Rhine, Cologne at Christmas time attracts almost 2 million visitors to markets such as the one at Cologne Cathedral.
Austria
Sölden, Austria and the location of this month's calendar won't disappoint if you're looking to fulfill your White Christmas dreams. Featured in the free December wallpaper download is Sölden Ski Resort – a municipality in the Ötztal valley of Tyrol, Austria and a popular ski destination.
Canada
In most parts of Canada you're likely to experience a White Christmas, and as recently as 2008 the nation experienced the first countrywide White Christmas in 37 years.