This is an article by Faraaz Mahomed. Faraaz is a researcher, psychologist, freelance writer and hopeless wanderer. 
---
We're not in Kansas anymore … Or are we?
After arriving in Rio at 3 on Christmas day, we spend the next couple of days muttering angrily about the sometimes 40-plus degree heat that never goes away because of the humidity. That and wondering why South Africa can't be more like Brazil. There are a number of similarities – the high Gini coefficient, the angry undertones in conversations about politics and the World Cup. The two share similar global aspirations and similar dreams of greatness, but the exuberance and sheer swagger of the Brazilian people is unmistakeable. It is remarkable that no one seems remotely apologetic about the language barrier. It is, after all, us who do not speak their language. So on Christmas day, the taxi driver gestures to us with his hands that it will cost us seventy reais to get from Galaeo Airport to the hotel in Flamengo. It is the first time we feel our blood boil, and it stays that way until we leave after New Year's. It is also the first time, of a total of two that we have to take a taxi. The buses in Rio, we were warned, are full of pickpockets and other unsavoury characters, but it would be an expensive mistake to follow advice that suggests one only rides metered taxis in this vast metropolis. Ride the buses and the Metro, if for no other reason than because most are air conditioned and you'll welcome the respite from the heat. On the former, though, pay only in small bills, because an argument when the distracted bus driver inadvertently rips you off is not likely to be very fruitful. In fact, just always carry small banknotes, lest you be denied service when vendors think you are one of the large numbers of counterfeiters that plague the country. Not unlike South Africa, crime is a significant social problem in Rio, but not one that should be a major issue for anyone who makes sensible decisions as they would in any big city.
A vast metropole, Rio is Brazil's second largest city after the country's industrial heartland, Sao Paolo. The two compete for prestige but it is invariably Rio that wins for its natural beauty and carnival atmosphere, while SP as it is sometimes called is where the money's at. Sounds familiar? The truth is that Johannesburg and Cape Town are minnows by comparison. The greater Rio area has a population of close to 13 million people, larger than Joburg and Cape Town combined! But we do have the beautiful beaches, the iconic football stadia, the vast urban foliage (both Rio and Johannesburg claim to be the largest urban forests in the world) and the emerging market ambition in common. What we do not have here in SA is a population of over 200 million people, an economy that will in thirty years be the fourth largest in the world and that plain old Brazilian attitude. As in the way they talk, the way Brazilians walk is confident and statuesque, filled with dignity and a sense that there is no other place quite like this. It doesn't really matter what you look like, no one will know you are not Brazilian unless you stop to speak to them, whether you are Carin, the black municipal worker who sweeps streets as though they are lined with red carpet or Walter, a Brazilian of Japanese descent who spoke the best English we encountered in our brief trip. Do not, repeat, do not expect Copacabana beach to be bright blue water rippling against powdery white sand or Christ the Redeemer to be a spiritual experience. The former is a gravelly grey pool of dirt and the latter is a collection of probably three hundred people posing for different versions of the same picture. For those feeling adventurous but, like us, without the luxury of time to leave Rio, Barra beach in Zona Oeste might be more of what you're expecting. It is beautiful water but, be warned, there are far fewer beautiful people. Hiking Corcovado might be more exhilarating than the funicular, but it needs good climbing gear and a large group. Tour companies do offer trips up there at a cost but you may want to join the Couch Surfing Rio group which does it for free.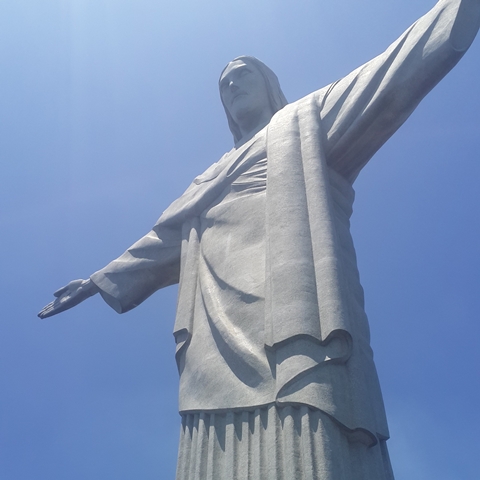 We were astounded at just how unimpressive these attractions were, but then, that usually is the case with hyped up international hotspots. The same is true of the Maracanã, the stadium that will host the 2014 World Cup Final and that, in 1950, held almost 200 000 people for the same event. It is an impressive edifice with a remarkable history, but in keeping with all the comparisons, the truth is that Soccer City kicks its lame grey ass. Surrounded by favelas on hillsides, the enormous landmark is a cathedral to the country's national religion but one would be remiss to doubt Catholicism's hold on Brazilians. I stumbled on a handful of Christmas masses strolling around Flamengo after we reached the hotel, and they were all standing room only. This is prominent in older neighbourhoods like Santa Teresa too, on top of a hill where cobbled streets are surrounded by convents and cathedrals. You can't get a bus to this historic neighbourhood and the Metro doesn't reach it, so catch a minibus taxi from Gloria Metro and feel at home. Visit the Uruguaiana shopping area and you might mistakenly assume you're in Mumbai, Durban or Beijing.
Eat the street food, mostly pastries that contain cheese or meat (or chicken, which evidently, is not meat) but don't expect foodstuffs to be cheap, particularly in touristy areas where meals are easily upwards of R300 per person at a decent restaurant. Not unlike the Cape, you may get slipped a 'tourist menu' so learning some Portuguese names for your favourite food could prove to be kinder to your pocket. Visit the Biblioteca National, Brazil's own version of the Library of Congress and the 8th largest library in the world. This particular site is a rather sad sign of how our two countries differ, as indeed, is New Year's Eve itself. The night is a mad rush to reach Copa, dressed in white to symbolise the renewal that is about to come. Every street bustles with energy and the evening does not disappoint. Old and young, rich and poor laze on the beach at midnight to admire a truly transformational moment. Everyone should be so lucky as to witness the magic of Réveillon, though we found ourselves asking why we wouldn't be able to cordon off Camps Bay or Clifton and amass the same goodwill in a single place with the clockwork efficiency that was exhibited in Rio on the night. The Metro ran until 5 that morning, rubbish was being collected as if it was the most normal thing in the world, and the police escorted us gently, all the while wishing us Feliz Ano Novo. It was indescribably emotional, mostly because it offered the moment of spiritual cleansing that the Christ so failed to deliver. Rio had found a way to redeem itself in a blissful and envy-inspiring moment. The only thing better was stumbling from restaurant to bar to club in pouring rain through the Lapa neighbourhood, Rio's own East Village. Don't even bother to dress up though; you'd just be a caricature. After Corcovado, we couldn't be bothered to brave the Sugar Loaf. Instead, we opted for Paqueta Island. It is a 70 minute ferry ride from Praca XV (R$9 each way) but 100 years back in time. The ride itself is an astounding visual display of Brazil's new position as a leading trading nation. We pass an armada of cargo ships waiting to dock before finally reaching the edges of Guanabara Bay. Tiny waves ripple against soft crumbling beaches. On looking up one sees lush tropical forest and straight ahead is the steeple of the Paqueta church. The island doesn't allow cars so a handful of carriages and tractors ferry tourists determined to capture its old world charm. A few seafood restaurants, a hotel, a bank and two souvenir shops are the only commercial enterprises outside of the ferry terminal. The rest of the island consists of pale blue and pink buildings, sandy roads and timeless escape. No one locks their bicycles or hurries. Wind seems unheard of, and the islanders laugh as we pant from heated exhaustion. This is Brazil, we should sip on our coconuts and stroll as if we have all the time in the world.
It is a beautiful country, full of contrasts and unlikely graces, like the sweet lady who pinches my cheek when I ask for directions or the perfectly clear blue-green waters that you find by accident when you're leaving. It is also, like South Africa, a reminder of the callousness of the divide between the rich who live on the coast and the poor who are far, far away up on the hill. Try to Samba at a school in Botafogo or Tijuca, and don't be afraid to embarrass yourself. Try laughing when you invariably get lost along the way to some or other touristic must-see and decide that the journey is better than any destination. Try to remember that Brazil may be an ocean away from South Africa, but there will always be something there to remind you. And, for the Redeemer's sake, always carry SPF a million!