One of the biggest Hindu festivals is Deepawali or Diwali in India. It is a religious holiday that is celebrated the world over with lots of enthusiasm and happi.jpgness.
This festival is celebrated for five continuous days, with the third day being celebrated as the main Diwali or as the 'Festival of Lights'. Fireworks are always associated with this festival. The day is celebrated with people lighting candles all around their house. A prayer to Goddess Lakshmi is performed in the evening to seek divine blessings from the 'Goddess of Wealth'. Diwali gifts are exchanged among families and their loved ones.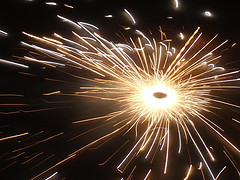 The auspi.jpgcious day of Diwali is decided by the position of the moon and according to the Hindu calendar. Amavasya or the "no moon day" is considered the perfect day for Diwali. The dark night comes after every fortnight and the Hindu month of Kartik (October/November) marks the festive occasion.
The festival of Diwali is significant because the day symbolises Lord Rama's coronation ceremony as the King of Ayodhya after his return to the kingdom from 14 years of exile along with his wife Sita & brother Laxman after killing the demon, King Ravana. People celebrated this occasion by lighting clay lamps to drive away the darkness of amavasya.
Diwali in South Africa will be celebrated on the 27th and 28th of October 2008 and to mark the celebrations a fete is held annually at the Mary Fitzgerald Square in Newtown. The Newtown Diwali Festival happened last weekend but to the dismay of all fun goers, the rain was a big deterrent and definitely put a damper on things.
Let's hope that next Monday sees a clear night sky for all to enjoy responsibly. Please do remember and take note of all your furry friends at this time of year as fireworks may be great to watch but they do endanger the lives of your animals and your loved ones too.
Image credit to yashrg