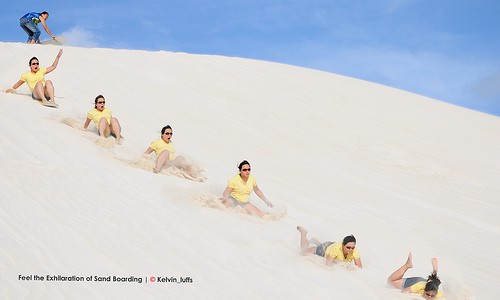 Are you gutted ski season is over? Don't pack away your ski kit just yet,  as you might still be able to use them after all. In the desert. Apparently the new hot thing to do in summer is to go on a sand-skiing or sand-boarding trip. It's been a popular thing to do for a while in the desert near Dubai for instance, but now it seems more and more countries are trying to attract sand skiers. From deserts in the Middle East to sand dunes in Palm Springs in the United States. Heck, in the German town of Hirschau there is even a sand park where you can eat your heart out on massive dunes when the white stuff is not in season. Or sleds if that's more your thing. Montekaolino, as it is called is part of a bigger amusement park with lots of other thrilling rides. Sans sand though.
Another good sand-ski or dune board destination is Namibia with some good spots in the Kalahari and Namib deserts. There are especially amazing sand dunes near Swakopmund and Walvisbaai, sort of right between the two cities. If hills and dunes make you all dizzy and weak in the knees then there is the cross country sand ski option as well. This is also a good alternative for people who don't like climbing back up the sand dunes after swooshing down. Yes, you do have to climb back up on your own steam with your equipment on your back, because I'm afraid that there are no ski lifts in the deserts.
So if skiing is your thing, but sub zero temperatures aren't, then sand skiing or sand boarding is just what the doctor ordered. Although you might have to come up with a good solution to get all that sand out of your mouth. Especially when you're more off the skis than on them, like me.