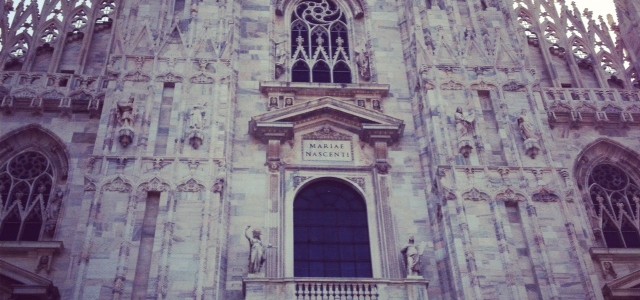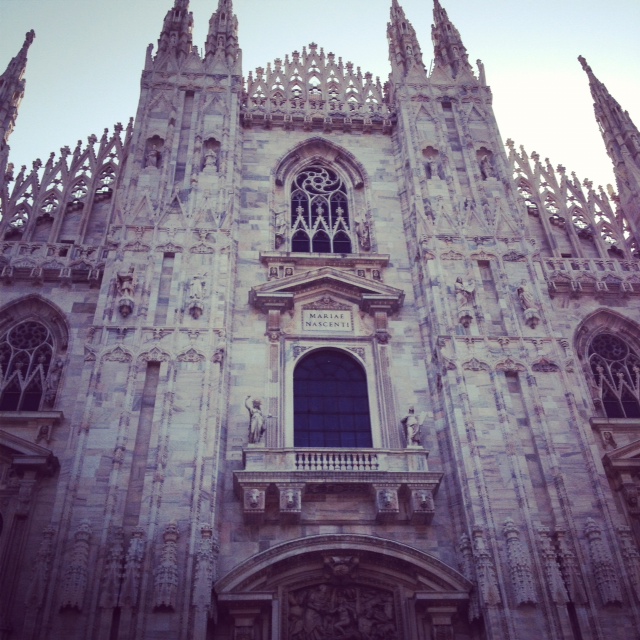 What is so incredible about the Duomo di Milano (the Milan Cathedral) is that it is so beautifully accessible. You don't have to drive for hours to get to it, or queue in the hot sun to experience its beauty. Nope, you just walk to the cathedral square and start snapping photographs. And if you want to go inside the Duomo, you simply walk to the front doors and enter – that is, if you're suitably attired (no sleeveless tops, cleavage, short skirts or slops, please).
In fact, this is one of the things that makes the Duomo such a loveable landmark. You can literally emerge from one of the metro stations underground and be staring right at it. Walk out of a high street shop and be confronted with this marvel. Turn a corner and gasp at its beauty.
The Duomo is a Gothic cathedral and one of the world's largest churches. It dominates the cathedral square it stands over and literally forms the centre of the city of Milan – streets radiate out from it in all directions, making it part of the city in a way few churches can boast. It is also readily accessible to those who want to go to church on a Sunday morning, although you cannot enter the consecrated area once the service has begun. To have a landmark as ancient and beautiful as this used as a weekly church is a rare opportunity, so if you're in the area on a Sunday try to pop in for mass (even though it's entirely in Italian!)
The construction of the Duomo was commissioned by bishop Antonio da Saluzzo in 1385, but as late as 1965 the final finishes were still being made to the nave, so it's been rather a long construction process. For a small fee, you can take the stairs or elevator to the roof of the Duomo and gaze out over the city of Milan. Or simply join the other tourists in staring, open-mouthed, at this beautiful spectacle.