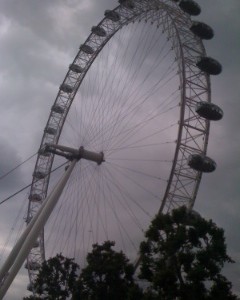 Is it me, or is the Christmas season just getting longer and longer every year? Normally supermarkets and department stores don't start selling minced pies and tinsel until September, which is early enough as it is. Now this week I read that the EDF Energy London Eye, that massive ferris wheel on the banks of the river Thames, has already started selling Christmas experience packages for this year's holiday season.
There are a couple of different festive packages to choose from. There is the Individual Pommery Champagne Tasting Experience from Vinopolis, a wine tasting venue in London, for £45. You get to go round twice in the London Eye while trying out five different Champagnes and nibbling on canapés. There is the slighter cheaper option which is the Mulled Wine Experience which only costs £33 per person and comes with, you guessed it, some heart warming mulled wine. Then if you really want to impress someone there is the Mistletoe Cupid capsule package for £325 which includes a bottle of Pommery Brut Royal bubbly, some very posh Carbonnel et Walker pink champagne truffles and a not just a twig but a whole bouquet of mistletoe. As if you really need mistletoe to solicit a kiss with a seductive package like this! The dates vary per package, so do check out the www.londoneye.com website for more information.
It does all sound amazingly romantic and Christmassy, I admit that much. But thinking about my Christmas plans in July? I don't think so. Especially since we're still walking around in shorts and flip flops over here in London. I don't think we're doing Santa Claus any favours by cutting his yearly break short. And what's next?  The Easter Bunny in November? I think I'm not going to worry about my Christmas plans just yet. At least not before I've exchanged my flip-flops for my Ugg boots. Not even for the London Eye.
[boilerplate bytitle="text"]