The Cederberg is a treasure trove of heritage and beauty. The off-peak season of May offers the best time to escape Cape Town and explore this hidden gem! From spectacular hikes to intimate restaurants, here is one winter getaway you won't want to miss. We've put together the perfect guide to make sure that you know where to go, how to get there and -very importantly- what to eat and drink!
1. African Dawn Estate, Clanwilliam
Did you know that South Africa's beloved Rooibos comes from the Cederberg? The San were the first to brew the aromatic leaves. Initially used medicinally, Rooibos is now a huge industry with worldwide acclaim. It is appreciated as much for its flavour as for its benefits to health. The humble origins of the Aspalathus Linearis plant (try saying that three times quickly…or just once) can be explored at African Dawn estate. Take a tour or browse for free. A hot cup of tea is perfect on a chilly May Day. Here is where you can escape into your olfactory sense…
2. Horse Riding
A good way to explore the terrain is on horseback. Citrus Creek is known for their tours. Total beginners, as well as advanced riders, can participate. This is a perfect way to sight-see and above all immerse yourself in nature!
3. Fishing
The Cederberg covers a vast expanse of land and water. Consequently, it is a fisherman's paradise! Clanwilliam dam is one such idyllic spot renowned for its bass. Similarly, Bulshoek Dam is home to bass as well as carp and yellowfish. If you are looking for something truly unusual then try Citrusdal Valley where you will find the Clanwilliam sandfish. A way to escape and relax in peace. You are bound to fall for the Cederberg -hook, line and sinker…
4. Wine
The Cederberg has excellent and distinctive wine. Owing to its high altitude and unique terroir, this is one part of your trip you don't want to miss. David Nieuwoudt of Cederberg Private Cellar leads a team that produces award-winning vintages that can be sampled on Dwarsrivier Farm. Friendly and informative, he might even be there to talk you through them -or share in a tipple! There is also a microbrewery on site for those more inclined towards hops than grapes. On the other hand, it's difficult to resist a good glass of Shiraz on a cold evening.
If you have one too many of just fancy lingering on this beautiful farm, then you can!  There are self-catering cottages as well as camping grounds with electricity.
5. Maltese Cross
Staying with the Dwarsrivier farm, if you want to take a walk to see the bizarre and beautiful Maltese Cross then you can obtain a permit from there. You can also get a permit from the Algeria Forest Station. The point of the permits is to try to preserve the Cederberg as best as possible. This area deserves all conservation efforts and hopefully will be enjoyed for years to come! The impressive and singular Maltese Cross is formed from sandstone and quartz. Geologists from around the world come to admire this and other iconic formations of the area.
6. Rock Climbing and Wandering
If you are after a more adrenaline and fitness-oriented holiday than wines and walks, then the Cederberg will not disappoint. The sublime, rugged landscape is a haven for climbers. If you aren't a climber and prefer to meander, then the stark magnificence of these sites is also good for that. May is a great time of year to adventure here, as the days are manageably cooler than they are during the height of summer! Wolfberg and Houdenbek are two of the most renowned attractions. However, it is important to be mindful of the elements, especially in colder months. Consider taking a guide and never travel alone. Better safe than sorry.
7. Star Gaze
The Cederberg Astronomical Society is a privately owned, not for profit organisation. It is also a little bit of magic. It affords us all the chance to admire the skies and the glittering universe it belies. Open most Saturday evenings -weather dependant. It is highly advisable to wrap up warmly as it gets very cold up there. You will be outdoors so come prepared for that. However, the total lack of light pollution makes it well worth the extra layers! Also, it can be very romantic to snuggle up close to your loved one and be in awe of the world together.
The two-hour experience starts at 20:00 and you have the opportunity to look through telescopes too. Winter is a wonderful time to visit as Scorpio appears high in the sky and the centre of the Milky Way galaxy can be seen on a clear night. Sounds mesmerising? That's because it is.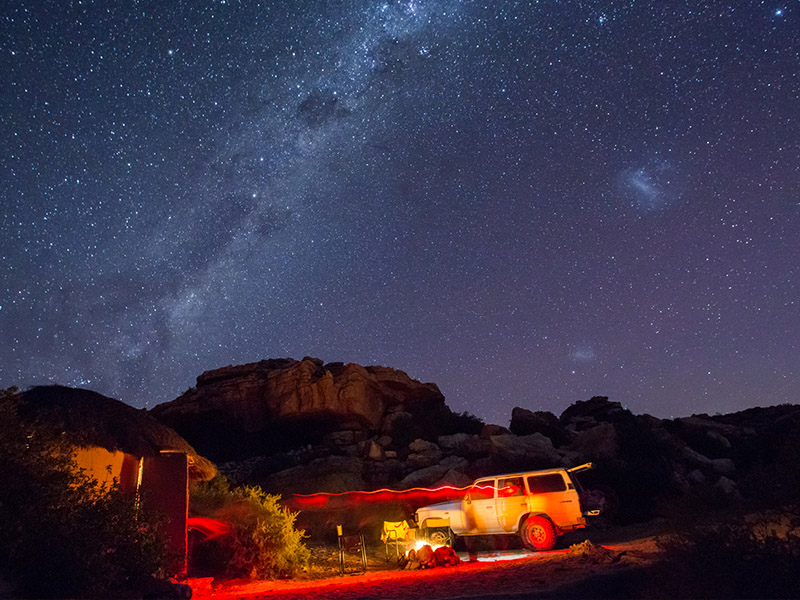 8. Velskoendraai Farmer's Market
This market is located on a citrus farm called Tweerivier. Legend has it that there are two rivers on site. The farm can be found at the entrance of Clanwilliam and boasts an assortment of the expected essentials: rusks, rooibos and fresh produce from the area. Open on Saturdays and closed Sundays. Come early or stay late and enjoy the restaurant too! There is an outdoor play area for children to run around under the winter sun. Excellent and organic, this is an ideal place to come and stock up for the weekend.
The Cederberg is…
The rough diamond of the Western Cape. It doesn't boast the glittering ocean of Paternoster or the rolling landscape of Hermanus. You won't find elaborate weddings happening at every waterfall or green spot of land. It is more isolated and inaccessible than Swellendam or Stellenbosch, with many of the roads being long dirt ones. As a result, this spectacular place is less known to tourists and less frequented by South Africans. This is both part of its charm and a great pity!
If you are curious to discover this gem then we hope our guide helps you do so with ease.
Let us know what other parts of the Cederberg you love in the comments below!