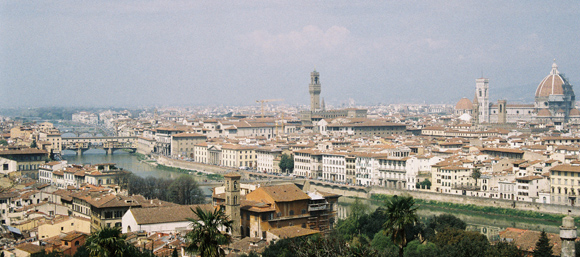 Florence, now here is a city to love. Even if you have never studied Art History you will be blown away by the magnificent Renaissance architecture, sculptures and paintings. Here is a small selection of highlights to see and do when in the amazing city of Firenze.
Duomo di Firenze
Dominating the Florence skyline, and even more impressive when seen from within, the cathedral's dome was the largest in the world for over 400 years. You can climb to the top but I recommend the adjacent Giotto's Tower – that way you get to take in Brunelleschi's masterpiece and enjoy a 360 degree view of the city. The steps of the Duomo are a great spot to enjoy a picnic of cheese, bread and wine.
Michelangelo's David
Housed in the Accademia Gallery, this is the most impressive work of art you will ever see. I cannot describe what it is about this sculpture that makes the heart stop – you have to stand before it yourself to understand. Advanced booking is recommended to avoid long queues.
Piazzale Michelangelo
For the best views of Florence walk across the historic Ponte Vecchio bridge (the jewellery stores have a beautiful range of gold pieces but prices are very steep) and then head southeast along the banks of the Arno river. It's a bit of a walk up the hill but well worth it. Go before midday to have the sun at your back and the city bathed in light.

Shopping & Eating
There are numerous street markets throughout the city selling a range of American college style hoodies, kitschy curios and an enormous variety of leather bags and shoes. Ladies, welcome to heaven; gents, sorry. To ease the pain of bag shopping I suggest taking regular drink breaks at one of the many street cafes. Coming from South Africa I found Chianti wines somewhat over-rated, but a bottle of fine red Vino Nobile di Montepulciano is a real treat and worth the extra euros. Find a trattoria frequented by locals away from the main tourist sites for the best value and highest quality food. For a culinary treat order pasta or pizza with truffles.
Day Trips
There is plenty to see in Florence but heading out into the Tuscan countryside for a day or two is highly recommended. The most famous town in the area is San Gimignano, notable for its many towers and home to the world's best gelato at "Gelateria di Piazza" (pistachio is the flavour to go for). Other popular places to visit are Siena (the view from the 88m high Torre del Mangia are worth the effort), Montepulciano (my favourite) and of course Pisa with it's Leaning Tower.

Photos by Aaron Brodovcky.