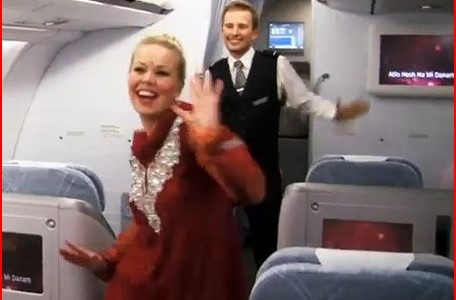 It's hard to believe that some airlines still think it's okay to entertain passengers with outdated movies on drop down communal screens. Having said that though, this is certainly not the case for Finland's national carrier. On a flight from Helsinki to Delhi the crew onboard a Finnair flight broke out into a veritable Bollywood dancing routine just before take-off. The crew of 24 flight attendants danced through the aisles of the aircraft to a song called Duwangi, Duwangi which features on the soundtrack of the Bollywood blockbuster movie Om Shanti Om. The reason for this spectacle was to honour India's 63rd Republic Day.
The idea came from one of Finnair's flight attendants, Helena Kaartinen. She coordinated the rehearsals with the help of a friend who is a Bollywood teacher. The intensive rehearsals took a good two weeks. Ms Kaartinen told the New York Times that she wanted to honour the Indian national holiday and also show Finnair's Indian passengers that the airline did know something about the Indian culture. The performance of the routine took place on the 17th of January and a video of it was uploaded on Youtube on the 26th of January which is the actual day that India's Republic day is celebrated. It has proven to be a massive hit and has already gotten numerous visits.
It certainly is a brilliant way to entertain passengers on what can be boring long haul flights and not to mention a very creative way to get some free advertisement. Wouldn't it be wonderful though to see other airlines follow suit? I would love to see the KLM crew break out in a clog dance, Iberia's flight attendants into a Flamenco or Ryanair's crew in a Riverdance. That would be in flight entertainment worth watching, although I bet you that Ryanair will most likely charge you extra for it.