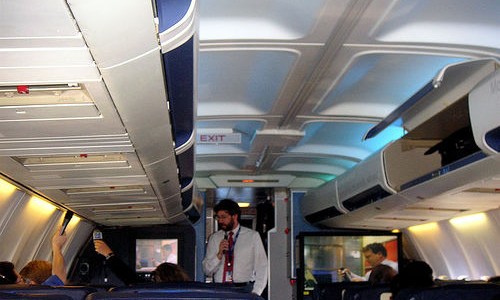 Long haul flights can be very boring for children and when they do get bored, those long haul flights seem even longer. Especially so for the rest of the passengers sitting around them. Don't get me wrong, I do like children in general, but when they sit behind me on an aeroplane, kicking the back of my seat , screaming in my ear or pulling my hair, I really don't. The trick is, as most parents and flight attendants know, to keep them entertained.
But when one flight attendant on a Virgin Blue flight from Fiji to Sydney decided to join in with a game of peek-a-boo which 17 month old Riley was playing with his father, the flight attendant ended up losing his job. He must have thought it was funny to put Riley in the overhead bin right above his parents' seats and then close the lid. Even though Riley was supposedly only in there for a few seconds the parents were, unlike the rest of the cabin, not amused and filed a complaint against the Virgin Blue crew member who then got the sack. This because Natalie Williamson, Riley's mother, claimed that her child was having problems sleeping after the incident and was also afraid to be left alone. And what do you know? Virgin Blue went on and gave Riley's parents some vouchers to redeem for free flights.
To me it seems that the American culture of suing people is spreading across the world. The airline could've just given the flight attendant a warning or a suspension. It seems a bit harsh to fire him over this. Okay, maybe he shouldn't have put Riley in the overhead bin, because I can image that for a 17 month old child it is a dark and scary place. Although I'm sure next time someone's child decides to smack me on the head from the seat behind me, I will be wishing I could do exactly the same as the Virgin Blue flight attendant. But I won't. I Promise.